Monicat Data Makes Technology Work for Creatives
by
Marissa Blahnik
The day I met with Jasmine Russell of Monicat Data, she was wearing a yellow shirt, sitting in a yellow conference room and telling me about Yellow, Monicat's creative tech workshop. She assured me the color coordination was coincidental.
"We were trying to figure out a name that was strong, had some type of, like, direct action to it," Russell explained. "Yellow can be perceived as a cautionary color, but it's also an alert color that wakes you up and intrigues you to seek more."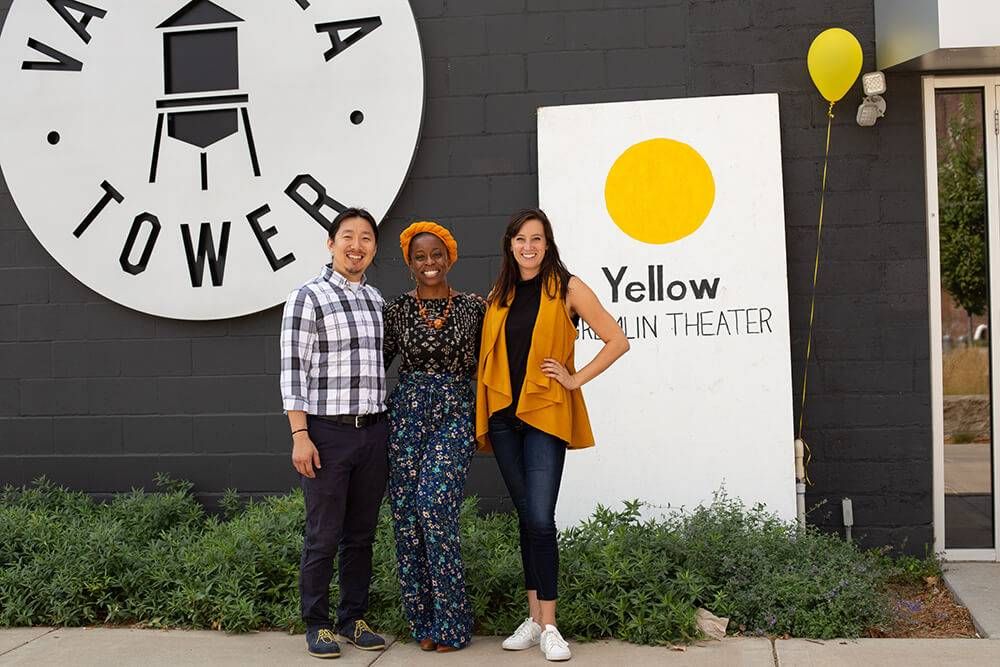 What's the wakeup call? Russell, along with Kurt Blomberg and Cassie Utt, friends and Monicat Data's co-founders, think "creativity deserves a better track record."
In their view, creative endeavors and the powerhouses behind them are often overlooked for technical solutions. These professions can be seen as superfluous or as having little financial capital to invest in themselves.
But Russell, Blomberg and Utt know differently. The three share a passion for and background in arts, education and technology. They know just how essential tech can be for the arts.
"For the three of us, this is about getting back to serving groups that are usually overlooked for technology, but they're using it all the time," Russell said. "They're thinking about their sales, their patrons, their donors, they're using it to assess events, how people are interacting with their pieces and work online."
If you build it
The three friends were initially on different paths. Russell had completed an MBA and was pursuing a career in digital analytics, Blomberg danced professionally for six years and was going to school and Utt was in the midst of a Remote Year, a work and travel abroad program for professionals.
They rallied together around Russell's idea of creating something uniting technology and creativity.
In 2016, Monicat Data took on its first client, Minnesota-based Springboard for the Arts, a nonprofit organization that offers workshops and resources for artists of all disciplines. Their relationship began as market research to discover how arts organizations utilize technology. The conversation revealed Springboard for the Arts needed a service that Monicat Data could provide.
From there, their client base quickly expanded. Now they serve independent creatives and creative organizations, all looking for ways to benchmark their success. They develop technology platforms or measurement tools to help them improve their internal processes or report out to stakeholders.
"When creative teams or independent creatives come to us, they're either really overloaded by siloed processes, outdated processes or they're trying to quickly scramble and get information together," Russell said.
"Monicat Data's approach is to break down their creative needs: 'What are your current needs? What are your current internal processes and how would you like to improve them? What are your current in-house systems?'"
Data that can serve
It's not uncommon for organizations—often nonprofit organizations—to have invested in management systems or analytical tools that are too cumbersome or too alien to their work and process. Or, if they are gathering and processing analytics, any downtrend can be paralyzing. But there's more that can be learned there.
---
"Just like creativity is flexible, data is flexible as well," Russell said.
"Negative numbers aren't always just an indication of, 'your craft is bad.' It may be demonstrating this is a market lull or maybe this just isn't your key time ...
"Seasonality is really important for any market, understanding when dips occur, so that during that dip time key creative planning takes place. Data can create some consistency for creative teams and independent creatives so they know what to expect."
Russell, Blomberg and Utt want to support the tech needs of the creative industry with resources that are scalable.
"Our biggest goal is that by the end of the project, we want the client to be able to do this on their own. So although, yes, we would love if they keep coming back," Russell laughed, "we want them to be able to feel less dependent on what we're doing and more confident from the data analysis or technology implementation tools to elevate their work; reach those right audiences, and truly connect with people that their work speaks to."
To the moon and back
Monicat Data's growth has been a result of bootstrapping and networking, all fueled by their own entrepreneurial ambitions.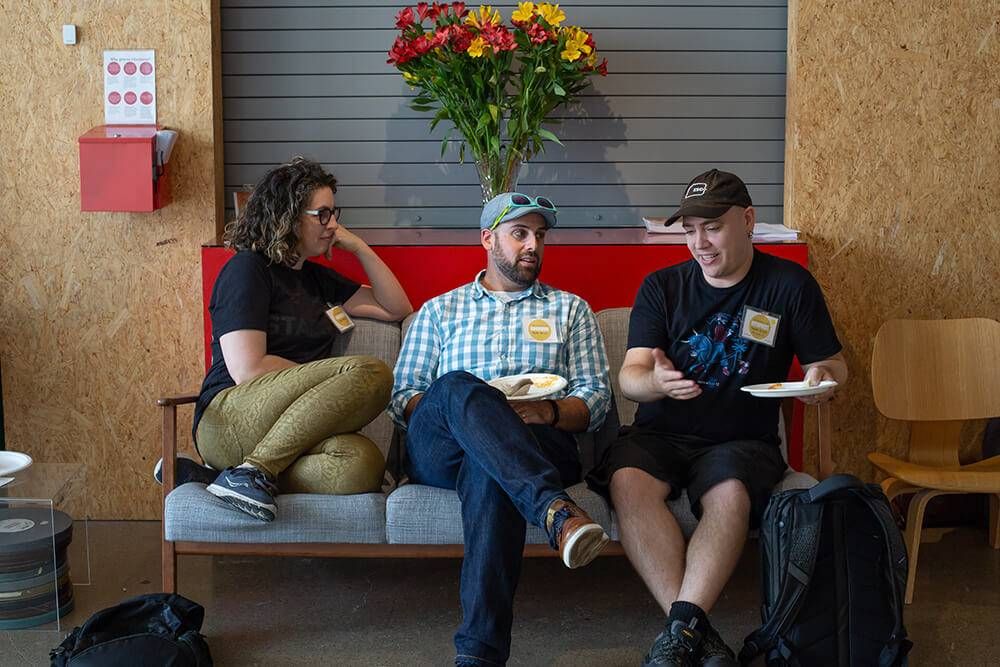 Through their conversations with clients, Blomberg saw a need to connect with people more directly. In 2017, they launched their Data for Art Workshops which later crystalized into Monicat Data's first Yellow Summit in the fall of 2018. The all-day conference brought together creatives to discuss how successful management strategies could strengthen artistic professions, locally and nationally.
The team's ambitions continue to grow with their success. Earlier this year they were accepted into an incubator program by Lunar Startups, an organization that supports underserved or underrepresented entrepreneurs. As one of six groups within the inaugural cohort, Russell, Blomberg and Utt hope to use this opportunity to focus on Monicat Data's growth, with plans to reach beyond the Twin Cities.
"Minnesota is the top funded state (for the arts), but in Minnesota we still face quite a few creative disparities… (such as) funding and groups being able to sustain themselves," Russell explained. "Where does this put creative economics in other markets? These regions need just as much strategic and technical support to elevate their creative process."
A management starter kit for creatives
Getting started can often be one of the hardest steps to take. Russell and the Monicat Data team shared some insights about technology management for creatives:
1. Manage how you work
"Implement an accountability tool. Whether a working creative individual or team, all work processes can benefit from accountability tools, keeping your creative projects on track."
She recommend using a project management system like Podio, Asana or Trello for a ready-made solution with pre-built workspaces and daily email reminders.
Alternately, Salesforce or HubSpot offer a more robust system with customer management capabilities, sales analysis and the ability to integrate with cloud-based storage systems such as Google, Dropbox, Evernote or Share file.
"Ultimately, the accountability tool you select should provide structure, flexibility and review of your creative process as you grow and scale."
2. Manage what's released
"A creative's greatest asset is their body of work, but is your work easily discoverable online?" the Monicat team challenged. If not, make some changes.
Create a "central digital asset," to centralize all of your online work. Build a custom portfolio website, a Dribble design website or a creative writing blog and feature your creative projects, perspective and community contributions. This way you can funnel audience traffic to one common location that you control.
Manage your content even further by cleaning your website URL paths. For example, change www.yourcreativewebsite.com/12345home to www.yourcreativewebsite.com/home.
"Digital page titles and links should provide clear directives for audiences to identify and connect with your work. High digital engagement begins with strong digital structure."
3. Manage what's measured
"Gain your bird's eye view. You've put in the hours of dedication, discovery and planning to develop your creative project and now you're ready to release it to the world, but how do you know who to cast it to?"
Wherever you organize yourself, Russell recommended making analytics a regular part of your routine. Understanding what generates the most success will propel new work to greater heights.
Use tools such as Buffer, Sprout Social, Google Analytics or Hootsuite to draw data from your websites and professional social media platforms onto a centralized dashboard. This "customized data hub" will shed light on your key audiences, your top performing platforms and the optimum time for release interactions. Digging into this info can help evaluate past and future creative project performance.
This article is part of  "Living for the City," a Rewire initiative made possible by The John S. and James L. Knight Foundation.