Missing Downton? Here's the Ultimate Fashion Breakdown
by
Sally McGraw
Much has been written about the costumes of Masterpiece's phenomenally popular Downton Abbey costumes, from their historical accuracy to their unfortunate stench. This surprisingly addictive period drama chronicles the lives of the well-to-do Crawley family and the servants who run their sprawling Yorkshire estate, following their stories from the sinking of the Titanic through World War I and beyond. Fans of the show delight in seeing the ever-changing styles of the early twentieth century paraded before them by the rich and varied cast of characters, and the show's costumers work tirelessly to create sumptuous period-inspired looks.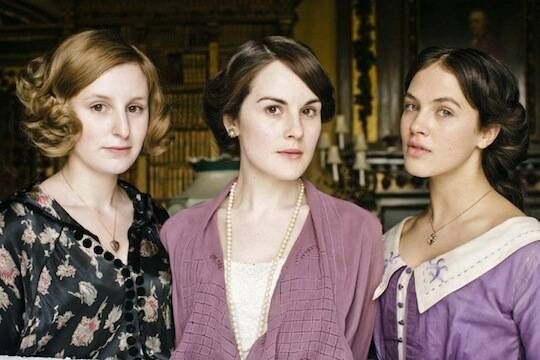 Susannah Buxton designed costumes for the first and second seasons of the show, and received an Emmy nomination for her amazing work. The department is now run by her former assistant, Caroline McCall, who took over during Season Three and also costumed the cast for Season Four. Both designers clothe all characters with history, geography, social status, and event-appropriateness in mind, but also employ a shrewd and intentional use of color. This is especially apparent in the costumes worn by the three Crawley sisters – Mary, Edith, and Sybil – whose individual personalities and relationships with each other are reflected by the colors they wear.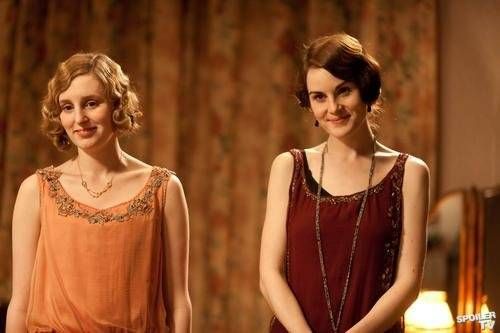 When the show began, a fairly traditional three-sister dynamic was set up: Mary, the eldest, is the dominant personality and demands the most attention from family members and visitors alike. Edith, the middle child, is quick-witted and observant but somewhat overlooked and petulant. Sybil, the baby, is flexible, warm, and sweet in disposition.
To support this relationship structure, Buxton dressed Mary in strong, definite colors on most occasions: Black for formal dinners, where her serious demeanor and sharp tongue show through, and red for occasions that involve her various suitors, reflecting her fiery and passionate nature. Edith frequently wears dusty rose and coral – both desaturated versions of Mary's bold reds – a color dynamic which subtly reinforces the fact that Edith feels she's living in her big sister's shadow. Sybil is more of a self-contained unit, and her palette reflects this. Although she is seen in the occasional red or purple, her season one wardrobe is composed almost entirely of blues. Sybil wears everything from ice blue to navy, and these soothing, cool colors reinforce her role as the peacemaker.
The show's second season ushered in many changes for the three sisters, and their palettes adjust accordingly. Mary's core colors remain red and black, showing that her character is steadfast and serious. But we begin to see her in neutrals when she is out of doors: gray and tan tweeds as she walks about the grounds, an indicator that she is dominant indoors but less so when she feels out of her element. Although her courtship with Sir Richard Carlisle has her in passionate reds, after her engagement to him she is in white and champagne more often, reflecting her inner feelings of defeat and resignation.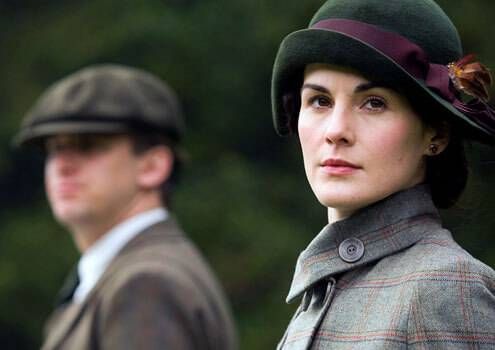 Edith also has some continuity, with salmon, peach, and coral remaining the central colors in her wardrobe. But as she begins to explore her world and come into her own, her palette begins to expand. Her time driving the tractor for the Drakes sees her in chic neutrals and cool blues, which suit her and reflect her happiness and comfort. She experiments with teal, lavender, and various greens, all of which complement her complexion better than the pinky-oranges she favors. Edith is trying to carve out an identity for herself, and her colors show it.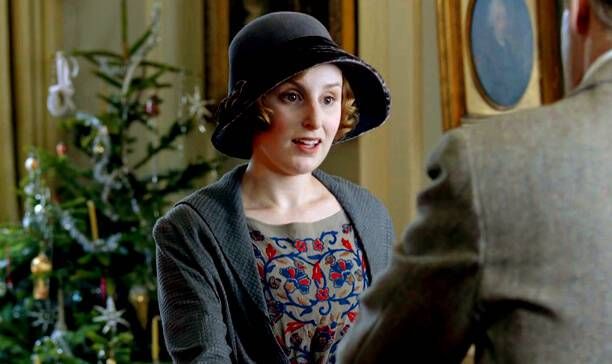 Despite the fact that Sybil is exploring a forbidden romance with chauffeur Tom Branson and participating in women's rights protests, she continues to wear mainly blues and purples, showing that her core personality remains calm and soothing despite these tumultuous events. And, of course, when World War I begins, Sybil is seen mainly in her nurse's uniform, which also happens to be a steely blue.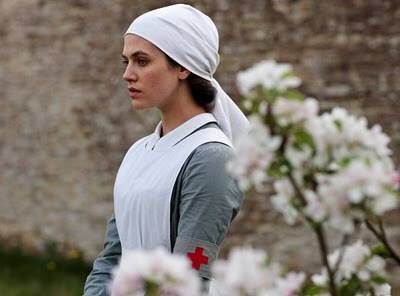 In fact, the war impacts everyone's color choices, as all three sisters wear more black during Season Two than any other, reflecting the pall that fell over the entire country as battles raged overseas.
Although Mary continues to wear her signature reds and blacks quite frequently during season three, her marriage to Matthew marks a turning point for her character and her colors mirror this change. Her critical side shows less often and her personality begins to mellow, so we begin to see her in more blues and grays, even some pale pastels. She is softening, and so are the colors she chooses to wear.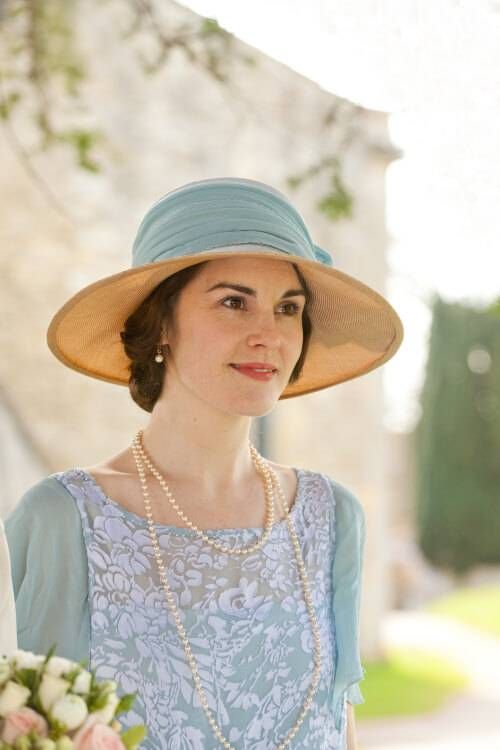 Edith returns to her warm palette of coral and salmon, adding similar shades like rust, mustard, and dark rose. But as she courts Sir Anthony Strallan and especially as she begins to write for Sketch – spreading her wings and distancing herself from Mary's shadow and her family's traditional ways – she starts wearing more prints and patterns. While Mary continues to wear fairly traditional styles Edith begins to wear her orangey-pinks in modern and fashion-foward garments, even sporting a blouse with a print of a man's necktie for a meeting with her editor. Edith's personality remains the same and she still competes with her sister, but she is standing on the brink of real change.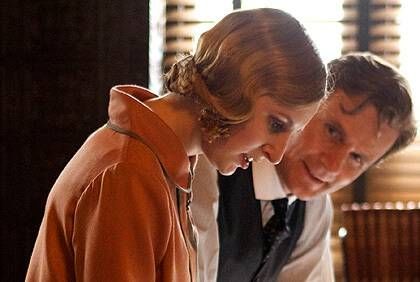 The color palette evolves yet again in Season Four-- as the Roaring Twenties descend, we even see Edith in something other than coral!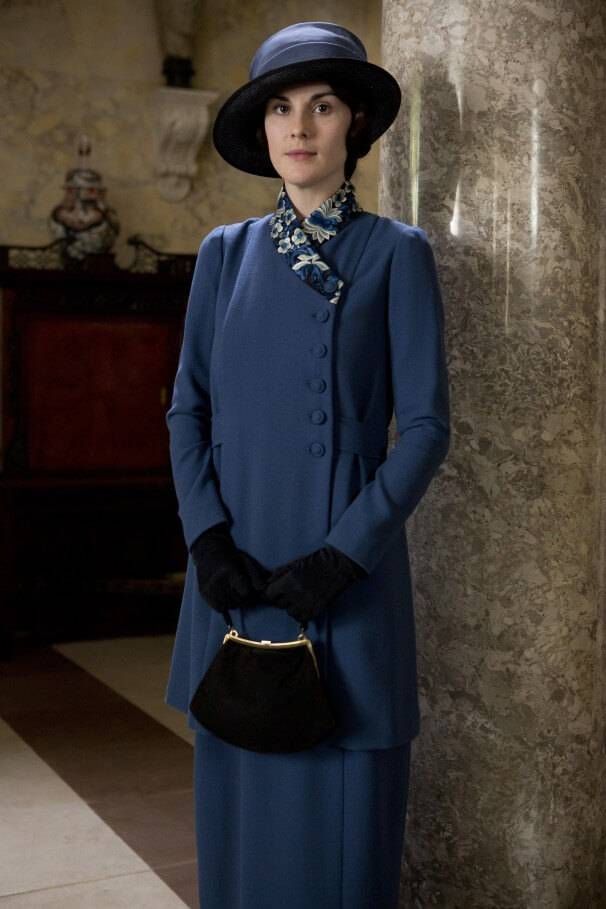 The color palette evolves yet again in Season Four, as the Roaring Twenties descend. Mary mourns Matthew's untimely passing for much longer than her family members, clinging to black clothes and her own despair. But as she begins to regain her strength we see her in Sybil's signature purples more than her own fiery reds, perhaps a sign that this loss has altered her personality, leaving behind more levelheadedness and serenity.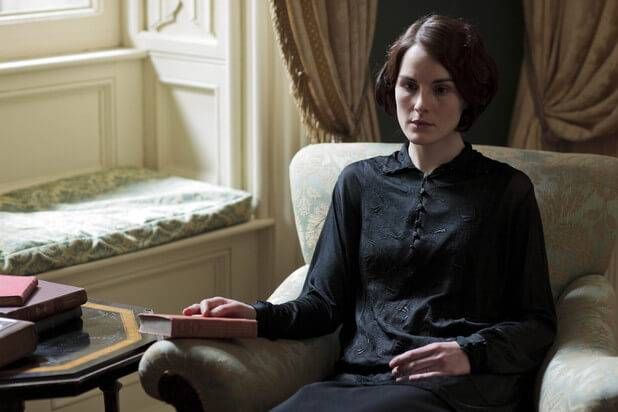 Edith's personal life is blossoming, and her palette expands dramatically to show it. Although there is still a smattering of coral in her wardrobe, we see her in soft grays, mint greens, and a good deal of her departed sister's regal purples as she explores London and courts Michael Gregson. Edith is, again, the most fashion forward of the sisters, sporting dropwaists and menswear-inspired with great flair.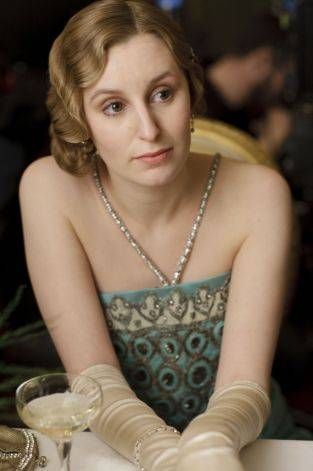 Cousin Rose, by far the youngest at Downton, also goes in for modern silhouettes, but mainly in soft pastels, a palette that reflects her youth and naïveté but also masks her wily ways.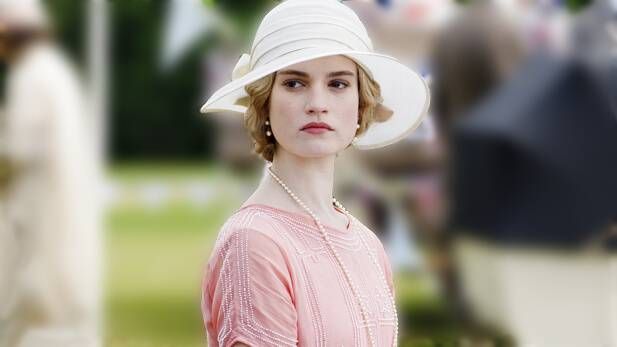 What will Season Five hold for the Downton women? Will Edith bust out of her coral rut for good? Will Mary find her fire once more and revert to red? And how will Rose's contributions to the family drama play out in her wardrobe? One thing's for sure-- color is one of the most emotional aspects of dressing, and the Downton costumers use that knowledge to reflect the personalities of the show's vibrant cast of characters.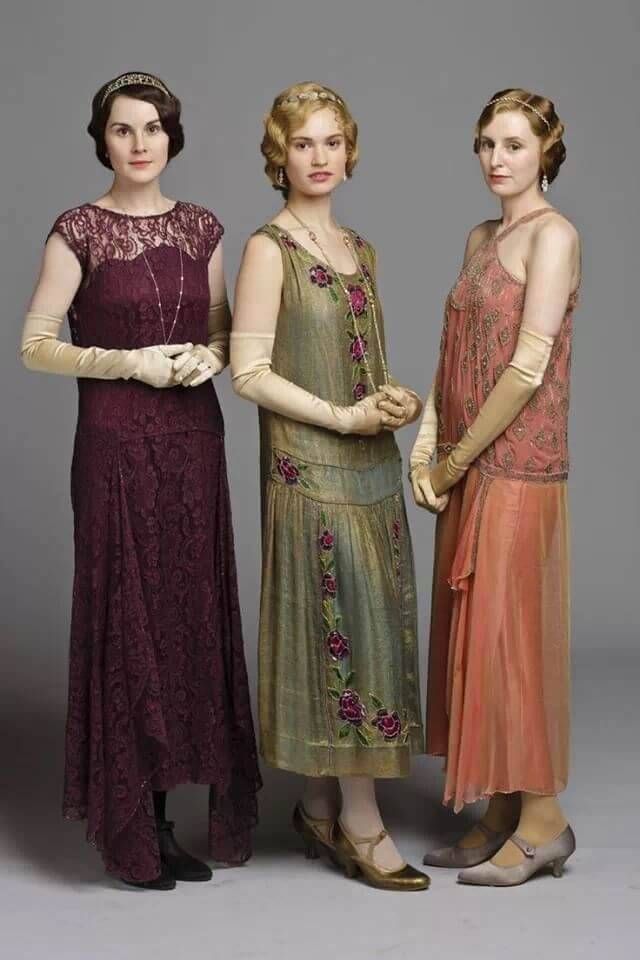 SOURCES:
The Daily Beast - "Meet the Downton Abbey Costume Queen" 
Downton Abbey Online - "Downton Abbey Fashion"
Masterpiece on PBS - "The World of Downton Abbey: Styles From Formal Dining to the Front"
Style Dot Com - "Caroline McCall Talks Dressing Downton Abbey for the 1920s"