Minnesota's First Iranian American Politician Wants You to Vote
by
Peter Diamond
Mitra Jalali Nelson was at the Turf Club in St. Paul, Minnesota, when she found out she was going to be the next city councilwoman to represent Ward 4, and make history in the process.
While wearing a bright pink tutu, she became the first Iranian American elected official in Minnesota after her first run for office. At 32 years old she's the youngest member of St. Paul's city council and is part of its first-ever female majority. She's also the council's only renter, representing a community with a surging renter population.
During her campaign, her signature pink signs dotted yards around Ward 4.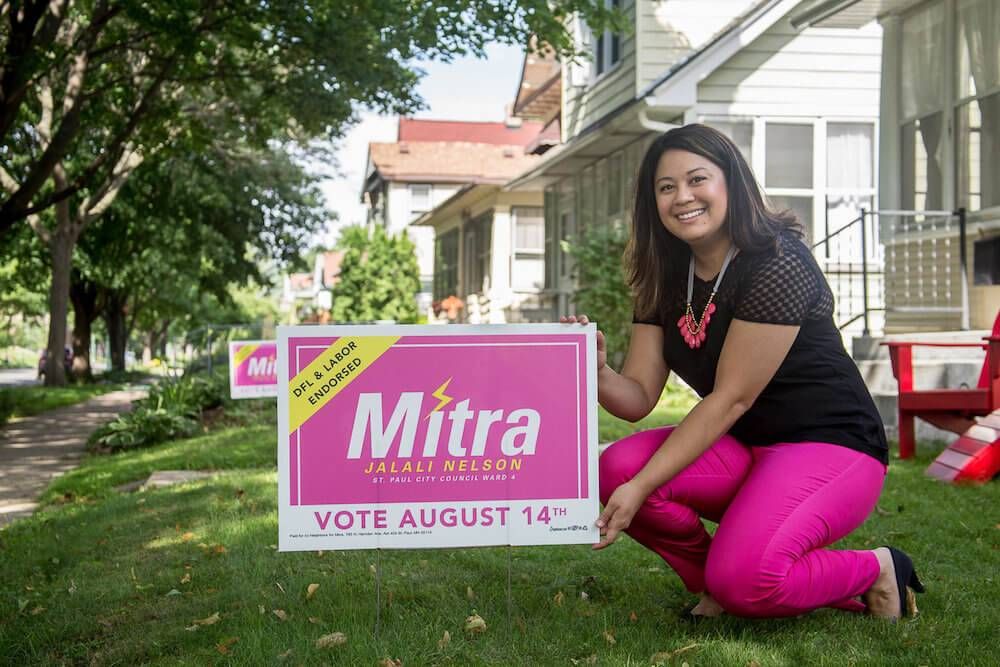 "From an immediate psychological association standpoint, we tried to build a campaign that was true to me, and true to us, and what we care about," Nelson said of her campaign's branding.
Her logo includes a lightning bolt modeled after the superhero Ms. Marvel, and she dyed her hair pink before being sworn in to her new role. For her, pink has become a symbol of inclusion, and helped her be noticed during the local special election race.
"We kept talking about progress that brings all of us with it," Nelson said. "This idea that we are all going to move forward together, and it's our duty as a city to find a way for everyone to have what they need to succeed. That's the baseline."
But it wasn't just the pink that caught people's attention. Mitra's platform was built around a progressive agenda that includes affordable housing, renters' rights, a $15 minimum wage and police accountability. She has been transparent about her goals and how she plans to achieve them since she announced her campaign, even providing an in-depth housing blueprint on her website.
"I think that what I saw is a moment in our city where we can either build for the future or we can fall behind," she said. "I think we are at that tipping point."
The importance of visibility
Mitra is the daughter of immigrants, and was raised in an Islamic household in places all over the Twin Cities metro area. Like many Iranian immigrants, her father moved to the U.S. from Tehran in 1979 because of revolution and upheaval in his home country. Her mother came from South Korea, and was adopted in the States at 14.
Her identity is an important part of who she is as a person and as a leader.
"More representative leadership is not this 'vanity project,'" Nelson said. "I've seen really dismissive comments about our race, like, 'oh, it just came down to identity politics.
---
"If you don't think that someone's life experiences are a part of the totality of things that make them an effective governing force, and you just reduce everything down to that, then you fundamentally misunderstand what it means to govern effectively and how you actually are inclusive to people."
Nelson was in high school when 9/11 happened, and her life became politicized in a way that it had never been before. That day she was asked by an elder to speak at a Muslim gathering in front of about 200 people because no young people were speaking. She remembers how life-changing it felt to have her voice elevated by someone believing in her, and how it made her want to become a leader.
"I think when you benefit from others giving you room to grow like that, and room to lead, it puts you on a path of then wanting to help others experience the same thing," said Nelson, who was a teacher before moving to politics. "For me, so much of teaching was about creating platforms for my students to express themselves, advance their point of view, argue more effectively and unpack their experiences and be able to analyze the world through that."
From teacher to trailblazer
Nelson started her career as a social studies teacher in New Orleans just three years after Hurricane Katrina hit. The community was still in recovery and the local government was struggling to keep up with its needs.
"I felt like I was dropped into this situation of like every type of disaster at once," Nelson said. "There are failures of the government, racial inequality and all these things compounding one another.
"But at the same time, seeing the power in my classroom to create a friendly environment where we could begin to unpack students' experiences and bring their world into our classroom was one of the most powerful things I ever got to do."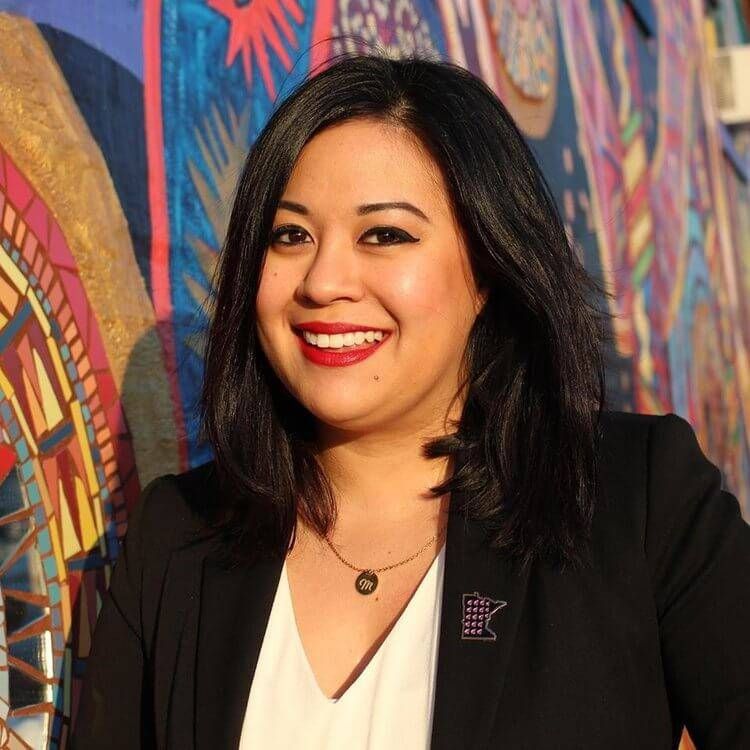 Nelson's experiences with students who lived in poverty, and seeing how structural changes could improve their lives, put her passion for organizing into focus.
"When you're a school teacher, everything that is happening to your kids is all on display at once," Nelson said, "From housing stability to how the police interact with my kids, to food insecurity, low wage jobs and their working schedules."
Mitra came back to Minnesota to teach and became an organizer with the Saint Paul Federation of Teachers. She helped pass a major funding levy for the St. Paul school district—a $39 million annual investment to improve classrooms—and worked as a congressional staffer to U.S. Rep. Keith Ellison.
"That was the beginning of my organizing career,... realizing if you run your classroom, you're running one classroom, which is very important and no one else can do that job," Nelson said. "But then there's this systemic view of who is making decisions that impact what resources that classroom gets, what those teachers and kids are getting, and I became very interested in that."
Making a difference where you are
Part of the work Nelson hopes to do in office is create more opportunities for people to talk to city officials about their experiences in the city. And then, together, figure out how to make things better for everyone.
"I think that people often don't realize how much their local advocacy will matter," Nelson said. "If you send an email to your councilperson, you might be one of 50 people who weigh in on that thing, and all of a sudden you're part of a body of public input that person is using to make a decision."
What can you do in your own community? Nelson stresses the importance of public storytelling, showing up to vote in elections big and small and asking for things you believe your community needs. You don't have to be experts to participate in government. The biggest barrier for people is how inaccessible or ineffective government can seem, she said.
"When you think like an organizer, and you are an elected official, what that means is that you fundamentally want to break down barriers to the conversation that is happening and try to create more spaces for people to come together," Nelson said. "That's what I want to do as a councilperson."
This article is part of  "Living for the City," a Rewire initiative made possible by The John S. and James L. Knight Foundation.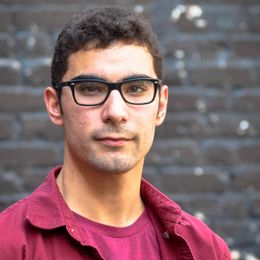 Peter Diamond
 is a freelance writer and editor based in Minneapolis whose work has been published in City Pages, The Current and MPR News. You can find him on Twitter @rePeteDiamond.