From Mental Health to Money: Talking Points to Get You Started
by
Marissa Blahnik
The more important a topic is, the harder it can be to talk about. Whether at work or at home, there are plenty of distractions that make avoiding the hard stuff easy.
But just like that old proverbial bandaid: Once you get started, once you normalize talking about the hard stuff, it's usually not half as scary as you thought it would be.
We've gathered expert advice to help you get the conversation started — with yourself, with your partner, with your parents — about sensitive topics relating to love, money and health.
Love
Lifestyle differences
"If people want to learn more about your choices, then feel free to share. But also don't feel that you have to share," therapist Jenny Matthews said.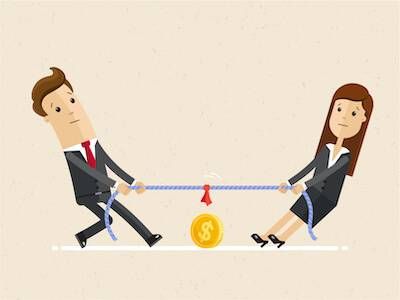 "Know that there is not one right way to live in this world. Everyone is entitled to their own choices. There is a reason you have chosen your lifestyle. It likely brings you joy, comfort or improves your life in some way. Not everyone will agree. Haters will hate."
Pronouns
Normalizing pronoun sharing is a form of allyship, genderqueer artist Archie Bongiovanni said. Don't wait until you have someone on your work team or in your organization you think might be trans or gender non-conforming to start talking about pronouns.
"I think if workplaces and businesses and places where we exist don't catch up and get to speed when it comes to inclusive language and good LGBTQ policies, they're going to get left behind," Bongiovanni said.
Bad romantic partners 
"Ask (yourself) 'What are the risks if I give this feedback and what are the risks if I don't?'" said Minnesota-based marriage and family therapist Rebekah Miller.
Money
Your parents' estate plans
Millennials' parents are just now hitting retirement age. With more than half of people in the U.S. having saved less than $10,000 for retirement, Erin Lowry, financial expert and author of "Broke Millennial: Stop Scraping By and Get Your Financial Life Together," anticipates the financial burden of their parents' retirement will fall on their children.
Privilege
"When we frame inequity as a person's undeserved privilege, that person tends to justify their status by talking down the other party, describing the colleague as lazy or incompetent," Ashleigh Shelby Rosette, professor of management and organization at Duke University's Fuqua School of Business, said to the university about her research. "This disparagement then justifies their decision not to share their rewards even though they were unfairly distributed in the first place.
"Simply by changing the framing and presenting inequity as another person's undeserved disadvantage, we find people are more interested in addressing it and are less likely to blame the other person."
Your honey's money
Depending on your upbringing, you might think of money as something only married couples need to talk about. But with our generation pushing off marriage, that means important relationship milestones that go with it — like having a frank discussion about financials — could be getting pushed off, too.
Not only is that bad for your relationship, it's bad for you.
Analyzing two years of data from more than 500 adults transitioning from college to post-college life, relationship researcher Melissa Curran and her research team learned that the financial habits of your romantic partner, even if you're not married or living together, impact your relationship and your personal well-being, both mental and physical.
Health
Chronic illnesses
"Small talk is hard for anyone who has something big going on in their lives, and for those of us living with chronic illness, something big is going on all the time," said Allie Cashel, co-founder of the nonprofit Suffering the Silence. The organization advocates for people with chronic and invisible illnesses.
Suicide
"As someone who last spring went through a very near suicide of a brother,… the biggest thing I learned from the whole experience is to do something. To speak up. To not worry so much about 'What if I am fanning the flames of a suicidal ideation by talking about it?'" said Paul, a Minnesota-based actor who asked that his last name not be used in order to protect his brother's privacy.
"Nope. Every crisis counselor that I spoke with, and the person who answered the phone when I called the (National Suicide Prevention Lifeline), all said to speak up and not be afraid I would be causing harm by talking about it."