Making Cents: 6 Easy Ways To Cut Your Monthly Expenses
by
David Carlson
February 16, 2016
|
Money
Student loan payment. Car loan payment. Groceries. Gas. The list goes on.
Expenses can add up quickly each month and before you know it, your paycheck is spoken for.
If your financial situation is like that of most people who are just getting started as adults, it can feel like there is never enough money coming in and always way too much money going out each month. It can feel nearly impossible to "get ahead," let alone build an emergency fund, adequately save for retirement, or scrape enough money together for a down payment on a house.
The problem with some of the money-saving advice out there is that it's not practical. "Get rid of your car and bike everywhere instead!" Really? Have you ever lived through a Minnesota winter?!
So, how can you actually cut monthly expenses? Here are a few practical things you can do to make a dent in your expenses and give yourself some breathing room.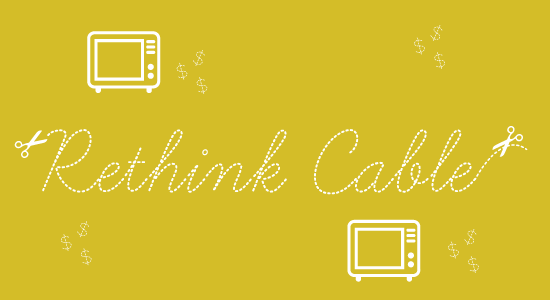 1. Rethink Cable
I've long thought cable was the worst type of service. The pricing is confusing and the more loyal a customer you are, the more likely you will be to pay more for the same service. How backwards is that?
With technology advancing every day, there are countless new entertainment options that are finally making people comfortable with cutting cable altogether. From HD antennas to DVRs to streaming services like Netflix, there is an endless number of products and services that can help you ditch cable for good. (Not to mention a neato PBS app!)
If you're spending ~$150 a month on cable and internet, check out some of these alternative options. If you can't picture a life without cable, check out Sling TV, which has a number of cable channels for a flat fee of $20 a month.
Peter Anderson writes about personal finance and has created a comprehensive guide to cutting cable. He's been using a device called Tablo Over-The-Air DVR to discover, watch and record over-the-air content.
"I supplement that by having a subscription to a couple of streaming services like Amazon Video and Netflix," he said after posting the guide on his site Bible Money Matters.  "I've found cutting the cord hasn't been very hard because there are so many free or affordable options for entertainment content. For example, 94 of the top 100 TV shows are available for free over the air--without paying for cable TV."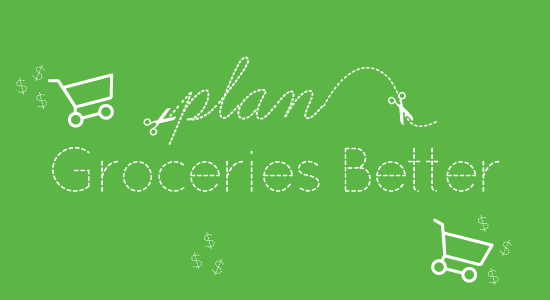 2. Plan Groceries Better
Food is an area that many people have room to cut back. Many people do not plan meals, clip coupons, or bring lunch to work. By planning groceries and food in advance, you have an opportunity to potentially save hundreds a month.
Let's start with brown bagging lunch. It can be fun and convenient to grab lunch at work, but if you pack a lunch even a few days of the week you are potentially saving $100+ from that change alone. This may not be an option for some people but for others, this can be a big win long-term.
The second thing that you can do to cut your grocery bill is to plan ahead. Spending just a few minutes planning your grocery list can prevent those impulse purchases when you get to the grocery store. Pro tip: plan out your meals for the next week or two to prevent food going to waste.
Travis Pizel and his wife paid off more than $100,000 of debt. He has a specific strategy for saving money on groceries.
"The most effective way that I keep my grocery bill down is to keep a running total on my cell phone calculator of what's in my cart," he said. "I don't head to the checkout lane without knowing how much my bill is going to be. If I'm over my budget, I scour the cart for things to put back. This not only keeps me on budget, but also prevents my cupboards from overflowing with a stockpile of food I don't need." Pizel shares the full strategy on his web site Enemy of Debt.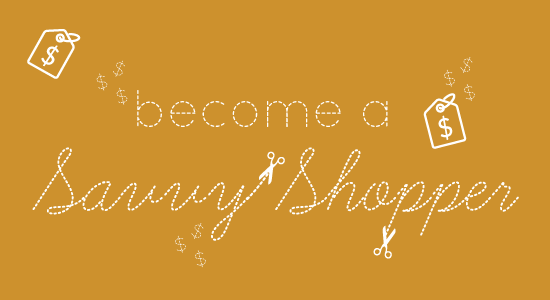 3. Become a Savvy Shopper
Groceries aren't the only area you can save money by shopping smarter. Being more intentional about purchases such as clothing and household items can save you a ton of money over time.
You don't have to be an extreme couponer to benefit from coupons, deals, and promotions. Before writing this post, I purchased a suit from Macy's. I used the coupon code on their website to save $10, but thought "there has to be a better coupon code than this." I Googled "Macy's promo code" and found a code for 25% off my order. This was significantly more than the $10 I would have saved and it took less than a minute.
Another example of an "easy win" when it comes to saving money while shopping: the Target REDcard. Many people think that the Target REDcard is a credit card, but you can actually set it up as a debit card that is linked to your checking account. No credit card required but 5% saved every single purchase.
If you haven't heard of the blog Pocket Your Dollars, you will want to check it out. Carrie Rocha is a Minnesota blogger who shares coupons and deals for just about anything. My wife and I have saved thousands over the past few years using her printable shopping lists.
The bottom line is this: you are likely spending more money than you need to, whether it's on groceries, electronics or toiletries. Become a savvy shopper and save yourself some dough.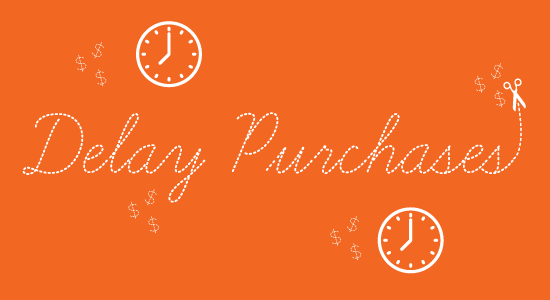 4. Delay Purchases
An underrated way to save money is through delaying purchases. The bigger the purchase, the bigger the savings.
A good example of this is purchasing a vehicle. Newer cars are great, but not having a car payment is better. If you can drive a car an extra year, two years, or even five years you can extend the value you get out of your vehicle.
This concept can be applied to other major purchases like home remodels and furniture. The longer you can put off the purchase, the more time you have to save for the purchase. Sure a new bathroom may be nice, but paying for it up front instead of taking out a loan is a big financial win.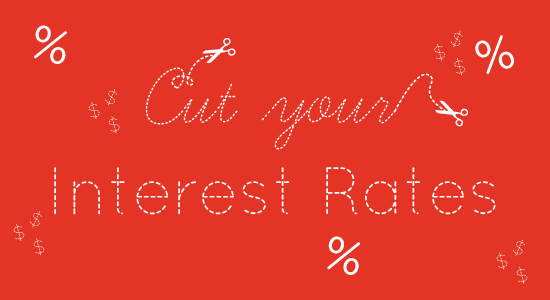 5. Cut Your Interest Rates
Interest. That black hole where money disappears and you receive nothing in return.
Thankfully, there are more and more options for refinancing debt at lower interest rates. Credit card debt is typically the debt with the highest interest rate, sometimes surpassing 20%. If you have credit card debt, look into a 0% APR transfer credit card or refinancing through a site like Prosper or LendingClub.
Interest on consumer debt isn't the only interest that may be higher than it needs to be. Student loans, specifically private student loans, can come with high interest rates. If you have student loans with interest rates higher than 6% you may benefit from refinancing through a company like SoFi.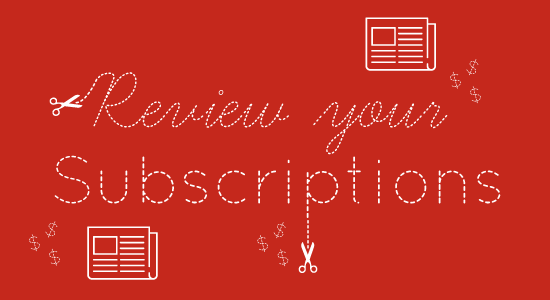 6. Review Your Subscriptions
Consumer goods are increasingly moving towards a subscription-based model. Think about all the things you pay for on a monthly, quarterly, or annual basis: it's probably more money than you think.
I already mentioned cable earlier in the post, but there are many other subscriptions where you are likely paying more than you should be. Doing an inventory of all your subscriptions will likely result in identifying holes in your budget where you can save $10, $20, or even $100 dollars a month.
Cell phones are an easy target. Increased competition among the major carriers is good news for consumers. Companies are fighting for your business and that means there is no reason you should be paying, say, $150 a month for your cell phone. Consider shopping around and seeing what other carriers have to offer, and be open to newer services like Republic Wireless where you can cut your cell phone bill down to as little as $10 a month.
Other subscriptions to review include magazines, gym memberships, and entertainment like Spotify or Netflix. Are you utilizing these subscriptions or do you keep them 'just in case' you'll need them? There likely is some savings to be had by reducing, changing or cancelling your subscriptions.
___________________
Saving money doesn't have to involve drastic sacrifices. You don't have to move into a tiny home or be stuck trying to ride a bike 15 miles through a blizzard because you sold your car.
Simply reviewing how you are spending your money and making some conscious changes can have a big impact on how much money is flowing out of your bank account each month.