How to Make Your Holiday Meals Inclusive
by
Miranda Konar
Dietary restrictions—both having them and accommodating them—can add an additional level of stress to the holiday season. Whether you're looking for inclusive recipes, hospitable tips or tactful responses to tactless questions, here are some ideas to make sure everyone has a place at the table.
Before you go
Guests with dietary restrictions, reach out to your hosts in advance! This gives you a chance to go over the menu and preparation (especially important for people with allergies). Not everyone is familiar with the rules of cross-contamination, and a conversation can both bring your hosts up to speed and help you gauge how comfortable you are eating their offerings. It's also an opportunity to volunteer bringing a dish or two of your own, which guarantees there will be something you can enjoy.
Hosts, it's always appreciated to check with all guests about dietary needs ahead of time as well.
In the kitchen

If you're cooking for a holiday party, always be aware of cross-contamination. Don't make cookies on the same pan you used to roast nuts, or rinse vegetables and pasta in the same colander. And if you are cooking for guests with restrictions, check all of your ingredients. You'd be surprised by what can have gluten or dairy components.
For hosts and guests bringing a dish, including a label with all the ingredients helps keep things clear.
At the table
Allow guests with dietary restrictions to serve themselves first—this ensures that they have access to uncontaminated utensils and dishes, and can get enough of the foods they eat. Using individual utensils for each dish and giving all guests a friendly reminder about serving protocol is another way to keep the meal safe for everyone.
People with dietary restrictions know how free others feel to comment on their eating or minimize their conditions. A friend with Celiac's disease has found that saying, "It looks delicious, but I can't take the chance" usually ends the discussion when a host or fellow guest pushes a plate. And if someone tries to tempt a vegetarian with the Christmas ham, a response like, "I've tried it, but it's no substitute for Tofurky" is a light-hearted way to turn the joke around.
That said, if you are comfortable with the person, these moments can also be opportunities to talk about the appropriateness of commenting on others' dietary choices. How and what you eat is your business, even at family events. Something non-accusatory like "I've found that people are often interested in others' eating habits—why do you think that is?" can get this started.
Recipes for everyone
One of the best parts about putting together an inclusive menu is that recognizing everyone's needs expands the variety of your offerings. Branch out this holiday season with a selection of recipes everyone can enjoy. I've picked out a few favorites for each of the season's major holidays.
Mawlid
The Mawlid feast looks different by region, but baklava is often a staple, so use this paleo recipe from Mary Shenouda to make sure it ends up on your table.
Devotees of this dessert recommend eating it sticky-side up—experiment with your guests to see which way you prefer.
Hanukkah
Our family Hanukkah was celebrated with piles of latkes and not much else, making this a pretty veggie-friendly holiday. That said, people often fry latkes with chicken fat, so here's an alternative (and also lower-carb) option I love. Protein-filled Greek yogurt makes this a satisfying meal.
Christmas
I find that while turkey often underwhelms, gravy is, in the immortal words of The Dude, the rug that ties the room together. Here's a wild mushroom gravy from Oh My Veggies safe for every plate. Use alternative butter and flour for dairy- or gluten-free.
I've never been a big ham fan, mainly because I befriended a pig on a third-grade field trip. That said, this warm white bean salad from The Splendid Table doubles as both a perfect protein for non-meat eaters and delicious side to the meaty main event. Nutritional yeast makes it dairy-free, and bread can be substituted for gluten-free.
A friend's favorite vegetarian stuffing, from Food52: butternut squash, Brussels sprouts, and apple. In her experience this comes out pretty sweet, so keep that in mind depending on your preference. Vegan and adjustable for gluten- and nut-free.
Or you could try Smitten Kitchen's savory option, a delicious combination of kale and caramelized onion.
Kwanzaa
The mix of food cultures at the table gives you lots of room for creativity during Kwanzaa. If you do have to pass up the jerk chicken, this vegan, gluten-free yam and groundnut stew or restriction-friendly Hip Hoppin' John (tofu, black-eyed peas, and collard greens), both from Robin Robertson's Some Like It Hot, will more than compensate (and have the omnivores asking for more).
Sneak in an extra serving of veggies with the New York Times's pecan-topped carrot soufflé. Substituting the flour made this a holiday staple in a family friend's gluten-free household.
However you celebrate and whatever is on your menu, happy holidays and bon appétit!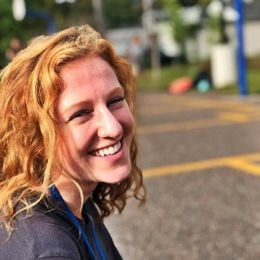 Miranda Konar
 is a Rochester, NY native and Wesleyan University grad working in Minneapolis as an after-school educator and opinionated ice cream scooper (all salted everything). Ask her about her favorite historical dramas, but only if you really have the time. You can reach her at
[email protected]