How to Ace Your Lunchtime Job Interview
by
Katie Moritz
In the standard job interview you know what to expect, even if it's your first time---a corporate setting, a small table, minimal distractions. But what—if anything—changes when the venue changes? In some industries today, interviews happen in all kinds of unconventional ways: over Skype, over drinks, in groups. And also over lunch.
When unpolished table manners combines with anxiety about interviewing for a job, a lunchtime interview starts to sound like a potential stumbling block.
But it doesn't have to be. If you've gotten this far, you can nail your lunch interview. Three experts in etiquette and hiring shared their tips for having a great lunch interview.
1. Pick the right restaurant
The etiquette and art of a lunchtime interview starts at the very, very beginning. If you're given the option to choose the restaurant, pick a place that has a personal connection to you. You can leverage that connection later by telling your interviewer about it. It's a nice way to add a human touch to what technically is a business transaction.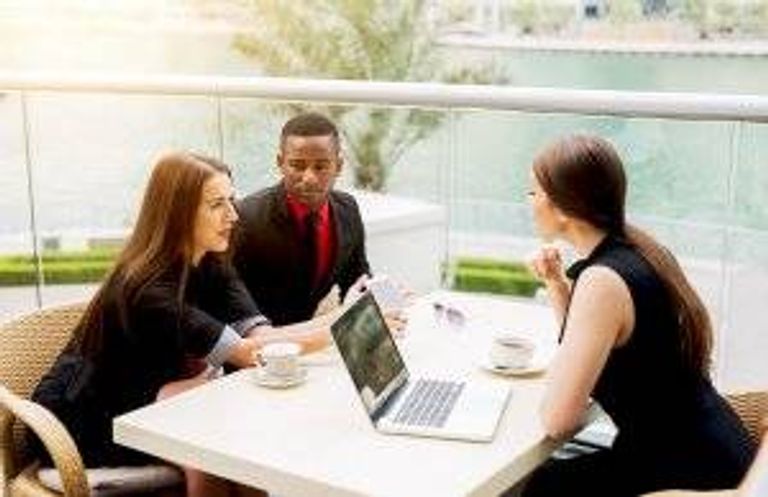 Don't choose a place that's too expensive. After all, the interviewer will be picking up the tab, and choosing an expensive restaurant might make it seem like you're in it for a free meal, or that you might not be good with money, said Dan Phan, founder of executive training firm The Late Majority. He recommended giving your interviewer two inexpensive options to choose from.
And, of course, don't pick a place that only serves food that's difficult or messy to eat—like a burger joint, pizza place or noodle or pasta restaurant.
Before you go, eat a snack. It might seem counterintuitive, but you might not get to eat very much during the interview, and you don't want to come off as ravenous or, God forbid, hangry.
"The business meal is more about the business and less about the meal," said etiquette expert Jacqueline Whitmore, author of "Poised for Success: Mastering the Four Qualities That Distinguish Outstanding Professionals."
"You don't want to appear hungry and not concentrate on the interview. The food is kind of the background, the scenery, if you will. What's most important is to concentrate on being focused on the interviewer."
Make sure you arrive at your lunch destination early so you can be relaxed and collected by the time your interviewer gets there.
2. Be the real you—but better
If your potential employer is taking you out to lunch, that means they want to know what you're like outside of a workplace setting. They want to get a feel for your personality and whether you'd fit in with company culture. They want to know if you're good at holding a conversation, how polite you are to waitstaff and even how adept you are at making decisions—that means no waffling on what you're going to order. Look at the menu briefly, pick a dish and stick to it, Phan said.
"Put it out of your mind that at some point the interview is going to begin," said business etiquette expert Elaine Swann, founder of The Swann School of Protocol. "You're on from the beginning."
Once you order, it's time to really turn on the charm.
"Between ordering and getting the food, that's your sweet spot," Swann said. "That's the opportunity you're going to get to really shine without the dance of the food involved."
When you get talking, try to work in an anecdote that highlights qualities that make you a great fit for the job. Make sure you've done your research on your interviewer ahead of time so you can talk about things they're interested in, too. It's a great alternative to awkward small talk and lets them know you've done your homework.
Not sure when to talk and when to eat? Follow the lead of your interviewer.
"That's another reason you should eat something before the interview—because you don't want to appear like you are hungry," Whitmore said. "You want to slow down and wait for the host to start."
3. Choose something simple
When you're choosing a meal off the menu, pick something simple you can eat with a knife and fork. Don't choose something that you have to eat with your hands, even a sandwich or a wrap, or that would cause a lot of splashback, like spaghetti or ramen.
Once you get your dish, take smaller bites than you normally would, Swann said. You're going to be talking as you're eating, and if you're chewing a huge, or even normal-sized, bite of food, you might not be able to answer an important question quickly.
Also, "don't order the most expensive thing on the menu, follow the host's lead," Whitmore said.  "If your host orders soup and salad, then you order soup and salad."
4. Should you drink?
In his past life working in hiring for a large company, Phan would interview candidates in all kinds of situations, including during happy hour. If that's the name of the game, should you have a drink?
Yes, but just one, he said. If you don't drink, don't feel obligated to order alcohol. Politely decline and order a different type of drink, Swann said.
If you're interviewing over lunch, don't drink alcohol, even if your interviewer does, she said.
"If the interviewer orders a drink and they offer you one, I suggest that you decline" politely and choose a different beverage.
Remember, at the end of the day, this is a business meeting.
"This may be the final (interview) where the interviewers really want the opportunity to get to know you outside of the workplace setting and in more of a relaxed environment," Swann said. "But keep in mind you shouldn't get too relaxed."
5. At the end of the meal
Let your interviewer pick up the tab, including the tip. In a lunch interview situation, the potential employer always pays.
"Resist the urge to assist in paying for the meal," Swann said. "Just be gracious and say 'thank you.'"
And be prepared to leave leftovers behind.
"In the business meal there are no doggy bags, so don't take any food to go," she said. "Unless the interviewer insists you take it—of course, you are gracious and take it with you."

Katie Moritz
 was Rewire's senior editor from 2016-2019. She is a Pisces who enjoys thrift stores and pho. Follow her on Twitter @katecmoritz.