Loosen Your Corsets Ladies and Gents: 'Poldark' is back
by
Elle Lyons
SPOILER ALERT (if you're not all caught up on season one yet A.) hurry up, B.) shield your eyes.)
Oh man it's been a long time. Last summer's sleeper PBS hit, "Poldark," is finally back. If you're like me, you were expecting to enjoy another titillating season this summer only to find no such titillation. PBS (smartly) decided to delay the season two premiere until the ratings-heavy fall season. Which means we've had to wait OVER A YEAR to find out what happens to one maligned (and arrested) swoony-hero, Ross Poldark. The agony. Thankfully, the wait is finally over and "Poldark" returns on Sunday night. Bonus: it's a two-hour special premiere so you get to enjoy your new "Poldark" kick-off in basically feature-length form. So far so good. But, you ask, what of the premiere itself? Is it any good? What are we in for in season two? Allow me to elaborate...
Here's what to expect in season two: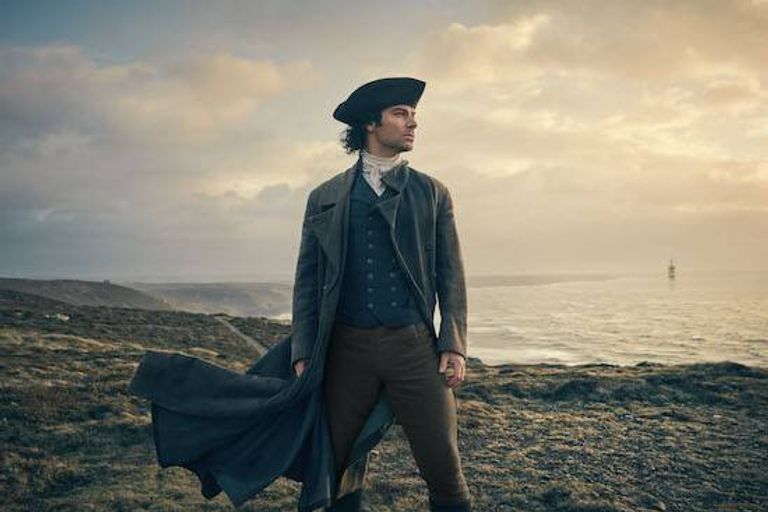 Didn't actually think George could get any worse. I was wrong.

Am I the only one who loves the music?????

Seriously guys, it's not like I was really that worried about something utterly dire happening to Ross. It's the first episode of the season and he's the title character for Pete's sake! But somehow, I was still totally anxious about how the drama would unfold and what would become of our beloved hero. But rest assured, we will find out what becomes of Ross Poldark after his dramatic arrest at the end of season one! Beyond that, you'll have to watch and see…

Bucolic, windswept, moody landscapes? CHECK!
Swashbuckling titular hero? CHECK!
Feisty, fire-haired leading lady? CHECK!
Spine tingling villain? CHECK!
Beautiful strings-heavy soundtrack? CHECK!
Edge of your seat drama? CHECK!
Suffice to say, everything you loved about season one is back in spades. AND THAT'S JUST THE PREMIERE! We can only imagine what's to come during the rest of the nine episode season. And, rumor has it that season three is already in the works. YAAAAS. In conclusion, know this: you are going to feel that things are sufficiently resolved regarding last year's cliffhanger by the end of episode one, and you can settle in and enjoy what is sure to be another moody and dramatic season.
"Poldark" premieres on Sunday, Sept. 25 at 8 p.m. Or watch online anytime.
Speaking of which, do you even Passport? Watch ALL episodes of "Poldark" ANYTIME (not to mention "Downton Abbey," "The Great British Baking Show," "Austin City Limits" and much more.)