LGBTQ Couples Say 'I Don't' To Wedding Expectations
by
Vera Concepcion
Sammy and Oliver Hope's meet-cute is one that seems straight out of a classic rom-com. The couple first met at a library program for teenagers while they were both still in high school.
But at that time, they looked and felt almost completely different than they do now. Back then, in 2011, Oliver had not yet come out as a non-binary transgender person and Sammy's perception of self was just as different.

"I thought I was straight," Sammy said. "We were just friends for a while, then when I turned 19 we found ourselves hanging out a lot more.
"I suddenly was like, 'I love Oliver; I need to be around them all the time.' It felt like I was missing something when we weren't out together."
In the seven years since they met, Sammy and Oliver's relationship has changed and grown and so have they.
Oliver, now 25, came out first as trans, then as non-binary, which means they don't identify with either binary gender of male or female. Sammy, 26, came to realize she's pansexual, or attracted to people of all genders, and non-binary herself. Now, Oliver uses they/them pronouns and Sammy goes by both she/her and he/him.
The Seattle couple is planning a wedding for later this year. But not without a lot of thought about how they want to change the way people think about weddings and marriage.
Getting married? It's not everyone's endgame
Although same-sex marriage was legalized in the U.S. back in 2015, not all LGBTQ couples leapt at the chance to get hitched.
In fact, a 2016 survey conducted by Research Now and evolutionary biologist and gender studies professor Justin R. Garcia of the Kinsey Institute at Indiana University indicated that 25 percent of LGBTQ singles have never wanted to get married, with 53 percent saying they've always wanted to and 21 percent feeling ambivalent about it.
And most — 61 percent — say the Supreme Court ruling had no impact on how they feel about marriage.
Part of this has to do with a rejection of traditional marriage—the feeling that it doesn't fit quite right for LGBTQ couples. Journalist Natalie Neusch wrote about "gays who don't want gay marriage" for the Daily Beast back in 2011.
"There's a subtler, even more insidious anxiety lurking beneath the surface of our gay-marriage win," she wrote. "It's the unsettling possibility that we've spent the past couple of decades fighting to fit into an institution that doesn't necessarily fit us.
"I wouldn't be surprised to see someone wince if I referred to my partner as my wife. And I might wince a bit myself. We've been so focused on getting marriage 'equality' that we've hardly stopped to think about how we'd feel about actually being married."
Because of that, some couples, like the Hopes, are taking the parts of marriage, and weddings, they like and ditching the parts they don't.
Building their own future
The tradition of the woman taking the man's last name after marriage has been bucked more and more by heterosexual couples in the 21st century. A 2015 survey conducted by the New York Times showed that 20 percent of women married in recent years kept their maiden name, a number that's been on the rise over the decades. For LBGTQ couples, the tradition makes even less sense.
While Sammy and Oliver could have hyphenated their last names, a common choice for queer couples, they didn't feel a strong connection to either of them. Instead, they decided to come up with something entirely new.
They came up with "Hope" by combining the maiden names of their mothers. This has allowed them to forge their own path while remaining connected to their past lives and their families, they said.
The trouble with wedding culture
After their engagement, Sammy and Oliver found that planning a wedding was much harder than they thought it would be. Not necessarily because it was a hard event to plan, but because weddings are still awfully binary, even for LGBTQ couples.
"I remember picking up the forms for an application for this wedding venue at a garden and the forms asked us who would be the bride and who would be the groom" Oliver said. "It's like, that doesn't apply to us at all."
"It really feels like 'The Bride' and 'The Groom' are roles in a play and we just have to act them out for this show," Sammy said. "It's a role in the truest sense of the word."
Oliver added: "I'm not comfortable with the word 'groom' but I'm definitely not the 'bride.' We just don't have any cute non-binary wedding titles to use."
Amidst imagery of modelesque couples smiling in meadows in huge wedding gowns and pristine tuxedos, Sammy and Oliver asked themselves: "Why can't our wedding just reflect our true and authentic identities?"
Making their own rules
Just as there are many ways in which the gender binary makes itself apparent in wedding planning, Sammy and Oliver are finding ways to subvert the binary and assert their own personal and shared tastes and preferences instead.
First, they asked themselves "why" have a wedding instead of "how to" have one.
"There's so much expectation of what a wedding is but not so much about the 'why,'" Oliver said. "We want our wedding to be a party of love and a celebration of us as a couple and we were thinking a lot about how to make our queer friends comfortable at, and prioritizing them in, our planning of the event."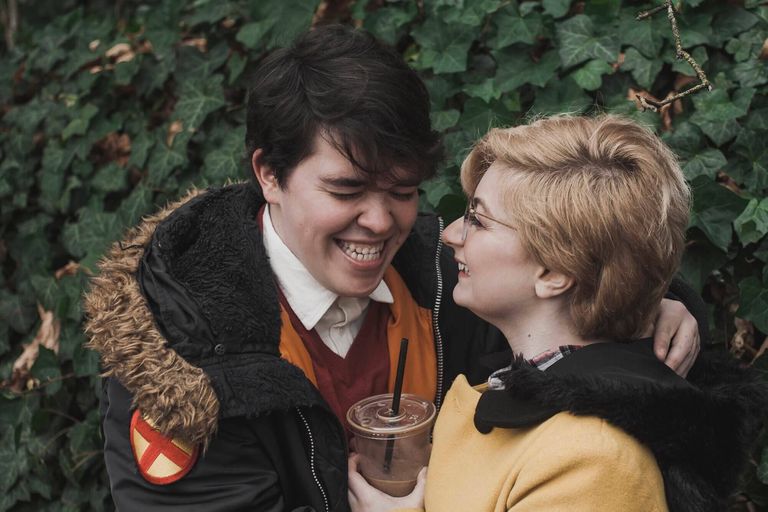 Deep-seated expectations about weddings even manifest themselves in the clothing of the people getting married.
"A lot of our friends and family are horrified or even disgusted at the idea of me spending less than $50 on a wedding dress, as if I've ever been in the habit of buying designer dresses just to go to a party," Sammy said. "If I find a $10 dress from Target I really like, I'm gonna wear it."
For this couple, a wedding that includes only what they want to include is the way to get around the stuff they find problematic.
"You get engaged, choose a venue, book a date, then send out the invitations," Sammy said. "A wedding really doesn't have to be a multiple-thousand-dollar affair with all the expensive bits and baubles to make it look Pinterest-perfect."
Creating a special space
It is easy to feel left out or marginalized in a public space as an LGBTQ person, especially in the context of a wedding. For the Hopes, their queer friends are the priority.
Creating a safe space has included asking for pronouns on the invitations and offering pronoun pins to wear at the event. The couple even asked their venue to convert restrooms into gender neutral ones during the wedding.
But perhaps the most radical act of inclusivity has been their choice not to invite anyone who has ever been unsupportive or discriminatory of LGBTQ people, even if they're close family members.
"Our relationship has been a big point of growth and our identity and learning about ourselves and other people," Sammy said. "We want to extend that privilege to our guests."

Vera Concepcion
 is a writer from Las Vegas who is fascinated with all that is unexplored, mysterious, taboo and secret. Their main interests include digital media and internet culture, food and untold stories of the underrepresented. They are a Virgo and a natural blonde.