Lessons I Learned Buying an Old House as My First House
by
Rachel Crowell
Buying your first house can be exciting — and more than a little bit scary. That's especially true if you have been waiting to buy your own place and are finally ready to enter into the joy (and responsibility) of home ownership.
This fall, my partner and I decided to do just that. We did tons of research in an effort to find the best place to call home, from collecting mortgage pre-approval letters to going to open houses to interviewing realtors about how they could help us through the process as first-time homebuyers.
We had a specific idea about certain boxes we wanted the house to check. For instance, we knew we wanted the home to be a ranch or a one and a half story. We wanted an older house rather than new construction, though nothing built before 1900.
We ended up with a 1938 Spanish-style ranch we fell in love with on our first day looking at properties.
New and older homes present different joys and challenges. If you're debating about buying an older house, here are some points to consider.
1. Define "move-in ready"
It's very rare for older homes to align with that expectation, said Sally Zimmerman, an architectural historian and preservation planner for Historic New England, a non-profit historic preservation organization based in Boston.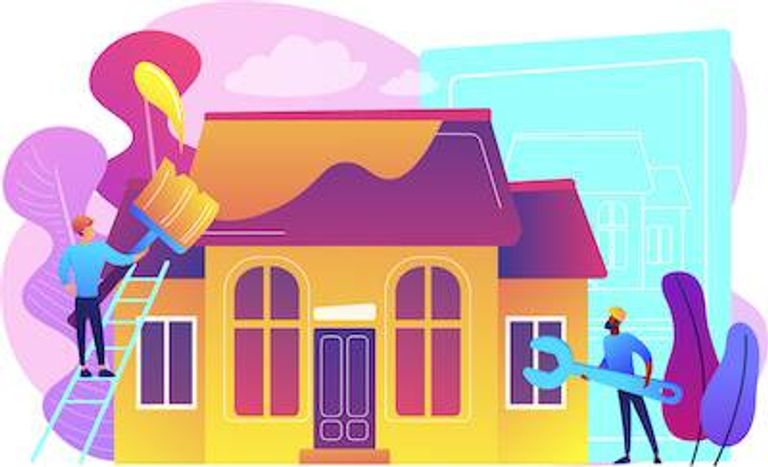 She often gives advice to prospective or current owners of historic homes on how to approach their quirks and solve problems.
Some situations are more extreme than others. When photographers Susan and William Brinson bought their first home, built in New York's Hudson Valley sometime between 1802 and 1850, there were 200 bats living in the attic.
The inspector missed the bat problem and the couple was left dealing with the critters, which can't be exterminated because they're endangered, but also have toxic poop.
Susan Brinson wrote an informative post called "10 Things I Wish I Knew Before I Bought an Old House" on her blog, House of Brinson. She described the bat situation and other challenges she and her husband encountered with the purchase of their home.
Still, she would happily buy the house again, she said.
2. Character vs. convenience
Older houses are more likely to deliver on character, while new construction is often set up for folks who are seeking convenience. That said, these are loose rules with plenty of exceptions.
If you're looking at a house that's older, more elaborate or even more historically significant, you're probably going to have to balance your needs and desires against what the house is able to deliver, Zimmerman said.
---
"The older the house is, the more you should be willing to work with the house," she said. "Make sure the fit is reasonable for how you're willing to live."
For example, if you want a home with an open concept layout, you might be able to renovate a mid-century modern home to reflect that vision. Putting that same vision on a house that was built in the 1800s, however? For the most part, you're probably better off with something else.
Still, the joy of owning a home that's also a piece of a community's history is often immeasurable.
Susan Brinson had followed her home on online listings for three years before she toured it. She knew it was a perfect fit the first time she visited.
"It almost had a personality of its own," she said. "You can get a lot of bang for your buck" with older homes.
3. Call in the experts
Plan for many projects to require more time, research and expert opinions than you might need for a newer home.
That includes the inspection stage. Susan Brinson recommends having the house inspected by two separate home inspectors.
"They're human and they can easily miss things, " Brinson said. "Each old house is unique to a certain degree."
For instance, her inspector was so "completely gobstruck and amazed" by the house itself that they forgot to check the attic and missed the bat colony. Having two people check it out can help you avoid oversights like that.
It also pays to know each home inspector's background and to make certain they have experience with inspecting older homes.
Other inspection professionals that you might need to consult at this stage are a bug inspector, sewer line inspector and a structural engineer, if any structural issues show up on the inspection report, Susan Brinson said.
If you need to contract out major renovation projects at the house, get at least three bids, ideally before closing on the house. The "perception of value" that comes with many older houses often means contractors will inflate their quote on that basis alone, Susan Brinson said.
At our house, we have about 20 original windows. When we moved in, roughly half of them wouldn't open. Many had been painted shut or needed minor replacement hardware.
Locally, we had a hard time finding someone to work on them. Even companies that advertised working on old windows told us that replacement was the only option for windows that are more than 30 years old.
But after my partner posted an inquiry on the Nextdoor app, someone in our town referred us to a local window restoration professional who was able to get our windows to function better than we had imagined possible. The extra leg work paid off in the end.
4. Be realistic about your first house
Are you able to let go of perfectionism?
This is something I'm still working on. New or old, no house is perfect. Just like in all other aspects of our lives – school, relationships, work – perfectionism is a unhealthy standard and pursuing it is just going to leave us feeling frustrated, unhappy, disappointed and burned out.
Trying to work on too many home projects at once can also cause burnout. So, if you're planning to buy a house that you want to make a lot of major changes to, prioritize, prioritize, prioritize and pace yourself. Remember there's no rush.

Rachel Crowell
 is a Midwest-based writer exploring science and math. Rachel lives in Iowa with Delilah, a golden retriever a stranger once called "the cutest thing in America." Outside of STEM topics, Rachel welcomes writing opportunities on everything from art to finance. Follow Rachel on Twitter at @writesRCrowell. Reach Rachel at
[email protected]