What You Can Learn From the Solarpunk Movement
by
Lynne Peskoe-Yang
The solarpunk environmental movement is for anyone who's digitally inclined but unafraid of dirt. Think post-apocalyptic hacker aesthetics, but with a sunnier disposition.
With origins in science fiction and radical environmentalism, solarpunk's diverse real-world global following promotes decentralized infrastructure, community engagement and a do-it-yourself attitude. In a world of melting ice caps, warming oceans and tropical forests under increasing threat, the solarpunk community articulates a vision for a localized, tech-wise and Earth-friendly way of living.
This community is small but mighty—and we can all learn something from their ideals.
Roots on the internet
"Solarpunk" as a term has "been coined independently half a dozen times, mostly because it's an easy analogy to make from steampunk," futurist writer Adam Flynn said in an interview. Steampunk is a genre of science fiction in which technology is steam-powered. It also has a pretty recognizable aesthetic—goggles, top hats, ray guns and corsets are common.
Solarpunk is a lot like that, but with an environmental streak.
The idea of solarpunk bounced around online forums for years, attaching to existing works of fiction and activism, before it started to garner a solid following.
In 2012, the publication of the Brazilian sci-fi anthology "Solarpunk: Histórias ecológicas e fantásticas em um mundo sustentável" marked the expansion of the speculative fiction genre beyond the English-speaking world. From there the internet began to build, embellish, critique, and diversify an aesthetic theme and a corresponding techno-environmentalist outlook on sustainable development.
Since then, articles on solarpunk living have appeared in Spanish, Portuguese, German, French, Italian, Greek, English and Finnish. The movement has spawned a subreddit, a Discord channel, a mixtape, a slew of blogs, Facebook groups, and hashtags, Pinterest boards, and even video games, in addition to new anthologies of solarpunk fiction in a half-dozen languages.
Fact or fiction?
So what is solarpunk now? It depends, sort of, on who you ask. Literary types will tell you it's a subgenre of speculative fiction, a broad term that includes science fiction, dystopian fiction and other types of stories that include a "what if" scenario.
Others insist that solarpunk is a distinct practice with its own aesthetic and set of beliefs that informs, and is informed by, solarpunk fiction.
Mollie Luria-Roberson, a 26-year-old artist, takes a practical view on the community. For her, solarpunk is about "actively creating mutually beneficial ties between humankind and the environment."
Why focus on solar?
Unsurprisingly, solar energy is a preferred source of sustainable power in all forms of solarpunk, but it's no arbitrary hallmark.
Unlike natural gas and other fossil fuels, sunlight is almost universally accessible and relatively easy to convert into other forms of energy—meaning not only reduced dependence on non-renewable resources whose extraction and consumption actively harms the environment, but also reduced dependence of individuals on exploitative energy systems like the electrical grid.
Solarpunks see solar energy as a symbol of both solidarity with the almost exclusively sun-dependent global biome and of divergence from economically oppressive networks of power.
Inspired? Try these five ways to bring out your own inner solarpunk.
1. Find your solarpunk community
Whether they call themselves makers, fabricators or eco-futurists, online groups are likely your best bet to get integrated into a solarpunk circle.
The movement is still in its nascent stage in the real world, though in-person events do happen. There are also active communities, like ecovillages, sustainable farms and communes, whose members identify as solarpunk individually. So far, solarpunk has not taken hold in ordinary neighborhoods in a meaningful way.
That might change soon, though; solarpunk ideals have a strong foothold in existing networks of environmental and social justice activists, and their ideals are deeply linked to their political actions. Engaging in organized political activism, especially in the interest of protecting the environment and promoting sustainable practices, keeps solarpunks abreast of the activities of like-minded people outside of cyberspace.
Joel Spector, a campaign consultant based in Oregon and a veteran of many speculative fiction community groups, cites solarpunk as a significant motivator for his political career.
"How else do you go about affecting the future directly?" he said.
2. Get creative about saving the planet
A healthy and sustainable relationship to the natural world is a key aspect of both the solarpunk aesthetic and the more practical aspects of the lifestyle.
That means considering the environmental impact of every choice, but it goes beyond buying glass drinking straws and recycling your cardboard. Solarpunk requires a willingness to rethink your actions on a more fundamental level, according to the resources and ability of each community and individual.
Take the resurgence of ambient heating and cooling techniques in modern architecture, for example. Using methods that predate air conditioning by several thousand years, designers can build temperature modulation into very structures of their creations, all but eliminating the need for what has become one of the biggest energy sinks in the developed world.
In the right hands, these strategies can produce awe-inspiring work that blends ancestral wisdom with modern insight to create stunning and functional infrastructure without environmental devastation.
3. Find out how the tech you use actually works
Do you know who supplies your energy, and whether it's gas, steam or electrical? Even if there's nothing you can do to change your supplier or their practices, knowing where you and your community stand can help you make sense of the systems at work around you.
It can also be the first step in a journey to the ultimate solarpunk prize: an off-the-grid, self-sustaining home or community. Making those changes often requires a deep and flexible knowledge of the science behind each innovation, so consider investing some time in one of the internet's plentiful free science education resources.
4. Update your reading list
Members of active solarpunk communities are constantly recommending new books, papers and essays to one another in order to expand their horizons.
Thanks to the movement's grounding in science and dystopian fiction, the most famous books claimed by the solarpunk canon are classics of that genre.
These works of fiction are inspirations for a solarpunk way of thinking: "The Dispossessed" by Ursula K. LeGuin, "Parable of the Sower" by Octavia Butler and "New York 2140" by Kim Stanley Robinson. Important nonfiction books for the movement are "The Shock Doctrine" by Naomi Klein, "Silent Spring" by Rachel Carson and "The Diversity of Life" by E.O. Wilson.
5. Plan for the future, but take action now
A solarpunk vision of life on Earth is necessarily futuristic on a global scale, but individuals and communities can reap the benefits of this perspective in the present, too.
Yannick Laignel, an entrepreneur and commune resident in Gex, France, describes his relationship to solarpunk as one that gives him hope in the face of depressing global developments and guides his decisions in the present.
"I took a paragliding class once, and the instructor told us: 'If there's a tree on your trajectory, don't look at the tree, look at where you want to go,'" he said. "Watching TV news would be the tree. Solarpunk is where I want to go."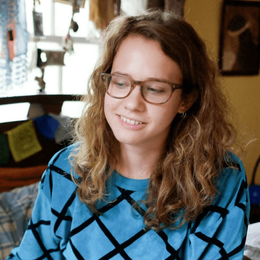 Lynne Peskoe-Yang
is a freelance science and tech journalist who dabbles in science fiction and social justice. Find more of her writing about telecom monopolies, ethical artificial intelligences and nuclear pasta on lynnepeskoeyang.com or on twitter @lynnepeskoe.