Koko the Gorilla was on Tinder Before You…Kind of…
by
Abby Thompson
Guess who's been swiping since 1999, long before Tinder was even a thing? Koko the gorilla. While most people's '90s dating game was striking out at the bar or leaving a voicemail on a home answering machine for an entire household to hear, Koko was trailblazing the digital dating scene by watching videos of potential man candy in an attempt to find a suitable mate.
If you don't know who Koko is, then you probably don't know what Tinder is, and then you probably don't know what the Internet is...so how are you even reading this right now?
Koko the gorilla was born in the San Francisco Zoo in 1971. At six months, she was adopted by animal psychologist Penny Patterson, known for her doctoral research at Stanford where she conducted "Project Koko," an attempt to teach Koko sign language. Koko quickly developed a knack for signing, and today can perform more than 1,000 signs to communicate with Patterson and her other caretakers that are involved with "The Gorilla Project"—the foundation Patterson started to raise awareness and conservation initiatives for gorillas.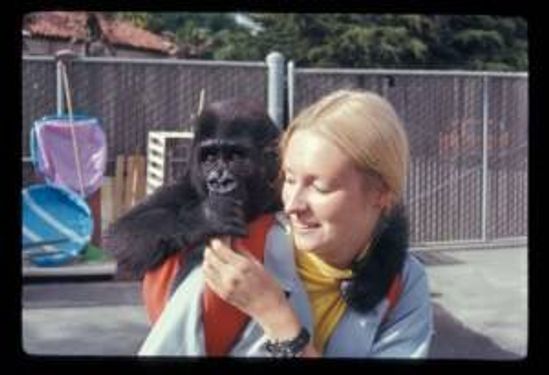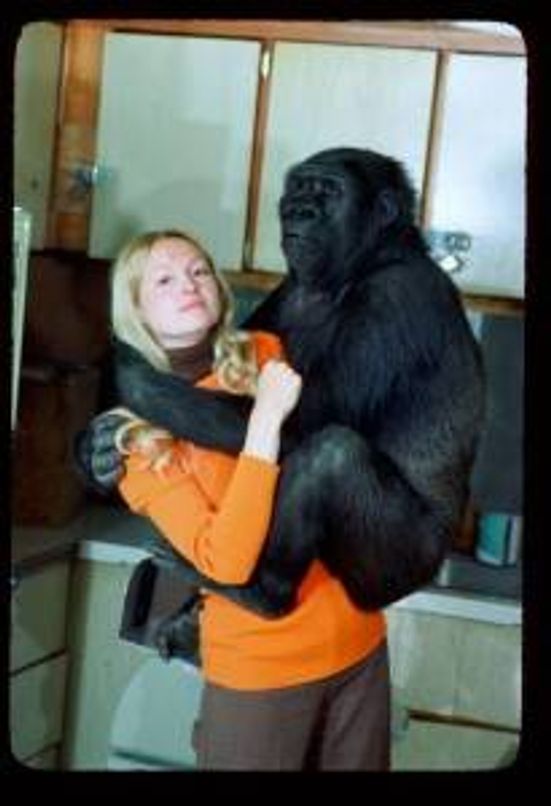 Yes, that's gorillas with an 's.' Over the years Koko has been accompanied by a few pals at the "The Gorilla Project." It started with Michael, a gorilla that grew up with Koko. The intention was that Michael and Koko would go "sittin' in a tree" (if you know what I mean)—and hopefully mate when they were around ten years old, but unlike the cliché romance movies where the girl realizes the man of her dreams was the doting guy friend who has been there all along, Koko wasn't into it.
Thus, Patterson being the caring mother/matchmaker she is, decided to take a new approach: video dating. How it worked for Koko was similar to the swipe right or left functions of Tinder. She'd watch a short video of a male gorilla that she could potentially mate with, give him a thumbs up or down, and they'd go to the next video. Yes, really.
Video dating was successful for Koko. That's where she first saw Ndume. She immediately ran towards the TV screen and kissed his image, what for gorillas I assume to be the equivalent of Tinder's "Super-Like" feature.
You might be asking, why is it so important for Koko to mate? Every time Koko has a birthday, she asks for one thing, a baby. Like many, Koko has a strong maternal instinct. She wants to be a mother; she wants to create a family with the same love and affection with which she was raised.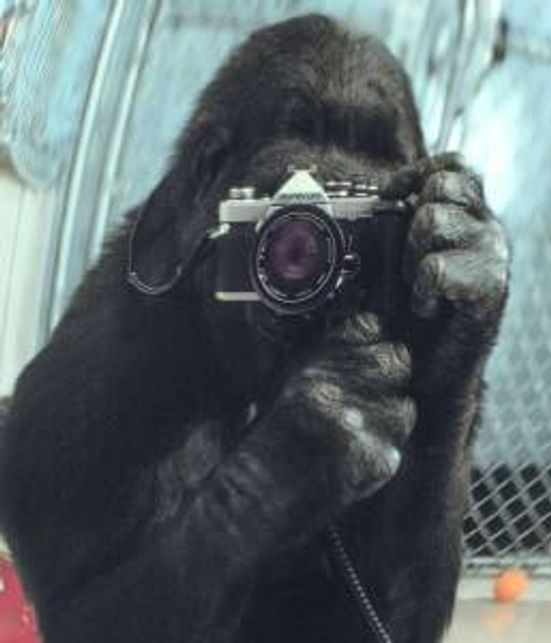 Maybe that's why Tinder and other dating services have been successful—that's all anyone really wants in life—to be loved and to give love back, even a 280 pound gorilla.
Fall in love with Koko and her story by watching "Koko — The Gorilla Who Talks" Wednesday, August 3 at 7 p.m. on TPT 2 or your local PBS station.