How to Know If Your Therapist is a Good Fit
Therapists are not one-size-fits-all.
by
Kathleen Wong
Rebecca Chee, 26, decided to seek out a therapist when she was having issues with her roommates her freshman year of college.
It was her first time living with people who weren't her family, the dynamic turned sour and she didn't know how to handle it. The tension in her dorm became so bad that it started to affect her schoolwork, social life and her overall happiness.
After several sessions with a local therapist to try to talk things out and gain some perspective, she realized that he wasn't actually helping — she actually left their appointments feeling worse. On top of that, she didn't think the conversations they had were productive; she still had no idea how to handle her roommate situation.
"His responses made me feel like he hadn't even listened to my story or concerns," she said. "My issues exceeded talking and his suggestion was to just keep talking."
The situation left her deflated and feeling more hopeless than before. If a professional couldn't help her, where was she supposed to turn?
'A lot like dating'
With nearly half of insured adults aged 18 to 34 seeking out mental health help, according to a 2013 study by the Center for Disease Control and Prevention, it's safe to assume that others have had equally disappointing experiences with a therapist.
It may seem obvious, but having the right therapist for you is critical to successful therapy and personal growth.
"Finding the right fit in a therapist is a lot like dating," said Heather Stevenson, a clinical psychologist in New York. "You want someone who understands you, who you connect with, who you feel comfortable opening up to and who understands what you want in life and therapy.
"It's about matching both the style of therapy to what your particular issue or need is, while also matching personalities."
[ICYMI: Should I Tell My Boss I Have Depression?]
Think about what you want
Once you've done the research on which type of therapy is best for your needs and goals and book an initial assessment, jot down some ideas of what you're looking for in a therapist, said Ashton Burdick, a therapist in North Carolina. Maybe you want someone who listens more rather than offering advice, or you prefer someone more clinical.
You should also outline some deal-breakers. Reasonable deal-breakers include the therapist not having any experience counseling on what you're going through, or not accepting your religion or sexuality.
"You also may have some triggers, like they remind you of a traumatic situation or a family member," Burdick said. "Ask the provider briefly about these things during your assessment. Sometimes you may feel you know right off the bat that this isn't a good fit, and that's OK."
Do you feel comfortable?
An important aspect of thriving in therapy is whether or not you feel comfortable with your therapist. According to Virginia-based therapist Victoria Chialy Smith, a therapeutic alliance, aka the connection and quality of relationship between a therapist and client, is linked to positive therapy outcomes.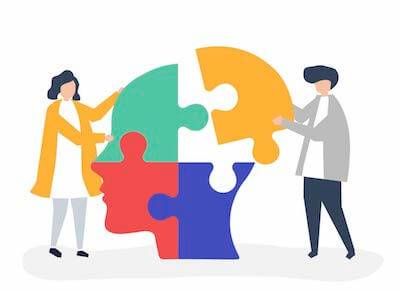 A good therapist-patient relationship includes mutual respect. You should feel heard and validated, but not criticized, Burdick said.
"It's important to ask yourself if you feel comfortable, authentic and genuine with them," Chialy Smith said. "Therapy works when you are able to explore vulnerable and painful aspects of your life. Is this therapist someone you see going on this journey of self-discovery on? Do you feel that this is someone who is able to walk the fine line of being affirming and sensitive to who you are while still able to support you toward change and growth?"
When Chee asked herself similar questions, she realized that she didn't feel heard and was no longer comfortable opening up to her therapist.
However, her sessions with him did help her identify what qualities she was looking for in a therapist, which helped her find a better fit when she returned home for the summer.
Be patient
Successful therapy and change comes from exploring your life and mindset, and it takes time. There isn't a one-size-fits-all answer.
"Many people expect mind-blowing changes to occur rapidly and immediately in therapy," Burdick said. "Sometimes that happens, but generally it requires patience and hard work to get there."
Finding the right therapist could take a while. It really depends on the person and their needs. This can be frustrating, so it's a good reminder to keep in your back pocket.
Our implicit bias may also be at work during this time. We might not want a therapist who is too similar to us, or too different. Taking your time and waiting out a few more sessions can help you challenge your own beliefs and biases and work through different triggers, ultimately changing and adding value to our perspective, Burdick said.
"Just like in everyday interactions, sometimes we know right away, sometimes we judge and miss out on a great interaction and usually it takes time to develop trust, comfort and rapport," she said.