JUDiTH+ROLFE Brings an Edge to Paper Art
by
Marissa Blahnik
Daphne Lee is still getting comfortable using the word artist. But as the creative mind behind the moniker JUDiTH+ROLFE, whose fingers tirelessly cut, bend and glue tiny strips of colored paper into intricate designs, it's hard to say the label isn't accurate.
A cutting perspective
What began in 2016 as a way to gift uniquely personal presents quickly flourished into a career with an ever-growing Instagram following. Lee's technique is most similar to paper quilling, but she strays from the customary approach.
"Traditionally, artists use paper strips and they would coil it up and make shapes out of it," she said. "There are very specific shapes that are associated with traditional quilling. And then they would mold those shapes into whatever forms they want.
"But instead of doing that, my way of quilling is to just use the paper strip and to almost sketch with paper. I don't make the shapes, I just glue individual strips of paper down."
Lee's precision-cut geometric, floral and architectural pieces mirror her trademark clean and modern aesthetic. Her chosen themes reflect the creative path she's traveled.
Folding time
Born in Singapore, Lee came to the U.S. to pursue architecture. After graduating from Cornell University, she moved to New York City and began working at an architecture firm. There she met Jamie Sneed, who'd later become her husband.
When the pair relocated to St. Paul, Minnesota, for Sneed's new job, Lee decided to change her career path.
"I knew I didn't want to do architecture anymore, just because I never was really passionate about it," Lee said.
---
"I think the geometric quilling that I do really connects with the architecture background and that isn't something that I've seen other artists do."
Lee's architecture experience also gave her an ease with the materials and the work.
"I can work with blades and scissors and I'm used to that," she said. Paper "is also really easily available. It's something that everyone can relate to because everyone's touched paper or worked with paper."
That familiarity is a double-edged blade.
"That's kind of a downfall as well because a lot of people think that, 'oh, that's paper, that's easy, I can do that too,'" Lee said. "It's a little disheartening."
Pieces that may seem very simple are actually quite complex to construct and may take days or weeks to complete. For more on Lee's process, check out this video by MN Original, the arts series produced by Twin Cities PBS, where Rewire is based.
Layer by layer
Lee's painstaking process is rewarded by the reaction of the Instagram community that has rallied around JUDiTH+ROLFE. What started as a few hundred followers now tallies up t0 more than 15,000 all around the world.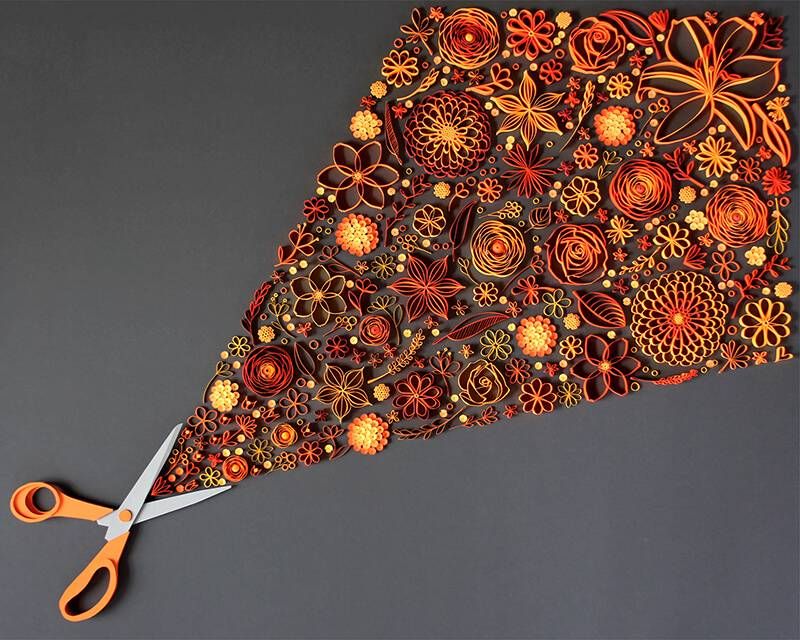 This growing audience has presented unexpected opportunities: digital magazine Design Milk featured JUDiTH+ROLFE twice and Fiskars, the iconic orange-handled scissor company, asked Lee to create work for its 50th anniversary. The Fiskars piece was later displayed at the Helsinki Design Museum, Lee's first exhibition.
Beyond the continual evolution of Lee's artwork, going full time with JUDiTH+ROLFE catapulted her into the business side of the art world. Turning creativity into a career isn't easy, and she acknowledged there is a lot to learn. She partially credits her husband's support for her success.
"I do like to say 'we' when referring to my artwork because I feel like Jamie has had a say in it," Lee said. "So even though he's not the one physically putting the paper down, gluing the paper down, his ideas are in it, his criticisms are in it and I'd like to give him credit."
This video is part of "Living for the City," a Rewire initiative made possible by The John S. and James L. Knight Foundation.