Here's What It's Like to Be a Journalist at the Border Wall
In a town divided, Briana Sanchez takes photos of both sides
by
Gretchen Brown
El Paso is a border city, and when you're there, you don't forget it.
As a kid, Briana Sanchez would see the border wall on her way to the mall, out the passenger side window of her parents' Chevy Suburban.
They'd cross the border into Juárez, Mexico, for special trips, like when her sister needed decorations for her quinceañera.
These were childhood memories for Sanchez. She moved away after graduating high school in 2011, first to attend the University of Arizona, then for work in Minnesota and Sioux Falls, South Dakota.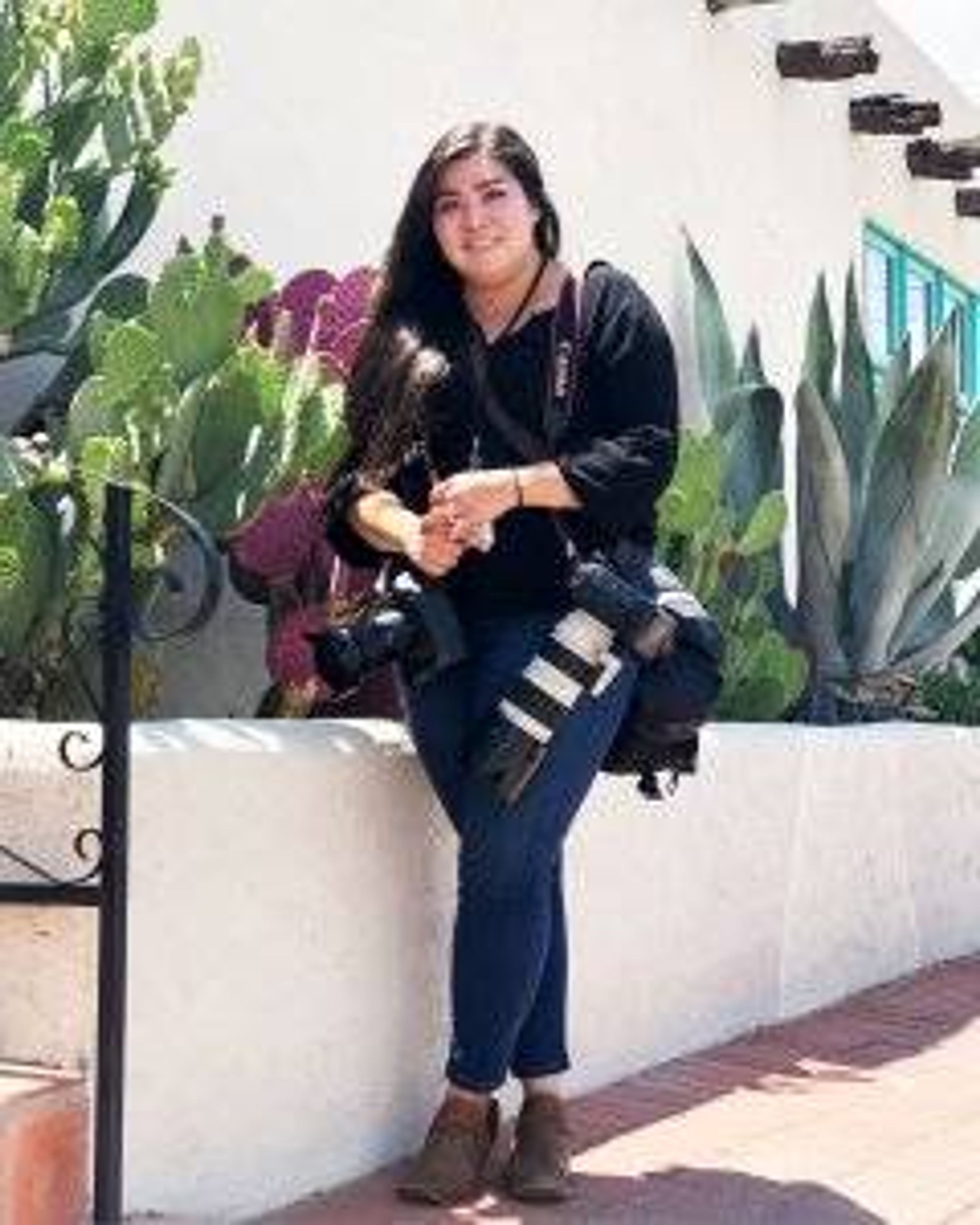 But at 25, she's back at the border for a different reason: as a photographer for the El Paso Times, covering the border wall for her hometown newspaper.
"Now that I am back telling stories in the place where I'm from… it's really hitting home for me," she said. "Because this is bringing things full circle."
It's a city that is at the center of the nation's debate over immigration, where President Donald Trump held a rally in February announcing his plans for the border wall and immigration reform.
She wasn't eased into the new gig.
Her first day on the job, she was there as right-wing border militia group United Constitutional Patriots was kicked out of its New Mexico camp.
The group, which is armed, has been accused by the American Civil Liberties Union of unlawfully detaining immigrants. Her photos show the men wearing camo pants and masks over their faces, talking on the phone, avoiding eye contact.
While at the site, she made small talk with one of the government border patrol agents.
"He was like, 'It's kind of tough because we don't necessarily need help protecting the border. We need help processing paperwork'," Sanchez said. "It was interesting to hear him say that."
Sharp divisions
Unexpectedly connecting with people like that is one of the things she loves about photojournalism.
She especially loves feature photos, sitting down in someone's living room, kicking off her shoes and asking, "What do you want to talk about?"
But living in a border town of 600,000 in this political moment means the pace of her work is different. It's more immediate.
In just the few months she's been back, she's visited Juárez with El Paso First Lady Adair Margo, listened to Democratic presidential candidate Beto O'Rourke talk about immigration reform and watched people rally around a new section of the border wall built with private money (crowdsourced through GoFundMe) on private land.
While the assumption might be that everyone in El Paso is pro immigration, politics are starkly divided there, Sanchez said. Everyone believes their own viewpoint is the right way.
"If things seem far left or far right, it's because that's how things are," she said. "No matter what people believe, they think it's 100 percent right."
[ICYMI: Should the USA Build a Wall on Both of its Borders?]
Documenting history
The political climate there is heated, to put it lightly.
And Sanchez sees covering it as a big responsibility. History is happening.
"I'm trying my best to cover both sides equally, because it's not about what I believe in right now, it's about documenting history accurately," she said. "It doesn't matter what situation I'm in, as long as I'm doing it accurately and fairly and staying level-headed."
Sanchez's parents are both Mexican-American immigrants: her mom, Ida, from Allende; her dad, Jose, from Puerto Peñasco.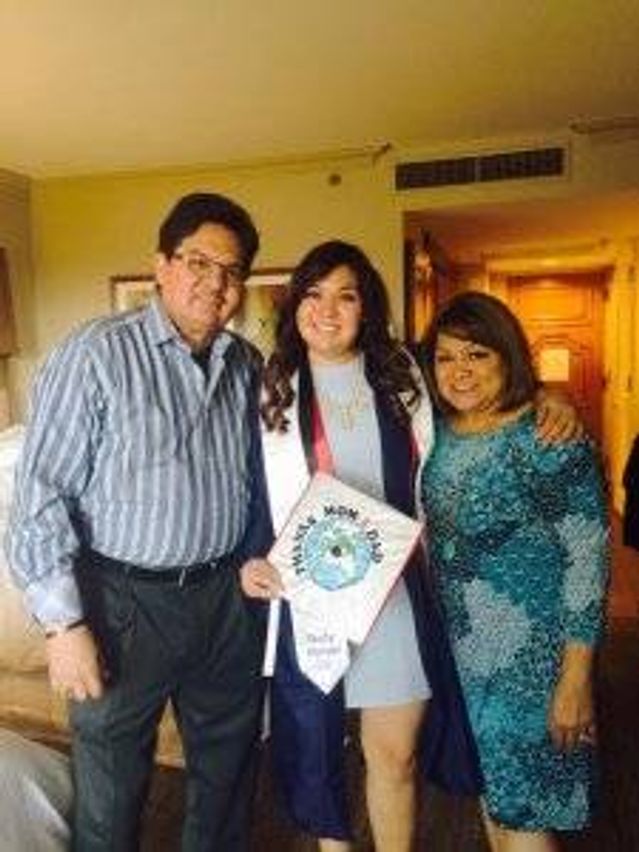 Sanchez's three siblings were born in the U.S. while her parents still had green cards. It took her parents around 13 years to finally become U.S. citizens.
Because of that, she knows how intense the citizenship process is.
Her parents, wanting their children to be Americanized, didn't teach her Spanish. But it's something she wants to learn now, so there's never a language barrier between her and the people she's photographing.
"I don't want it to stop me from being able to show somebody that I care," she said.
There are lots of immigrants in El Paso. You shouldn't be surprised, she said, if the guy at Subway asks for your order in Spanish.
"I think it's amazing that El Paso is this community that's so mixed and so multicultural," Sanchez said.
New eyes
Crossing into Juárez isn't hard. On her recent visit, Sanchez took a pedestrian bridge into the city (driving can take up to an hour), flashed her passport to the border agent and paid a 50 cent toll. (The way back was more intense — like a scaled-down airport, she said, with another toll of a few pesos).
There, Sanchez was about to enter a market when something stopped her.
Bright blue cloth with pink flowers was draped over a small table, which held votive candles and a bible.
A picture of the Virgen de Guadalupe hung on the wall, surrounded by more bright pink flowers.
It was a tiny prayer station, like the one her Nana used to have in her home. And it's quite common for Hispanic Catholics.
It only caught Sanchez's eye because she hadn't been home for so long.
For Sanchez, that kind of thing is an example of how leaving has given her new eyes on her hometown. Things that used to seem mundane — like living on the border — they're not anymore.
At her last job, in South Dakota, she covered a story about the problems with the health care system on the Rosebud Sioux Reservation.
"I saw so many people who had lived there their whole lives who had no idea how bad health care on the reservation is," she said.
"You can live somewhere and never see what's happening in your backyard if you don't look for it."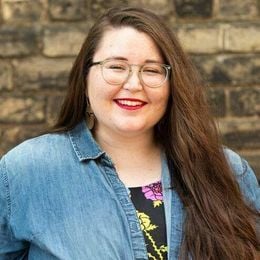 Gretchen Brown
is an editor for Rewire. She's into public media, music and really good coffee. Email her at
[email protected]
, or follow her on Twitter @gretch_brown.