Joel Arquillos of 826LA Makes Learning Fun
by
Jim Newberry
You don't need a time machine to understand why writing is important... at least, not if you're one of the lucky students at 826LA.
Joel Arquillos, executive director of the non-profit organization that offers creative writing classes and tutoring to students ages 6 to 18, believes that creative writing is about more than just where to put a comma: it's about using words to express emotions and ideas.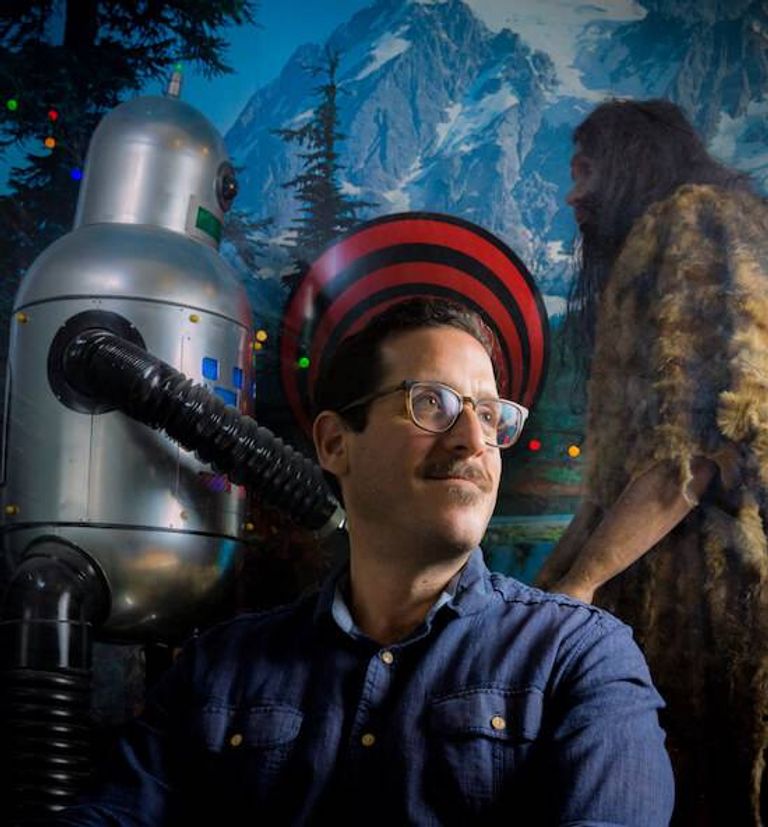 The setting definitely feels like time travel. Students attending the two Los Angeles locations (one in Echo Park, the other in Mar Vista) reach their classrooms by walking through the affiliated shops called Time Travel Mart, where fabulously unusual items (like powdered robot milk) can be purchased to help support 826LA.
Arquillos sat down the Los Angeles photographer Jim Newberry to talk about creativity, caveman candy and what makes kids shine.
JN: Why is writing an important skill to learn?
JA: Writing is how we connect the dots in our understanding of the world around us. For children it is especially important to build the habit of writing since it's a tool that will serve them as a way to work through emotions, ideas, and as a space for playing with creativity and their imaginations. To write is to connect to one's deeper consciousness where past experiences live.
---
Writing is a way to bring these pieces to life and hopefully help folks see themselves and the world around them differently and full of new possibilities. Writing also opens doors since it helps people express themselves and interact with the world around them in a more confident and focused way. 
JN: How does 826LA make writing seem fun to kids?
JA: We don't want students to feel like they're in school here. We create a fun and playful environment where we honor words and stories. We also see students as carriers of knowledge who have important ideas to contribute. We want kids to feel at ease, safe, and build confidence to be nerdy, funny, or whatever their imaginations guide them to be. I mean, you enter our writing lab through a Time Travel Mart where we sell goods for time travelers—that's bound to inspire kids to be more expansive in their thinking.
JN: What does 826LA offer that children might not be getting at school?
JA: At 826LA we support teachers and the difficult jobs they have by supplementing student learning with writing and art forms that allow them to be themselves. Since we don't have to test our kids, we see value in their completion of a story or in becoming a published author in one of our many publications. We are lucky to have thousands of incredible volunteers who can give students undivided attention on their work. This is something that is hard for teachers to do when class sizes can reach 40 students to one teacher. For our older students we provide college support through personal statement writing which comes with lots of counseling. The ratio of counselor to student in LAUSD (Los Angeles Unified School District) has been as high as 1:400. 
JN: What is the Time Travel Mart?
JA: The Time Travel Mart is a convenience store for time travelers. We do not provide time traveling services but instead offer an array of items that time travelers may have enjoyed during visits to different eras. Our Robot Toupees are quite popular as is our Caveman Candy (we've restocked our mastodon-flavored ones). But what the TTM does is help us pay for the free services we provide to students in the labs behind both our stores. The stores also help us recruit volunteers and serves as a portal to the creative world we provide for our students and volunteers. 
JN: In the course of your work with 826LA, what you have you learned from the young students?
JA: I've learned that all young people are capable of being successful and happy adults. I've seen it as a teacher and now as director of 826LA. Our students come from very rough circumstances and sometimes you worry that they may lose focus on school and get involved with some of the other options open to them in urban environments. But with enough support, respect, attention, and guidance for families, kids can really shine. They just need so much more support than schools alone can provide.
JN: What can people do to support 826LA and its affiliates in other cities?
JA: Donate and volunteer. Those are the two biggest needs we have. It's expensive to keep our organizations alive and well. And we always need more adults who care and who are patient to get involved in our work.
This article is part of America's Entrepreneurs, a Rewire initiative made possible by the Richard M. Schulze Family Foundation and EIX, the Entrepreneur and Innovation Exchange.

Jim Newberry
 is an internationally published, award-winning photographer based in Los Angeles. His interest in photography began as a young child, when his father—James Newberry, who founded the photography department at Columbia College Chicago—gave him a camera and taught him how to use it. He later graduated from Columbia, and soon after began shooting assignments for magazines and record labels. Jim continues to shoot for editorial and commercial clients, as well as shooting fine art photography, especially street pictures.