Little Details To Improve Your Skype Interview
by
Katie Moritz
You've submitted an application, emailed with your potential employer or the hiring team and spoken over the phone. Now, there's only one interview left to go before the gig is yours. It's so close, you can taste it! The only complication is this: The job is out of town.
Considering the potential awkwardness of figuring out who pays for what when you travel for an interview, it can be a relief to be asked to do that last interview over Skype or some other video chatting service. After all, a digital interview saves you time and vacation days at your current job (and saves the company money). In 2012, more than 60 percent of companies did interviews this way, up from just 20 percent the year before, according to an OfficeTeam survey.
We're all pretty well-acquainted with video chatting thanks to FaceTime, but the last thing you want to do is treat this like any other video call. Even if you feel confident in your interviewing skills, check out these expert tips that'll help you prove your professionalism, even from afar.
1. Pick the service you're best acquainted with
If your interviewer wants to use Skype, or Google Hangouts, or FaceTime, go with that. But if they leave it up to you to choose, go with the service you have the most experience with. There's no need to be fumbling with a new interface when there's a job on the line.
2. Create a zen environment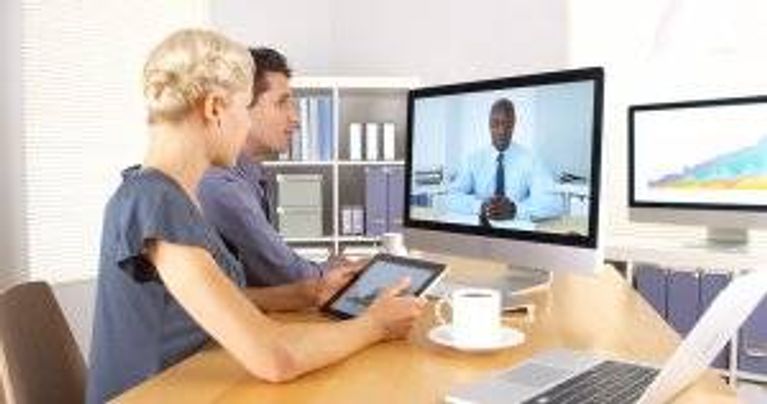 Create a backdrop for yourself that won't be distracting for the interviewer. That could mean taking down posters, kicking out your pets or roommates or even borrowing someone else's house for a couple hours.
Using a neutral wall or a bookcase as a backdrop is ideal, said etiquette expert Jacqueline Whitmore, author of "Poised for Success: Mastering the Four Qualities That Distinguish Outstanding Professionals."
"It's important to eliminate distractions," she said. "Shut the door to the room... If you live in the city, shut the windows... Make sure your desk is clean."
Make sure you're not backlit, either, said Dan Phan, founder of executive training firm The Late Majority.
My own story: The last time I interviewed for a job via video chat, I was living on a tiny boat with a cat who loves attention. There was nowhere for me to sit where I wouldn't be totally surrounded by books and other stuff, or where my cat wouldn't try to sit on my keyboard.
In order to communicate a calm vibe during my interview, I asked a friend if I could set up at their normal-sized, non-floating house in a quiet room. It made for a lot less stressful interview. (P.S. I got the job.)
3. Dress as you would for a normal interview—with some special considerations
Just because you're not coming to the office for an in-person interview doesn't mean you shouldn't look the part. Wear the professional clothes you'd normally wear, but avoid any busy patterns or stripes that could look strange on camera.
Jacqueline recommended sticking to solid colors and going light on the jewelry—again, to eliminate distractions and keep the focus on you and your great ideas.
"Wear a color that best complements your skin tone or brightens up the room, brightens up your look,"said business etiquette expert Elaine Swann, founder of The Swann School of Protocol.
Not sure how formal or informal to go?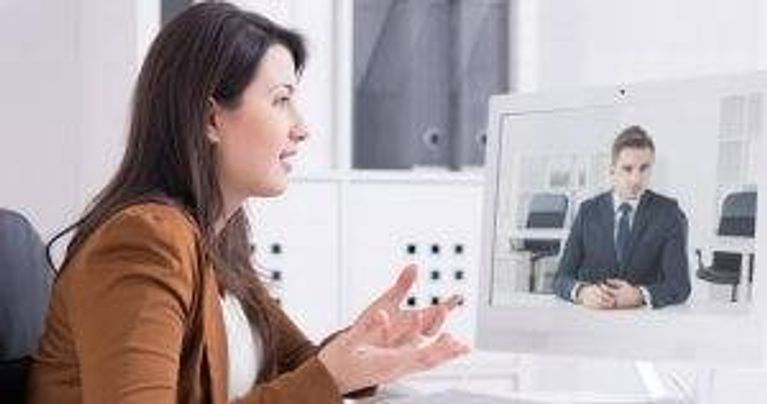 "The secretary (at the company you're interviewing with) can be your best friend because you can call them up and ask them what their dress code is like," Phan said.
If you have long hair, pull it back and off your face so you can be seen clearly, Whitmore said.
4. Do a test run with a friend
Shortly before your scheduled interview, test out your setup with a friend with your interview outfit on. Connect with them via the video service you'll be using and make sure your internet connection and sound levels are good. Ask them for feedback on your background and your getup. You can even try out some different camera angles and find the one that's the most flattering (no weird shots from below). This way, if anything isn't working properly or looks wonky, you'll have time to fix it before the real thing.
On the day of, be in position five minutes early for the interview, Swann said. That way, if there are any technical difficulties, you have a little time to fix them before it starts.
5. Tell the employer that you're taking notes
During the interview, you'll want to be taking notes, just like you would for any interview. But because your notepad might not be visible to the interviewer, it could appear that you're not paying attention, or even that you're on your phone. Let them know before you start that you'll be jotting things down as you chat.
"Just hold up your notebook and say, 'Just so you know, I'll be taking notes during this,'" Swann said.
6. Pay attention to your movements
When you're not looking down at your notebook, look into the camera, not at the screen, Swann said. That way you'll be making the closest thing to eye contact with your interviewer.
Also, "refrain from fidgeting," Whitmore said. "If you're in a chair that rolls or rocks, keep it still. A lot of people swivel because they get nervous. Don't touch your hair or play with your jewelry."
Staying focused will eliminate distractions and make you appear calm and polished, even if you have butterflies inside.

Katie Moritz
 was Rewire's senior editor from 2016-2019. She is a Pisces who enjoys thrift stores and pho. Follow her on Twitter @katecmoritz.