Which Issues Do LGBTQ Young People Care About Most?
Trans health care and normalizing gender-neutral language top the list.
by
Katie Moritz
In 2015, after decades of activism, same-sex marriage was legalized across the country. For people outside the community, it might have seemed like the end of discrimination against LGBTQ people, like equality had finally been achieved.
"I think the mentality behind that viewpoint is 'our relationships are what people don't agree with, so if we legitimize this part of ourselves, we'll be accepted,'" queer sex educator Ren Grabert said. "But we're so much more than our relationships or who we sleep with. We have different needs that come from lifetimes of oppression."
Even some within the community felt marriage equality was "good enough."
"Many individuals in the community have the idea that just because they can marry, that's the end," said Jonathan Mendoza, a gay man who lives in New York. "They don't have the mentality that we are a community and a family, and we have to fight for each other."
There's still plenty the LGBTQ community and its allies are fighting for in political and social spheres. And they're causes that maybe aren't as easily relatable to people outside of the community, said Chaya Milchtein, a Milwaukee-based queer mechanic and blogger. That makes it harder to get traction.
"I've always felt like marriage equality passed because it was easy to understand and 'heartwarming,'" Milchtein said. "I want issues to be addressed that don't pull on the heartstrings like a good love story."
Here's what LGBTQ people across the country are working toward in 2019 and beyond.
Kadeem Fyffe
Fashion designer, New York
"As a young adult in the LGBTQ+ community, the political issue I care about the most are transgender rights, especially as it relates to the recent trans military ban. ... Overall, trans rights are extremely important to me and I feel like the LGBTQ+ community as a whole needs to do a much better job of speaking out and fighting for the rights of our trans brothers and sisters."
Ren Grabert
Sex educator, Chicago
"I'm a sexuality and gender researcher and educator specifically working with transgender youth. I myself am queer, nonbinary and transgender. While I may be biased, since it's the area I focus on most, I've been seeing more and more support for trans rights among younger LGBTQ folks. They're concerned about access to high quality, non-judgemental health care, employment and housing resources for trans folks. I agree that this is one of the most important issues affecting our community these days. We need to protect the most vulnerable amongst us, especially trans women of color."
Josh Robbins
HIV-positive activist and spokesperson for DatingPositives.com, Tennessee
"Queer people often have no way of knowing whether a healthcare provider is LGBTQIA+ friendly until they're in the middle of a humiliating, face-to-face experience. And while a limited number of cities have passed an LGBTQIA+ bill of rights that addresses some of this discrimination and makes finding queer-friendly doctors easier — it's not enough.
"The #WeNeedAButton campaign —which is calling for all major patient-matching sites... to include a button that filters for queer-friendly healthcare providers across all disciplines — is a necessary step towards ensuring LGTBQIA+ individuals are provided with high-quality, dignified healthcare that meets their unique needs."
Cass Casarez
Library clerk, Minnesota
"I'd... like the concepts of gender-neutral bathrooms and pronouns to become more mainstream. We've grown a lot as a society recently, but I overheard someone at work making fun of our all-gender bathrooms... just last week."
Emily Harrison
Digital strategist, Virginia
"As a queer woman, the issues that are most important to me right now is addressing the issues around consent within the community and the rate of sexual violence experienced outside the community. Since members of the LGBTQ+ community are so often sexualized because of their identity, we experience such high rates of sexual violence and I think our society needs to take action."
Rachel Madej
Illustrator, Connecticut
"I'm 25 and I identify as bisexual (or) pansexual. ... As a young cis white woman who is dating a cis male I was knocked on my ass when I started listening to more and more trans and intersex stories. ... I think gender-related surgeries should be covered by all insurance. I think hormones like testosterone and estrogen should be covered by insurance and be as affordable as possible.
"I'm also terrified in learning about intersex surgeries and the way hospitals have... performed unnecessary surgeries on babies just so they fit into the gender binary. I have followed this activist, Pidgeon, for a while now and they are doing great work in the intersex community to end this injustice.
"These are things not only our government should make a priority but these are not conversations we are having in mainstream society. We didn't even talk about gender in school let alone covering intersex bodies in health class. It's sad I learned about it at 23."
Amir Sadeghi
Outreach coordinator at the Center for HIV Law and Policy, New York
"I think there is a great opportunity to cover HIV criminalization, which is the arrest, prosecution and imprisonment of people living with HIV for things that are perfectly legal or only minor offenses for people who have not tested positive. In other words, someone's HIV status is used on a standalone basis for unique and discriminatory treatment by our criminal legal system."
Jonathan Mendoza
Content marketer at Fueled, New York
"As a member of the LGBTQ+ community, one of the issues that I am most concerned about is rights for trans individuals. Though I am not trans, as a gay man, I feel like I must fight for the rights of others in the LGBTQ+ community because they have fought for us. Though we are a community with many subsets, we are one collective community who will fight for the rights of every individual in the community because we are all one family."
Chaya Milchtein
Automotive educator and blogger, Milwaukee
"A priority for me would be transgender rights. Educating the public on the power of using correct pronouns. Passing laws to protect trans right in the workplace. Providing healthcare to trans folks that attainable and covered by health insurance.
"I believe that the LGBT community should hold businesses that go 'rainbow' accountable for transgender rights and pride just as much as for actually being pro-gay. We shouldn't automatically shop somewhere that went rainbow without making sure they've stood up for the entire community."
Meredith Futernick
LGBTQ couples therapist, Maryland
"I have been married to my wife for just over three years. ... When we got married, we were living in Florida. There were many places in Florida that felt safe and inclusive, and others where we were honestly scared about getting out of the car. I consider myself to be 'straight-passing,' while my wife is not. When we were moving from Florida to Maryland, there were many states on the drive up that we were fearful to use a bathroom. ...
"My greatest concern is for my peers who are transgender, or who identify as a gender other than 'male' or 'female.' ... At a time when the LGBTQ+ community is gaining visibility, we must keep fighting for the rights of our T, our Q and our '+' population."
Featured image courtesy of The Gender Spectrum Collection.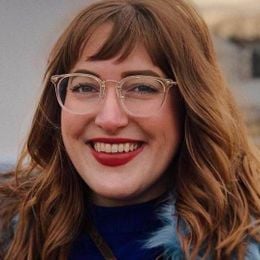 Katie Moritz
was Rewire's senior editor from 2016-2020. She is a Pisces who enjoys thrift stores and pho. Follow her on Twitter @katecmoritz.