Aren't We All Attracted to Intelligence? The Sapiosexual Debate
The jury's out on whether it's a scientifically sound sexuality.
by
Gretchen Brown
Before music producer Mark Ronson "came out" as sapiosexual last week, I thought the label only existed in moody Tumblr memes and bad dating app opening messages ("I'm a sapiosexual, so I love your glasses").
The term, in general, means someone who is sexually attracted to intelligence.
"If they don't have a light on upstairs, can't keep up with me, then there is no chemistry," 31-year-old Allison Meeks said.
"I need somebody who craves as much mental stimulation as I do."
Meeks is a self-described sapiosexual who only came to realize it in the past few years. She'd wonder why she got bored after her physical attraction to partners had faded.
Then she realized what was always missing.
Ronson later took back his comments and said he wasn't actually a sapiosexual. But his words had already generated buzz — and criticism.
Some spoke out and called sapiosexuality abelist. Others just made fun of it: "You're Not Sapiosexual, You're Just Annoying."
But academics like Cynthia Meyer say being attracted to intelligence isn't even that special.
"The number one characteristic people find attractive is intelligence," said Meyer, a senior lecturer in the University of Minnesota's Department of Family Social Science.
"It's common."
Is it a true sexuality?
From a scientific standpoint, she says, sapiosexuality isn't so much a true sexual orientation as it is a preference.
As Meyer explains it, scientists classify sexual orientations based on a few different categories:
Has it been true throughout the person's life?
Is it linked to a biological marker — a biological characteristic, substance or gene?
And, if put in a hypothetical situation where they could have sex with any person in a room without any consequences, would they choose based on that orientation?
With scientifically recognized sexualities — like bisexuality, for example — all those boxes are checked. There are biomarkers for being bisexual, and most bi people would say they've been bi their whole lives.
In contrast, there aren't yet any identified biomarkers for sapiosexuality, and most sapiosexual folks identify that way as adults.
Meeks, who is married to a man, said she's attracted to people for their intelligence, regardless of their gender. But she doesn't consider sapiosexuality to be her sexual orientation, either.
"Much like men are visually stimulated, I suppose it would be accurate to say 'mentally stimulated,'" she said.
"I find myself wanting to debate endlessly with facts, good counters and an all-night outright intellect challenge, versus having sex with someone."
A 2017 Austrailian study suggested that sexual attraction to intelligence does exist. But the researchers noted that it appears to be influenced by other factors — and that the highest IQ wasn't always the most attractive.
[ICYMI: Why Some Gay, Lesbian, Bisexual and Trans People Don't Feel Safe At Work]
Minimizing marginalization
Dating app OkCupid has included "Sapiosexual" in its list of sexual orientations and identities since 2014. In 2017, about 0.5 percent of OkCupid users identified as sapiosexual — most between 31 and 40 years old.
The Ronson story was covered positively by LGBTQ publications like Out (which said Ronson sounded "pretty queer"). But the term "sapiosexual" doesn't even come from inside the LGBTQ community.
In a 2002 blog post, Livejournal user wolfieboy claims to have originated it back in 1998.
"Me? I don't care too much about the plumbing," he writes. "I want an incisive, inquisitive, insightful, irreverent mind. I want someone for whom philosophical discussion is foreplay."
Origin aside, some worry that the conversation about sapiosexuality — using terms like "coming out," and grouping it with other queer identities — minimizes the marginalization actual LGBTQ folks experience.
Attraction to intelligence is common. Sapiosexual folks aren't likely to be refused service for it. In comparison, gay, lesbian, bi and trans folks have faced literal centuries of persecution.
In fact, much of the criticism around the identity is that it's used as a bragging right.
"Not only do I seek to date someone particularly smart, whereas others, I presume, are happy to f*** a gorgeous dimwit, but I myself am smart enough to need and deserve the company of a genius," Miles Klee wrote for Mel Magazine.
"That is, on its face, a smug, unwarranted form of self-congratulation. It also attempts to raise a weird compartmentalizing of desire to the level of sexual orientation."
Meyer said she's thought about this often as she's seen sapiosexuality in the news.
"When men claim this identity, to me it seems like it's something that aggrandizes them: 'Aren't I a cool guy because of who I'm attracted to,'" Meyer said.
"And that's not really what sexual orientation is about. It's not meant to aggrandize."
Still, there's a growing community of sapiosexuals like Meek.
The Facebook page "Sapiosexual" has nearly 30,000 likes. And there are 426,000 Instagram posts with the hashtag.
Bad dating app opening messages might be here to stay.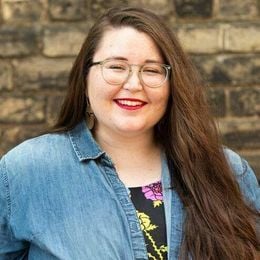 Gretchen Brown
is an editor for Rewire. She's into public media, music and really good coffee. Email her at
[email protected]
, or follow her on Twitter @gretch_brown.