How Instagram Ads Have Changed the Way We Shop
And duped us along the way.
by
Julia Ries
Michael knew he wanted to do something different for his 30th birthday. The past few years, he'd picked a bar and asked his friends to meet him there — but 30 was a big one, and a dive bar wasn't going to cut it.
One day, while scrolling on Instagram, Michael, who didn't want us to use his last name, came across an ad for a brand new urban miniature golf course.
The photos looked awesome, he thought, depicting a handful of putt-putt greens inside what looked to be a freshly-renovated warehouse. The course was located a few blocks from his Los Angeles apartment and for a flat fee included unlimited rounds of mini-golf and an open bar. And so he booked a private party at the course directly through the Instagram ad.
A few weeks later, on the night of his party, Michael showed up to the venue to find the course in complete disarray. It clearly hadn't been finished: pieces of turf were thrown in the corners, the holes were squished against one another in a tiny room. And instead of a full-service bar, there was a makeshift bar with a couple handles of liquor, cases of beer, and bottles of cheap wine. A far cry from the chic venue advertised on Instagram.
Do a Google search for Instagram ads and you'll find thousands of stories like Michael's. There are people who bought clothing from a cute online boutique only to later receive an incorrectly sized, cheapened version of what they expected. Others purchased socks with their dogs' face on them but didn't receive the product for several months.
[ICYMI: You Shop Differently When You're Lonely]
Love instant gratification? Be careful
Even though we know how misleading they can be, Instagram ads work. Sixty percent of Instagram users, which equates to millions and millions of people, say they learn about new products from scrolling on the app.
That's because companies are pumping many thousands of dollars into paid Instagram advertising, most of it featuring hyper-targeted, stunning images of "must-have" products.
The app has been collecting our data for years — it knows our preferences, likes and dislikes. And advertisers use that data to show you things right up your alley, things you're likely to buy. In just a few seconds it can be yours, often without having to leave the app.
"You're scrolling with your phone on your Instagram feed and you see that perfect pair of yoga tights... brought to you by Company X, click now and purchase," said David Camp, co-founder of the marketing firm Metaforce. "It's instant gratification."
This bodes well for younger people, or "digital natives" as Camp calls them, who crave this kind of experience.
---
"They have an inborn expectation of scrolling, clicking and purchasing — without much in the way of evaluation — and marketers understand that behavior and they certainly are exploiting it," he said.
Even just a few years ago, shopping online was much more premeditated. People would see a product online, go to a shop's e-commerce site and read some reviews before purchasing.
It's much more intimate and immediate now, Camp says, and those who are prone to impulse decisions have a perfect storm of opportunity to shop.
Shady dealings
Instant gratification-style shopping might be bad for our bank accounts. But it has its upsides, too.
The bigger problem with Instagram ads is that pretty much anyone can advertise on the platform. There's not very much vetting at all.
"There's very little consumer protection in terms of a guarantee of product quality when you are purchasing via a third-party platform online — with the exception of traditional e-commerce platforms, like Amazon, where there's always a product guarantee," Camp said.
The Better Business Bureau sees all sorts of shady advertising, according to national spokesperson Katherine Hutt.
There are companies that fraudulently claim they're backed by a celebrity, and misleading online stores claiming they're going out of business.
And then there's dropshipping — a growing trend in which someone in the U.S. sets up a website to look like a boutique with cool, creative pieces. But really they're just resubmitting orders overseas, usually to China.
In these cases, it can take up weeks or even months to get your order. Often the size is wrong, the quality is flimsy and, if you want to return it, you have to ship it back to China.
Protect yourself when you shop
Before you make a purchase from a company you've never heard of, search for it on the BBB website, Hutt said. There you can check out any complaints or customer reviews.
If you don't find the shop you're looking for, that doesn't mean there aren't problems with it. Rather, it could be so new that no complaints have come in yet.
You can also do a quick Google search to see what others are saying about the brand, Hutt said. There are Facebook groups dedicated to complaints about specific companies.
If you're wondering whether an ad is legit, there are a few red flags you can look for. One, whether the website is secure or not. The URL should start with "https" rather than "http," Hutt said. If it doesn't, it's probably not a good idea to enter your credit card info there.
Two, an online shop should list out its contact information — an email address, a physical address, a phone number. Watch out for customer service pages that are just submission forms.
"If you don't have any way of reaching the company, you're going to have a problem," she said.
Other than that, anything that seems too good to be true — a shop going out of business, super low prices, or unreal claims about what a product can do for you — probably is too good to be true.
It's a buyer-beware situation out there, Camp said. There's very little in life that needs to be immediately bought. Do your research, look at product reviews and be smart about what you're purchasing online.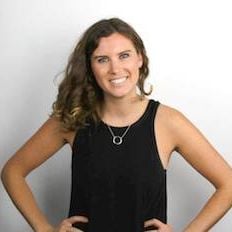 Julia Ries
is an L.A.-based writer covering health, wellness and life-type stuff for Rewire, HuffPost, VICE and Healthline, among other publications. You can see her work at juliaries.com.