Two Interreligious Couples on How They Spend their Holidays
Couples from different backgrounds merge traditions while setting their own boundaries.
by
Abdi Mohamed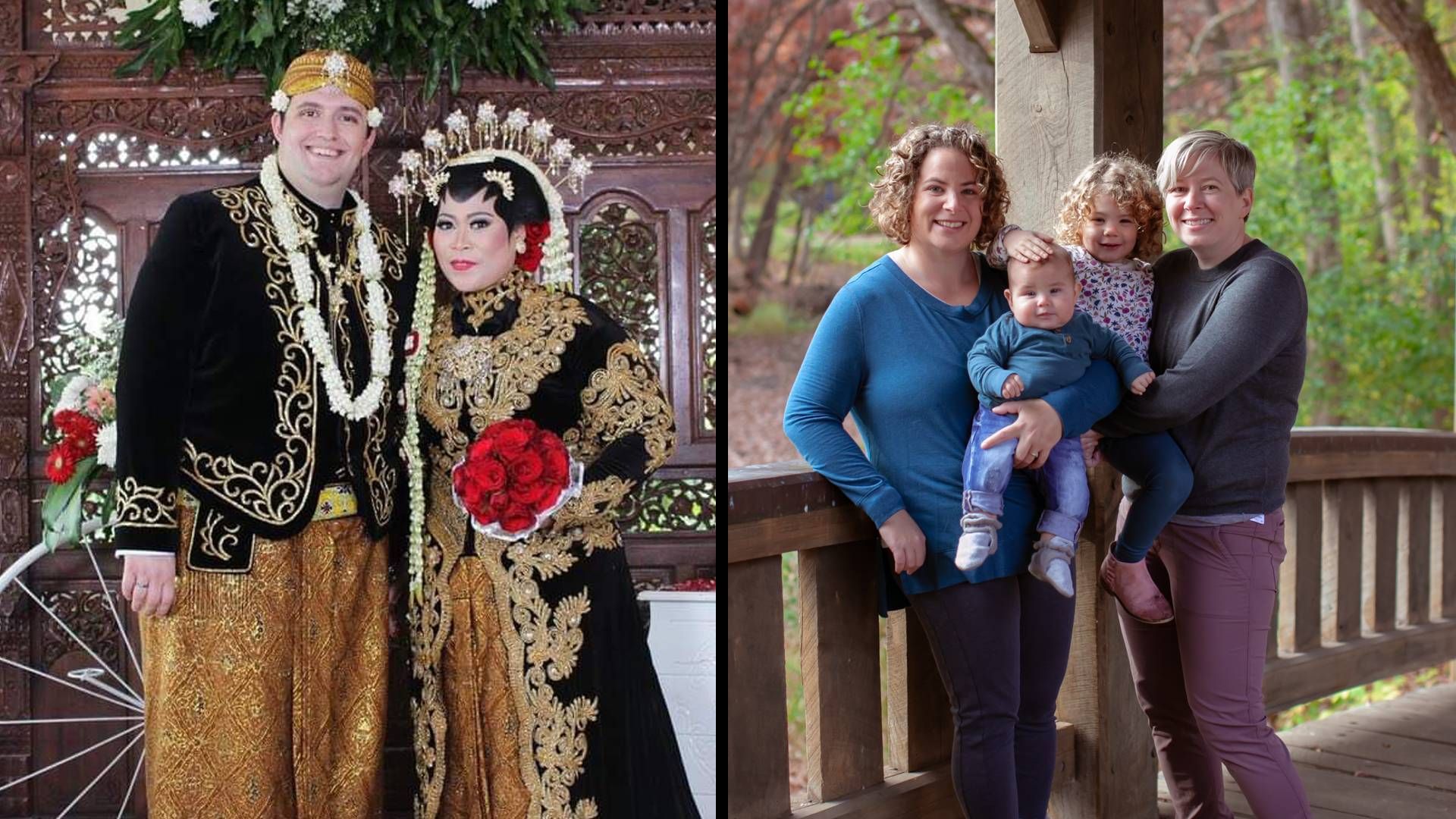 Spending time with family during the holidays is an opportunity to share traditions. But how does that look when your partner or their family comes from a faith or culture different from yours? 
"The holidays have brought us closer, because it brings up those conversations about... where we're going to go as a family," said Sam Master, who was raised Christian in Minnesota and converted to Islam in 2003.
His wife, Asri Azhari, was raised Muslim in her home country of Indonesia.
"Obviously I want to respect my parents, and Asri and I want to respect our religion, so it's making us have those conversations about what our boundaries are," he said.
Some couples try to merge traditions. Shari Robbins and Heather Brey decorate a Christmas tree each year — with blue and white lights, dreidels and a Star of David tree topper.
Robbins was raised in a Jewish home in Maple Grove, Minnesota, while Brey grew up in Neenah, Wisconsin to a non-religious yet culturally Christian family. But they see similarities in their differences.
"With my family it's always been cookie decorating and looking at lights," Brey said.
"Shari's family always does a big Hanukkah party with Hanukkah cookie decorating. It's kind of the same thing, but it brings each family together."
For both couples, their mix of cultural upbringings poses another question: how to pass on their traditions to their children. 
Rewire spoke to these two couples to learn how they navigate cultural and religious differences in their relationships. Their comments have been edited for clarity. 
Sam Master and Asri Azhari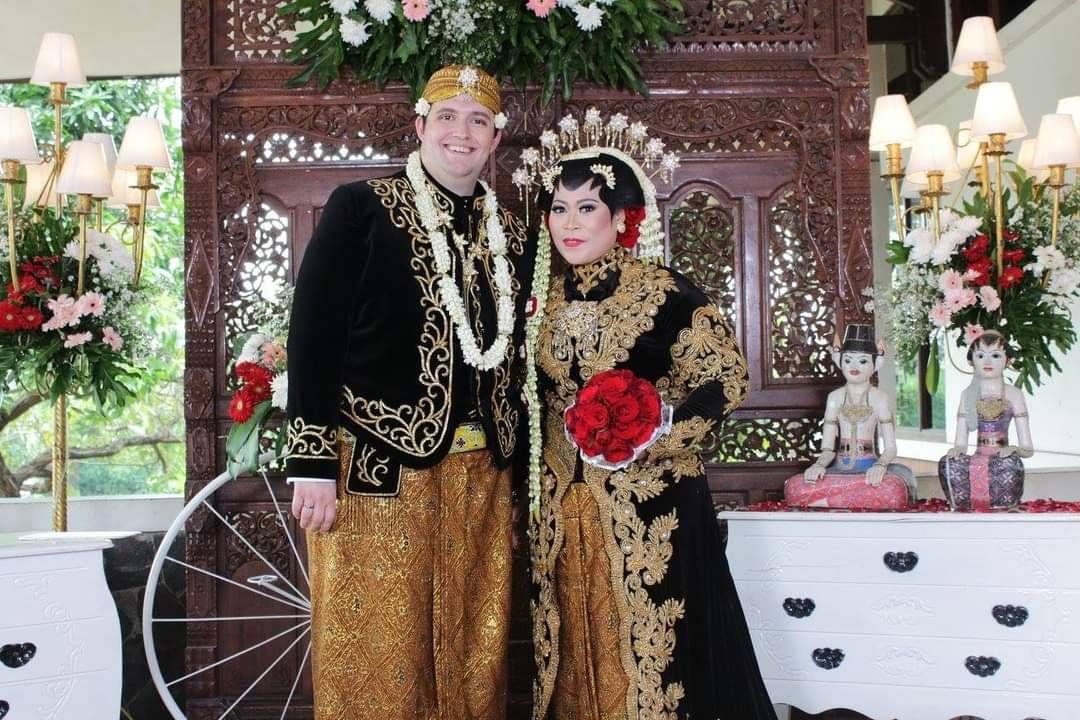 On spending the holidays together for the first time:
Asri: I felt uneasy to attend Christmas family gatherings, because I'm a bit strict about celebrating things that aren't Islamic. But we discussed it with Sam's religious teacher, Brother Asahd, and he said that as long as it's about keeping the family ties we can attend the family gatherings.
I never say things like 'Merry Christmas,' since it's against my personal belief. Some of the family caught onto this and now they say Happy Holidays.
When I was living in Indonesia, they would broadcast Christmas movies on TV. I never thought much of it when I was young. But now I see how big it is here and I want to give my kids a proper education on our faith first. 
On their intercultural wedding:
Sam: I kept an open mind. My mom and my uncle came out to participate in my parents' place. It's more like an Indian wedding where the guests eat first and the bride and groom as well as their parents just pose for pictures the whole time. I wore the traditional costume and so did my mom. 
My favorite part of the wedding was the part where we go up to our parents and ask them for forgiveness and their permission to get married. It was a little bit groveling, but I felt like it was a clear transition from one phase of my life to another, and in America we really don't have that.
I didn't live with Asri before we got married like a lot of other people have. I felt like (the wedding) made us a couple. It also made me deeply appreciate my wife's culture for both how easily they welcomed me into their arms and included me. 
On setting boundaries:
Asri: Just the other night one family member called and said they already got us a gift. I talked to Sam and we agreed that we'd raise our family Islamically. We don't want to celebrate Christmas at our home, but if we get invited to attend a family gathering relative to Christmas we have to do that to keep the family ties.
In that gathering time I restrict myself. I don't want my kids singing Christmas carols. They've been asking us questions about what's appropriate and what's not. In my opinion, gift giving is fine. We just don't attend church or sing carols. 
What I enjoy the most is being with my husband and having him spend time with his family. Seeing him happy makes me happy. Getting together has been special since everyone lives so far away. 
On what they've learned about each other's traditions:
Asri: In Indonesia, Christmas is celebrated by the most devout Christians or Catholics. But here, Christmas is like a cultural holiday where even if you're not Christian, you might celebrate it. Since we're Muslim we know our own boundaries when it comes to the holiday. 
Sam: I didn't realize how laxity it was and how synchronic it was. Indonesia has had influences from the Indian subcontinent, the Dutch, the Arab world, and they have their own rich traditions as well. Our wedding had aspects of all of that.
On their favorite part about the holidays:
Sam: The biggest thing for me is spending time with family and getting together to share a meal. Also, now watching the kids and the next generation get excited for toys and to play with one another.
We basically have a northern Italian Christmas with Italian dumplings and well, I don't know if you'd call it Italian, but my grandma's beef recipe. We also used to do cookies. We used to sit there for hours and make these cookies and I'm trying to resurrect that as an Eid tradition. I'll have my mom come over to teach us how to make them. 
Asri: The times that we share with his family have been great. I got to ask them what I should expect as a mother while I was pregnant. The older family members like to tell silly stories about Sam and his cousins when they were children. Now with my own child, I'm able to share funny stories about my daughter with other parents in the family. 
Shari Robbins and Heather Brey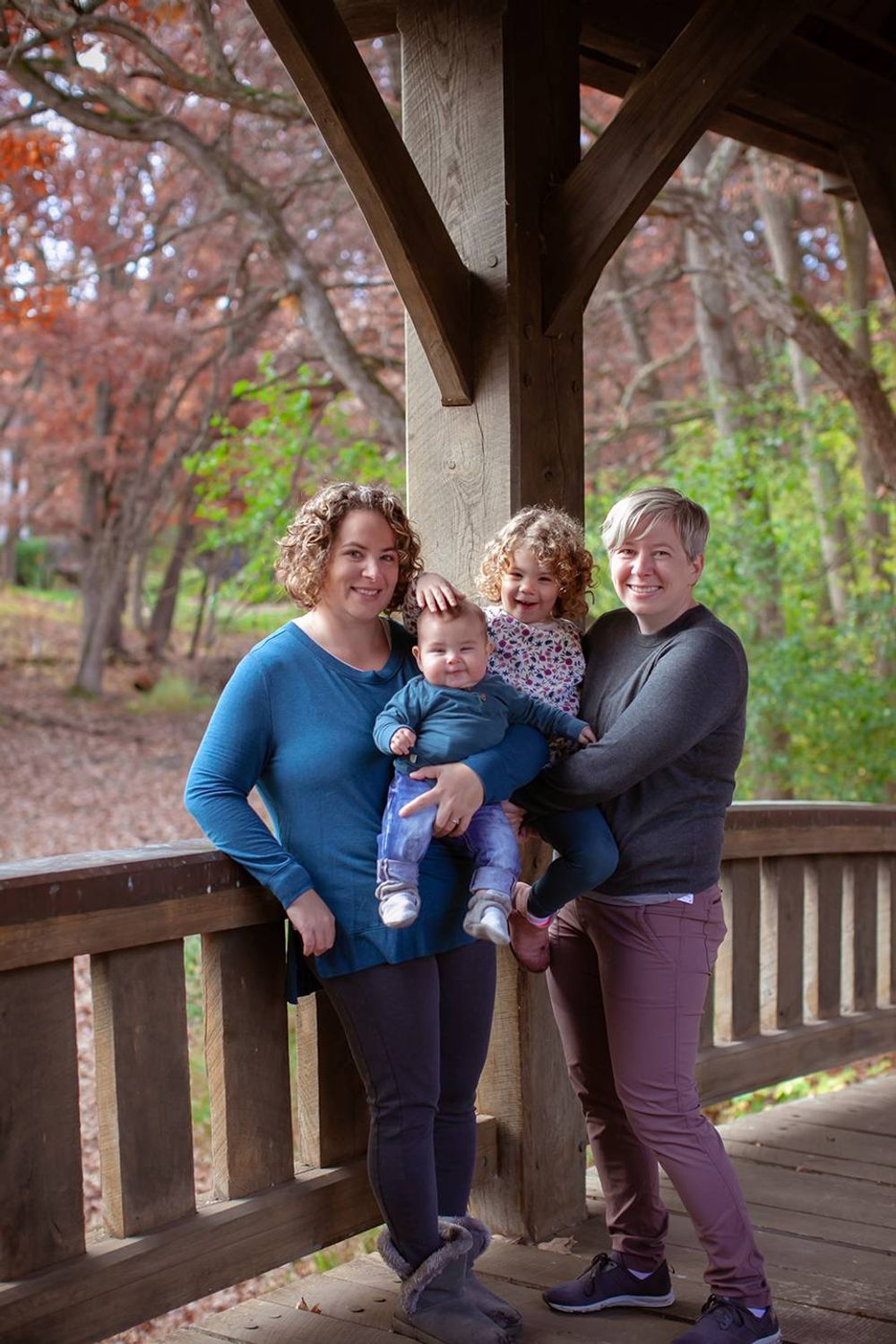 On new traditions:
Heather: I think it was her mom who sent us gifts and that was my first understanding of what Hanukkah was for Shari. We received the traditional cookies and gifts in the mail. 
Shari: We were very Jewish, and my mom was pretty strict about not going to any events that were for other faiths, so I have never done any of that stuff and thought it sounded fun.
The first year that we were together I felt very adamantly that it felt a little wrong to have a Christmas tree, but Heather had always had one.
So, we got a tree and we decorated it with blue and white lights, dreidels, and a Star of David tree topper and named it Menormas the First. That's actually become a tradition for us, and Menormas the Eleventh is now downstairs and our three-year-old put on the tree topper this year. 
On inclusive celebrations despite religious differences:
Heather: I never felt any pressure to partake if I didn't want to, but I was interested and curious. There was a lot of learning. Her family was open to making sure that I had translations from Hebrew to English so I understood what the prayers stood for and why we do them. It was very inclusive so it was easy to partake. 
Shari: It wasn't too difficult to partake since Heather's family isn't particularly religious. The only thing that I don't partake in is when her dad and step mom do a blessing before a meal, I just sit quietly because it's not part of my faith, but I'm respectful towards theirs. 
On learning about each other's culture:
Heather: I guess as far as Hanukkah goes everything falls at sundown. I didn't realize you wait till sundown and that's when you pretty much start your celebration for the evening. 
Shari: I did not know that you did stockings at night. The first year I kept putting stuff in the stocking and Heather was like, 'no you can't put that in until the middle of the night cause that's when Santa comes and in the morning you open up the stocking.' I was apparently doing that wrong, sometimes I still do. 
On their favorite part:
Heather: I think it's now having children and watching the three-year-old know that there's eight nights of presents. She knows which night we're on each night and doesn't forget. For me, it's like Christmas morning you're overwhelmed since you're opening up so many presents, so it's kind of fun to watch her open one, play with it and move on to the next night. It's exciting. 
Shari: Most years we've come to celebrate Christmas with Heather's family, and instead of it just being a boring day it's filled with super fun family activities. I love when we get to put on pajamas that match, drink hot cocoa, and drive around to look at lights. I think that's my favorite part.
To me growing up, Christmas was boring. You rented movies and ordered Chinese food and waited for the day to be over so the world would open back up again. This introduced me to just how special of a time and how fun it is. 
On tradition bringing them closer together:
Shari: I think early on it meant something for Heather to see how I grew up and what values were important to me and my family. So introducing her to things like this, and taking her to a High Holiday service and a passover Seder and a family Hanukkah party were things I was excited to share as part of my world with her.
At the same time it was really nice to see that part of her world. I felt like it might feel weird celebrating a holiday I don't have a religious belief in, but for both of us it's about our family and how we've combined traditions into what feels good for all of us and is inclusive to both Heather's family and mine.
We've played dreidel and lit Hanukkah candles at Heather's family's house and it's great to see the two families come together like that.