Hiking TikTok Is the Escapism We Need
Both therapy and inspiration, hiking TikTok feels like 2021's answer to Norway's 'Slow TV.'
by
Gretchen Brown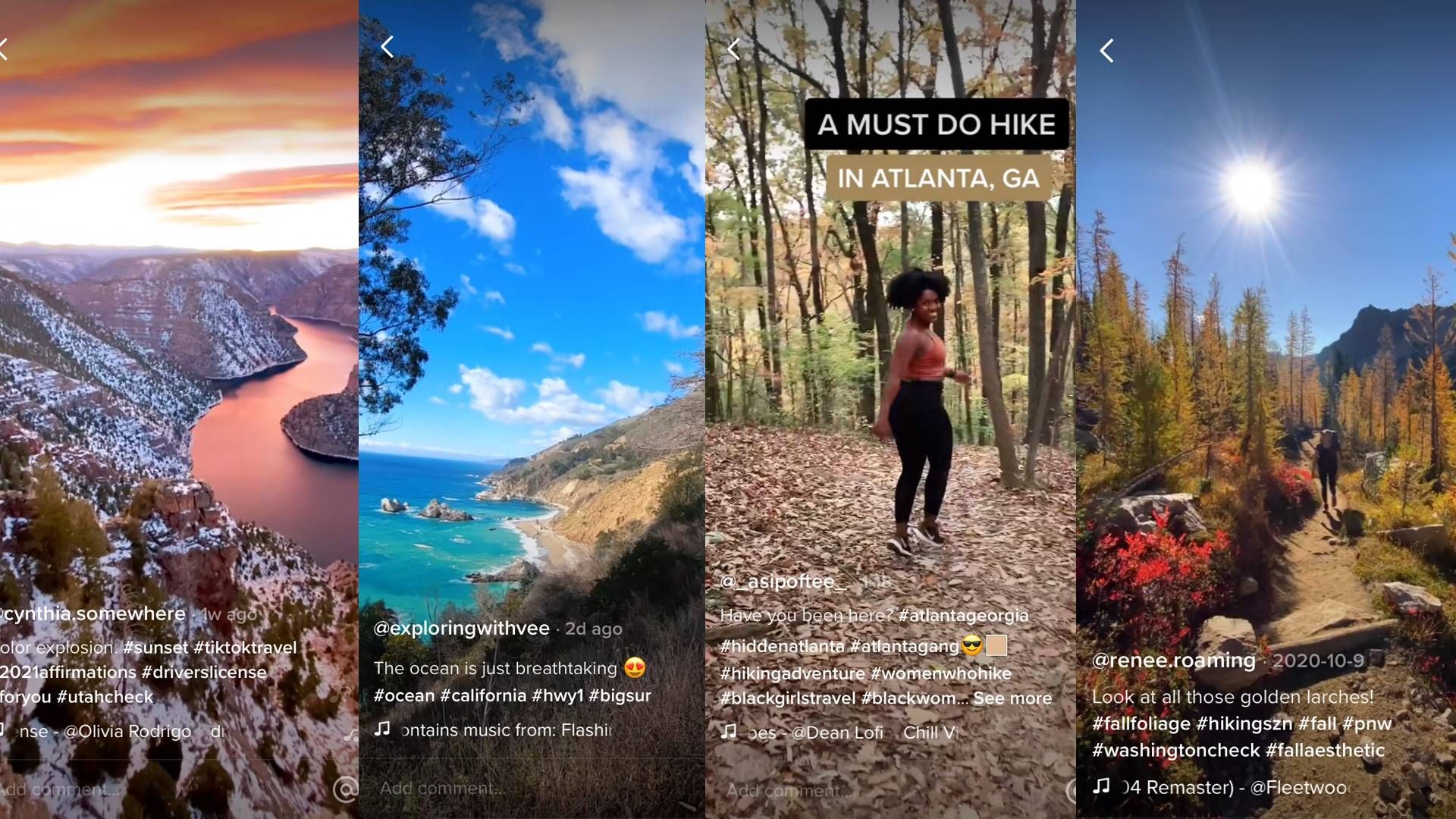 I have traveled more trails this year than in the last five combined; soaring along the Bixby Creek Bridge, the Smoky Mountains, Canyonlands National Park, Mount Rainier. Virtually, anyway.
The internet can be toxic. But this corner of TikTok — set to the soft sounds of M83, or Taylor Swift, or Billie Eilish, or Lord Huron — feels almost therapeutic.
"Most of my videos are sunset, sunrise, which I think generally is a really calming experience," said Cynthia Eveleth-Havens, who chronicles hikes on TikTok to 23,000 followers as @cynthia.somewhere.
"And it helps people stop and embrace what's going on in the video, rather than what's going on in their lives for just a few seconds."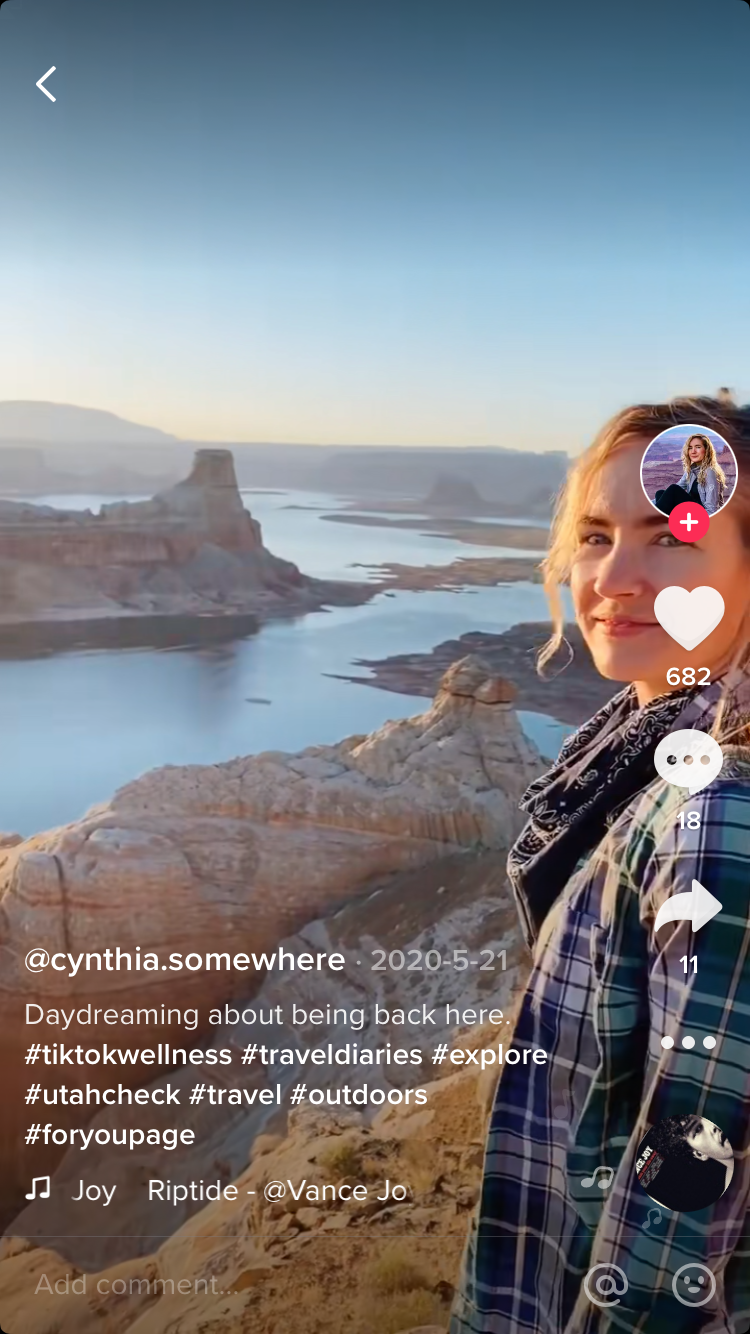 Norway's "Slow TV" became a smash hit years ago for depicting hours and hours of unfiltered television: a train making its way to Oslo; a five-day cruise; a 13-hour knitting night.
This feels like TikTok's answer. The videos are much shorter — TikTok limits users to just 60 seconds — but they feel different than other viral video. 
No quick, choppy cuts, no real plot or climax or joke; just long takes of nature scenes and soothing music. 
Hiking TikTok is necessary escapism. Especially in a time when travel is limited, and the news is pretty much always scary.
"Media has historically truncated narratives to increase emotional engagement and interest in a short amount of time," said Pam Rutledge, a psychologist and director of the Media Psychology Research Center.
"Slow video increases your attention to the details within these experiences and forces a slowing down of physical processes, similar to the concept of mindfulness."
Hiking is trending
Veronica Lopez didn't grow up hiking. But about a year ago, she downloaded TikTok, and started seeing videos of beautiful hikes near her home in Southern California.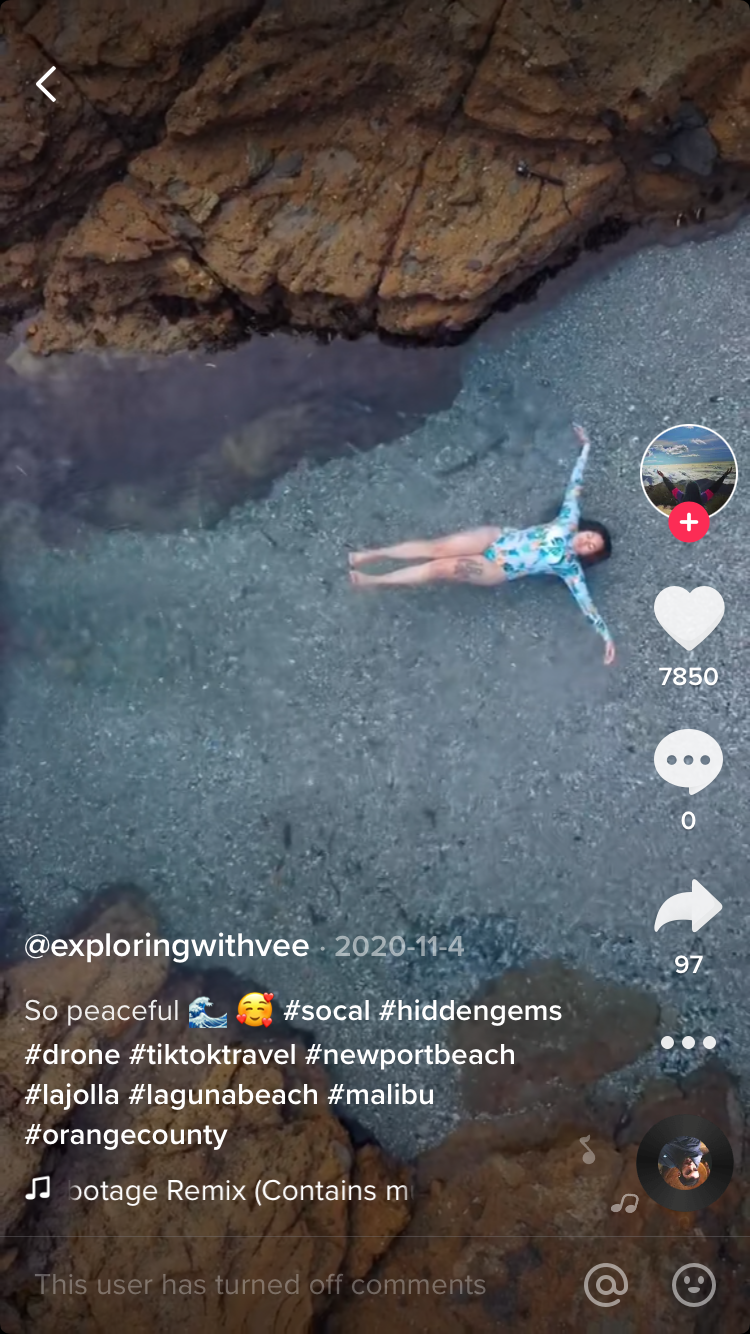 She felt the need to get out there and explore. Soon, she was making her own videos documenting her adventures.
"My goal is to show people that haven't really seen it so they can go out there," said Lopez, who now has 18,000 followers at @exploringwithvee.
She said hiking has improved her mental health.
"Maybe they'll get the courage to go. Especially if they don't have a lot of people to go out with."
Outdoor TikTok's popularity corresponds with increasing interest in the outdoors. Hiking is more popular than ever, and has been steadily growing since 2015. It's also one of the few things that the Coronavirus hasn't changed.
There's evidence hiking TikTok could be driving some of the interest. Folks in the comment section of one of Talaya George's recent videos created a Facebook group for female Atlanta hikers. They all did her hike together last weekend.
George, who goes by Tee, created her account @_asipoftee_ just a month ago. She already has 16,000 followers.
"I never expected that to happen. So many people comment to me, 'The hike is awesome, thanks for sharing.' So I definitely think it's encouraging people," she said.
Renee Hahnel, a travel blogger on TikTok as @renee.roaming, said searches for her blog posts for beginner hikers are triple normal numbers.
"Getting out there and experiencing the quiet and the stillness, and not being connected so much to devices, it's just so healing," said Hahnel, who posts colorful videos of hikes, many near her home city of Seattle, to her 182,000 followers.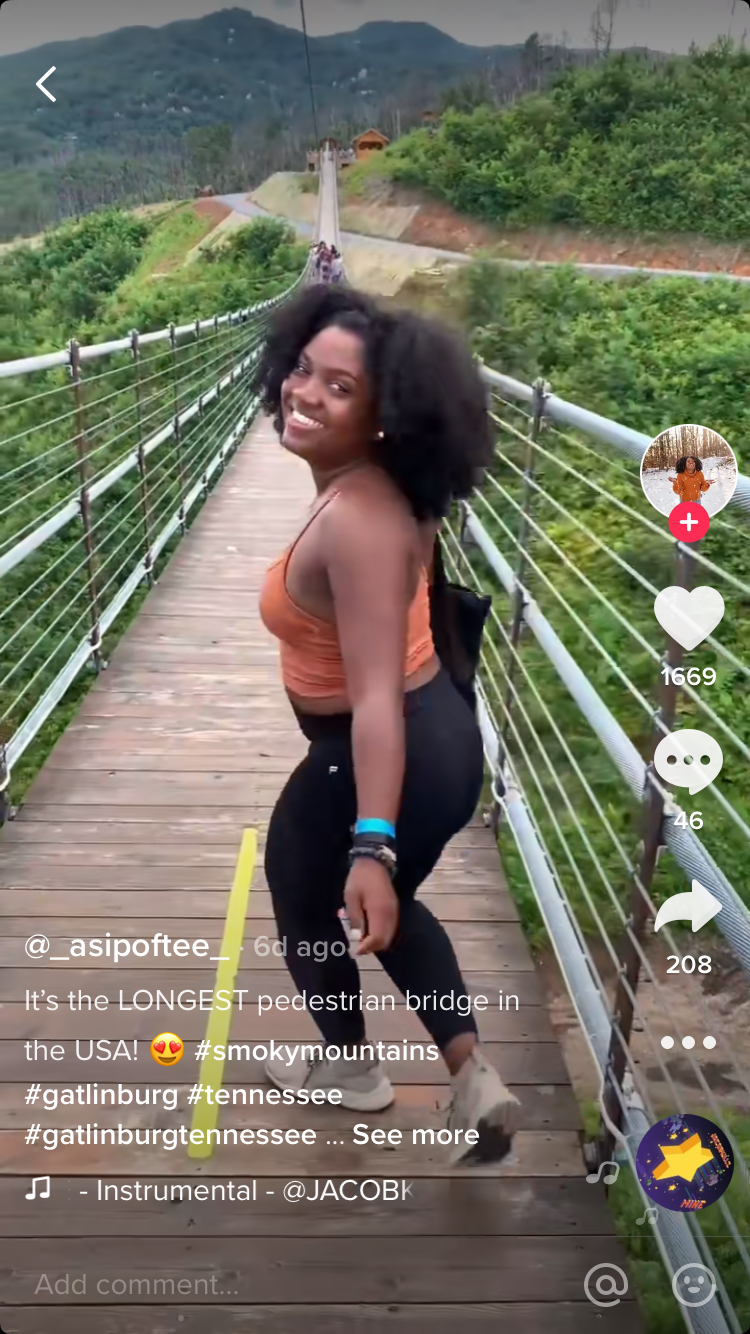 "It makes me really, really happy to see more people enjoying that and finding that in the last 12 months."
Preventing overtourism on Hiking TikTok
Travel influencers on Instagram have been criticized for promoting overtourism, as influxes of tourists try to recreate viral photos on the platform, often hiking off-trail and uprooting flowers, among other irresponsible behavior.
And with a deadly pandemic still raging, some influencers have been criticized for continuing to travel against CDC guidelines.
There's some of that on TikTok, too. But the videos I'm drawn to aren't the millionth image of Horseshoe Bend or Hawaii's Stairway to Heaven.
There's a local aspect to my favorite videos, with folks posting beautiful hikes in their own regions. They're usually not already famous locations, and most of the creators don't post the exact location.
It's all part of a greater mindfulness from some influencers toward "leave no trace" principles, which are all about planning ahead, leaving what you find, respecting wildlife and minimizing your impact on the location.
Eveleth-Havens said she hopes the influx in hikers leads to more support and funding for national parks.
"I want people to get inspired to go outside, but in a responsible way," she said. 
"The increased travel in Colorado and Utah has led to some deterioration of the environment, because people don't really know 'leave no trace' principles. So I really try, particularly in my captions on Instagram and TikTok, to encourage some more responsible habits."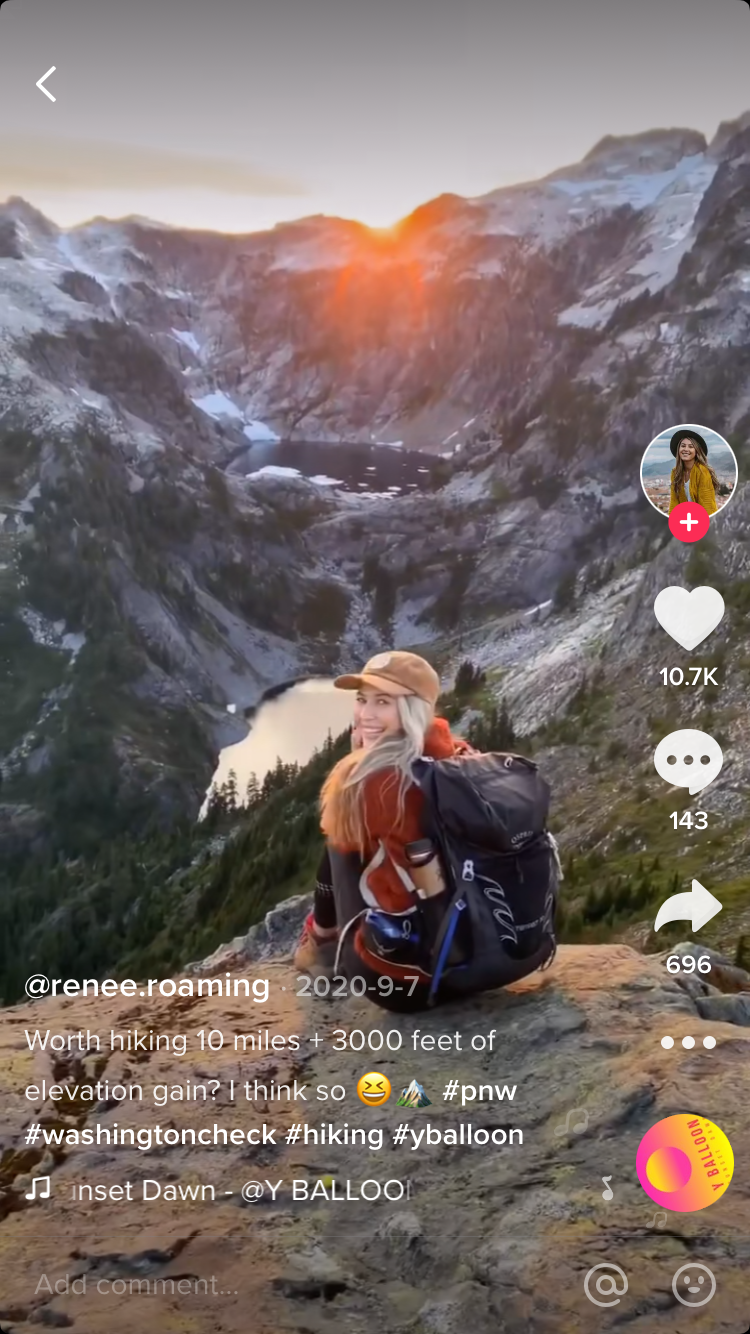 Pretty videos are therapeutic
Aside from inspiring us to get outdoors, looking at pretty videos is simply good for us. Slow video, specifically, can be more immersive than regular media, Rutledge said.
"Empirical studies suggest that art and aesthetic appreciation (sunsets, vistas, snowy mountains) affects cognitive and emotional stages in ways that can promote physical and psychological well-being," Rutledge said.
In November, the New Yorker's Kyle Chayka linked "slow TV" to what he called "The Rise of Ambient TV." Chayka charted the popularity of television shows with plots only secondary to the scenery, supplemented by lots and lots of b-roll.
Ambient is "something that you don't have to pay attention to in order to enjoy but which is still seductive enough to be compelling if you choose to do so momentarily," he writes. Think: Bridgerton, or Emily in Paris.
They're something pretty to have on in the background. A 21st century Yule log. Fancy white noise.
You could say outdoor TikToks are ambient video, since the music and the scenery are the entire point. But they feel more active than Chayka's description, maybe because the phone is right next to your face. You have no option but to participate.
I don't believe ambient needs to be shorthand for boring. I, too, am guilty of turning on Netflix and letting it play while I completely ignore my television.
But ambient music isn't always elevator music. It can make you feel something, whether that's focused, or calm, or sad, or solitary.
Ambient TikTok feels calm and optimistic and inspiring. It's a place where you can forget that people are dying, and democracy is threatened and Reddit is challenging Wall Street, or something.
It's a world full of beautiful scenery perfectly synched to the new Taylor Swift album. There's no need for a plotline. Real life is enough.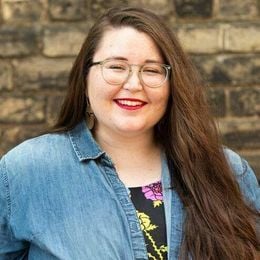 Gretchen Brown
is an editor for Rewire. She's into public media, music and really good coffee. Email her at
[email protected]
, or follow her on Twitter @gretch_brown.