The Hidden Health Hazards of Wedding Planning
by
Katie Moritz
Planning for a wedding can be very exciting. But, making it happen can be a lot of work, and more emotional than you'd expect. Outside expectations and pressures can easily suck the enjoyment right out of the whole wedding planning process. More importantly, those stressors can be harmful to your health.
If you're about to embark on your own wedding planning journey, or are going to help someone else with theirs, here are a few pitfalls to watch out for, and things you can do to keep the process as fun as you always hoped it would be.
Stress
While movies like "Bridesmaids" and "My Best Friend's Wedding" might overly dramatize wedding-related personality clashes, it's true that the people who love you and your partner very well might stress you the heck out along the way.
Conflicting expectations about the wedding itself are a common stumbling block for couples and their families. For example, you and your partner might be excited to have a relaxed wedding in your back yard, but your parents are pushing for a traditional wedding in the church where they got married.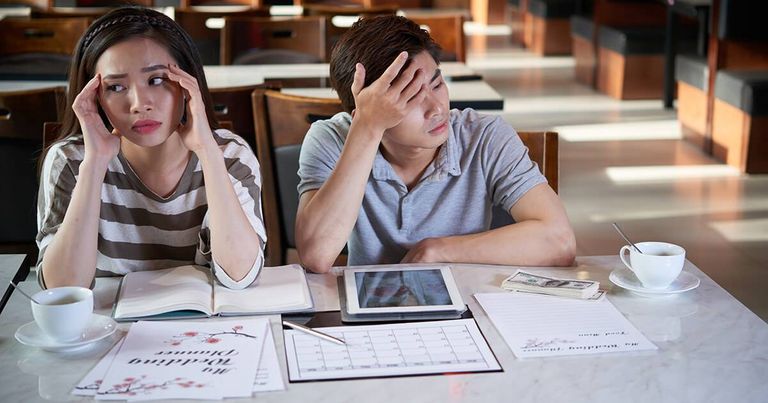 "Couples receive lots of ideas and advice and opinions from family and friends when they're putting it all together," said Bre Ward, a Minneapolis-based wedding coordinator. "Perhaps someone is pushing for a super-fancy, very traditional day and maybe someone else is interested in a very casual day and less traditional moments."
Ward works with couples during the last two months before their ceremony, and is present on the day of, to ensure it runs as smoothly as possible. Besides differing ideas about the setting and the vibe of the wedding, couples sometimes grapple with traditions they're not really excited about, but feel expected to include in the day—like speeches or a first dance at the reception, Ward said. A couple of introverts getting hitched might find "all of a sudden they have 300 guests coming to their wedding" and feel anxious about that.
---
She tells her clients: "You can do whatever you want. Don't do what you don't want to do." No tradition is mandatory.
"The hope is that a wedding day is something (the couple is) really excited about and built in a way that they really enjoy it," Ward said.
If that means making the processional less formal, or doing away with a wedding party, or cutting out speeches, or making the first dance a group dance, that's fine. Weddings are becoming more diverse and personalized all the time. There's not one right or wrong way to get married.
There are lots of other stressors that can pop up when wedding planning, like DIY projects and your budget. Hiring a coordinator for the day of can help cut down on last minute surprises, Ward said.
Jen Rives, a Minneapolis-based licensed marriage and family therapist, said she urges couples to write a mission or values statement to help them keep in mind what the wedding is actually about—their relationship. The statement can be "kind of like a North Star" as you plan your wedding, she said.
Write down "'this is what we're doing this for, these are the important things we want to intentionally walk into as we plan this wedding,'" Rives said. A wedding is a "community ritual of support (for your relationship), and the rest is just fun and a little bit of your own style thrown in."
Eating disorders
This one is linked to stress, too, but deserves its own category.
People who are getting married feel "a lot of pressure to look the best (they've) ever looked and be the best-looking person in the room," Ward said. And "there's a lot that goes into preparing and planning to be that way."
That pressure, felt especially keenly by women, combined with the stress of wedding planning, can trigger pre-existing eating disorders or create new ones, Rives said.
Often, Rives said, women will start planning by buying wedding magazines, which inundate them with unrealistic images of what a bride is supposed to look like. As planning becomes more stressful and family and friends try to exert control over the process, some brides will double down on their eating and exercising habits to feel a stronger sense of control, Rives said.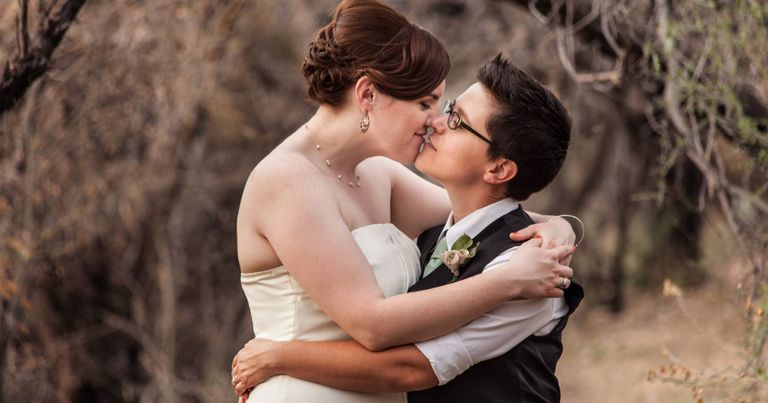 Depending on your mental health history, this can progress into disordered eating or exercising.
To relieve some of the unrealistic pressure to look someone else's definition of perfect, diversify the wedding images you're looking at, Rives said. "Curate your social media" to "keep in mind that all shapes and sizes and colors (of people) get married," she said.
Fill your Pinterest board, Instagram feed or wedding binder with images that validate you and your experience—photos of brides of color, tattooed brides, plus-size brides, same-sex weddings, weddings where one or both of the people getting married are trans or gender non-conforming... You get the idea.
The most beautiful version of yourself will be the one you bring to your wedding day. Don't let unrealistic expectations keep you from enjoying the celebration. And get the professional help you need if stress is impacting your health.
Tanning
Tanning at a salon is one fad that's being mercifully left in the early 2000s, along with your ex-boyfriend's Von Dutch trucker hat.
The tanning industry has shifted over recent years, with indoor tanning salons closing down and people turning more and more to broadening options for at-home self-tanning. In 2013, 1.6 million fewer women and 400,000 fewer men were using tanning beds than in 2010, according to a 2015 study published in JAMA Dermatology.
But a lot of brides feel pressure to be bronzed to perfection, and sunless tanning has the reputation of looking streaky and unrealistic. Despite decreases in use, an estimated 7.8 million women and 1.9 million men were still using tanning beds in 2013, the 2015 study found.
If you're tempted to get in some tanning bed sessions before your nuptials or honeymoon, remember exposure to those UV rays can cause skin damage and cancer. According to the Skin Cancer Foundation, people who first use a tanning bed before age 35 increase their risk for melanoma, a form of skin cancer, by 75 percent.
A quick search on YouTube will reveal tons of videos by beauty influencers sharing their favorite sunless tanning products. A lot has changed since that scene in "Bride Wars". Go the sunless route and you'll be looking gorgeous and keeping your skin healthy for the future.

Katie Moritz
 is Rewire's senior editor and a Pisces who enjoys thrift stores and pho. Reach her via email at
[email protected]
or on Twitter @katecmoritz.