Aw, Shucks: Harvest Your Own Oysters With an Expert Forager
by
Dana Halferty
Highway 101 along the Hood Canal in Washington makes for a winding drive, tracing the coastline with misty mountain peaks to one side and calm rocky beaches to the other.
Side roads inland guide you to mossy forests full of bubbling streams and massive waterfalls, but turn toward the water and you have more than 200 miles of protected fjord with the occasional sailboat or orca pod passing by.
Sitting on the edge of the Olympic National Forest, summer finds the area bustling with vacationers from around the world. But the colder months hold a quiet respite for the locals. Many don't realize that fall, winter and spring are the tastiest times to make the ferry trek from Seattle: it's oyster season.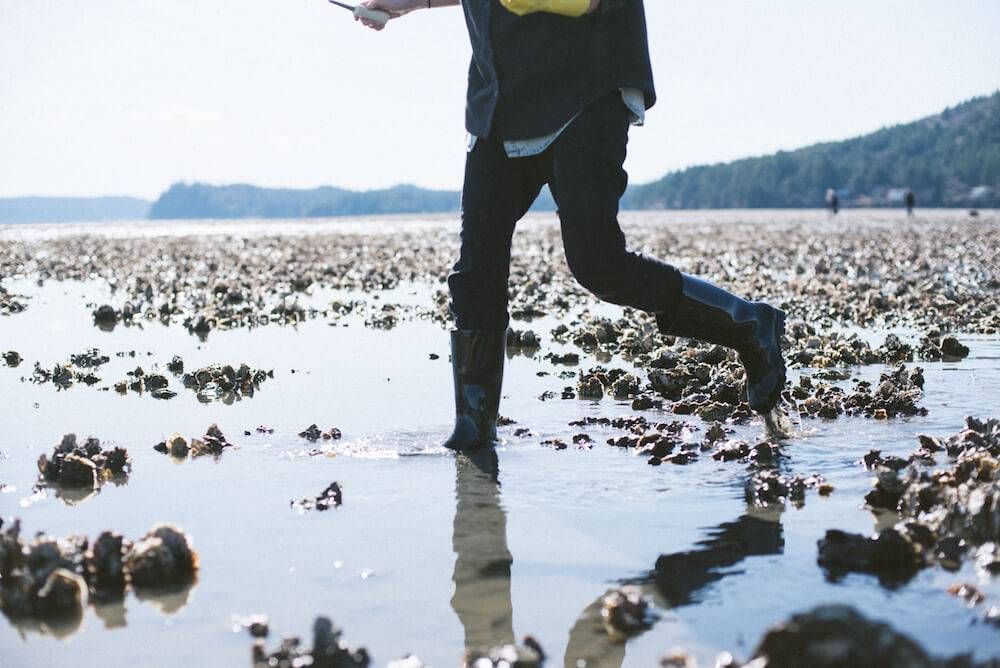 If you're an oyster lover, you've probably heard the adage that you only want to eat them in months that have an "r" in the name: September through April. And while you won't get sick eating them in the warmer season, the myth does hold some truth.
Oysters spend their summer reproducing, meaning you're essentially eating a translucent sack of sperm and eggs during that time. After they spawn, they begin to gobble up nutrients and many enthusiasts say their flavor peaks in November and December.
Oysters live in oceans all over the world, and some coastal locations have public oystering areas where you can collect the delicious shellfish yourself. They can be enjoyed raw — even eaten on the spot — or cooked.
I met up with oyster forager Kaelyn Handsel, a Seattle graphic designer and ceramicist, on a rare sunny and warm March afternoon along the coast with tides low enough to search for nature's happy hour.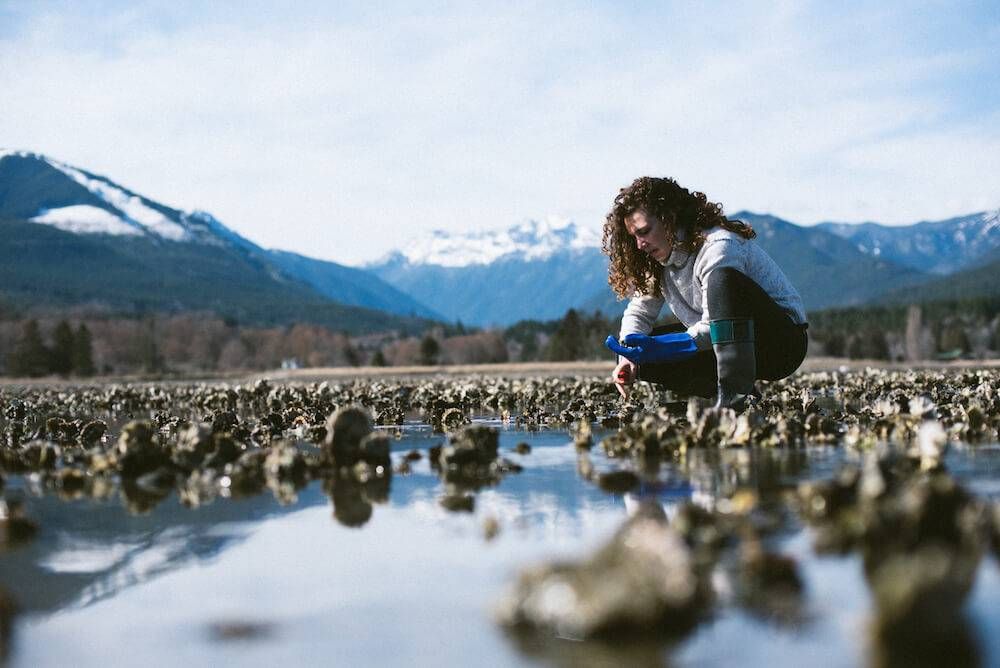 Oysters are best in areas where fresh flowing water meets salt water, so we found a beach near Brinnon, Washington, with some runoff from a nearby stream leading into the sea.
Kaelyn crouched in the shallow water, pointing out the best kind of oyster to look for — something at least 2-and-a-half inches long sitting in running water. She explained that it's important (and legally required) to leave the shells behind as you shuck — new oysters use them to grow on.
The first we tasted were a little saltier and siltier than my preference. But I learned if you walk just a hundred feet or so, the oysters might taste entirely different depending on the ratio of fresh to salt water.  That makes it easy to find oysters that fit your flavor preference.
---
A short walk down the beach we found the tastiest spot and began shucking. Pro tip: bring a lemon and some hot sauce with you for oysters on the beach.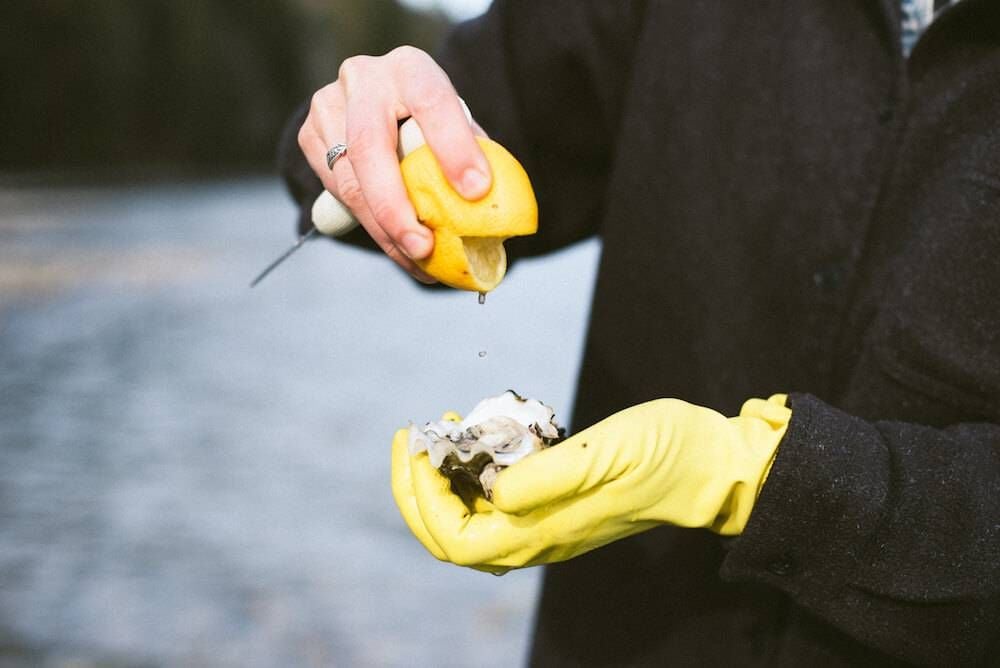 I talked with Kaelyn about how she cracked into this hobby and what she'd tell folks who want to try it for themselves.
How did you get into foraging for your own oysters?
Kaelyn Handsel: For starters, I love free food. So for a few years, I have been cultivating a basic understanding of and small obsession for foraging. But oysters specifically started because my partner loves fishing and I do not so I try to find anything to occupy myself and one particular day while he was fishing, I noticed that there were hundred of oysters just lying around. So I rushed to the store to get something to shuck with and the rest is history.
What's one of your favorite oystering memories?
KH: Hardly a favorite, but definitely a "most memorable" was when it was getting dark and I was speed shucking a pile of oysters to take home... and I accidentally shucked my thumbnail off. It felt like kind of a cool reason to loose a nail, so I was okay with it and even considered getting a tattoo to celebrate the loss. It's since grown back, but I will never again shuck without gloves.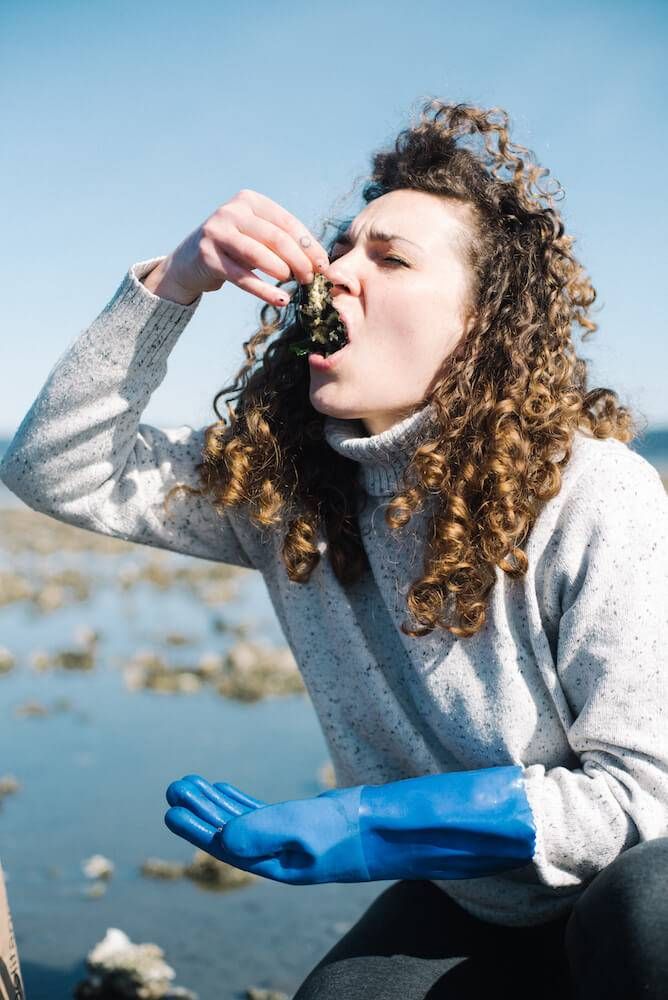 Thankfully, most of my memories of oystering are showing friends how or cooking meals for friends with the haul I bring home.
Mind indulging my inner marine life nerd and sharing some of your favorite oyster facts? Why should I love oysters?
KH: For nerdy oyster facts, I highly recommend listening to the episode about them on the food podcast Gastropod. In the meantime, though, here are my three favorites: 1. Oysters are very high in calcium and they have the most zinc in any food source; 2. An adult oyster filters as much as 50 gallons of water a day; 3. Oysters are excellent protection from hurricanes as they act as natural breakwater.
What should I look for in a good oystering spot?
KH: Oysters like a freshwater source running out to a saltwater source, so you need a little stream or river running out to the ocean. Oysters attach to other oyster shells or rocks, so if you see some, there are probably much more.
What should I bring with me to shuck oysters in the wild?
KH: Boots you can wade into the water in and not worry about wet feet, gloves to protect your hands as you shuck, a shucking knife, a jar to put the oysters you're bringing home and some ice to keep your jar cold on the trip home.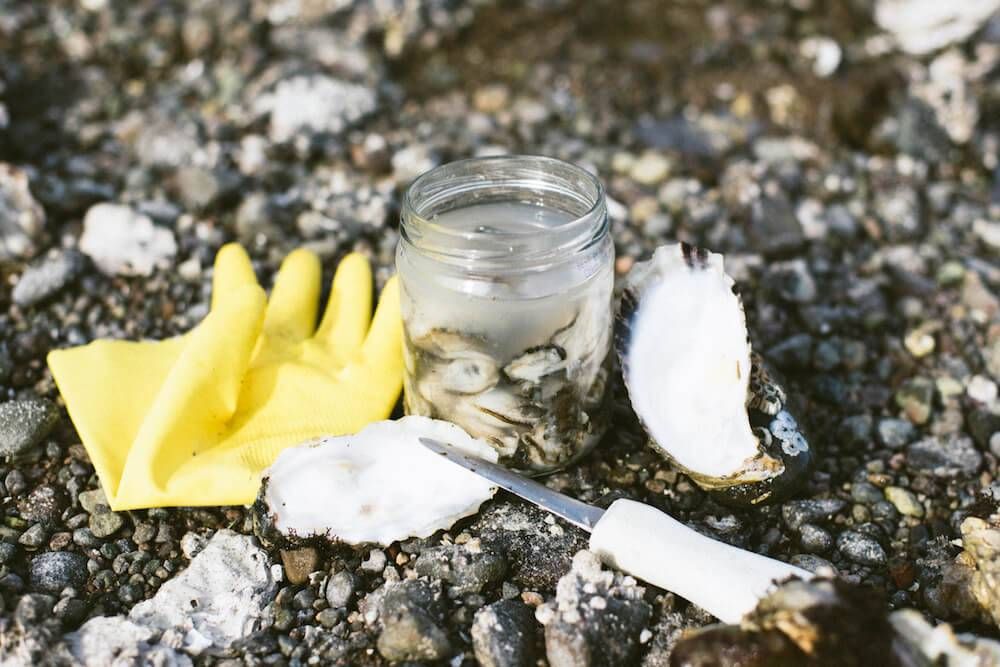 What are some things I should keep in mind when heading into the wild to oyster?
KH: First, you'll need a clamming and oystering license. They're cheap, widely available and will last you the year.
Check to make sure the beach is open. They may close it because of toxicity or sustainability, so definitely follow the law.
To gather easily, low tide is pretty essential, so check the tides for the area you're in.
It's illegal to take your shells, so leave the shells you shuck. Either collect the oysters in a jar, have a fire in a pit on the beach or eat them as you collect.
Honor the limits that are posted at the beach. Only take oysters that are 2.5 inches or larger.
Oysters are tastiest when the water is cold, so usually not in the summer months when they are concentrated on reproducing and their flavor isn't as rich.
Here's a short tutorial on how to shuck an oyster:
Before you go looking for oysters in your state or on vacation, be sure to check with the local fisheries department on seasonal guidelines, open beaches and licenses.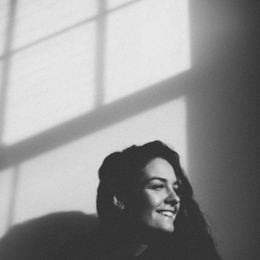 Dana Halferty
is a lifestyle and adventure photojournalist who can most often be found in a hot spring or writing music when she isn't telling stories through photographs. Invite her on a roadtrip, offer up a negroni or talk to her about the ocean and you might be her next best friend. You can follow her on instagram @danahalferty.