Where Are the Decent Hanukkah Movies?
Holiday movies are lagging behind in terms of inclusion.
by
Heather Morrison
You might call it a guilty pleasure, or pretend you don't really care. But a lot of us were ready for Netflix's "A Christmas Prince: The Royal Baby," no matter how cringey the first two "A Christmas Prince" movies were. Yes, there are three.
People love their holiday movies. That's why Twitter lit up in 2018 when Hallmark announced they were releasing two Hanukkah movies in 2019.
But this year we found out the bitter truth.
"It's a Christian movie with a Jew in it," said Dianne Ashton, professor at Rowan University and author of "Hanukkah in America: A History."
Hallmark's movie "Double Holiday" is about a Jewish woman who is forced to plan the company Christmas party.
The other movie, "Holiday Date," is about a woman hiring an actor, Joel, to play her date for her family's Christmas. But the woman "worries about keeping up the ruse when she discovers Joel is Jewish."
---
"This is simply a way to teach about Christianity," Ashton said. "This really has nothing to do with the person being Jewish. It could be anybody else. It could be a Martian."
And it's not just a bad plotline — an opinion piece in The Washington Post called them anti-Semitic.
"They rely on some of the oldest anti-Semitic tropes in the book," Britni de la Cretaz wrote for The Post. "It's the cornerstone of anti-Semitism's conspiratorial mode. Such portrayals of Jewish people as devious, dangerous interlopers manifested in Nazi propaganda and 9/11 conspiracies."
The importance of doing better
A shooting that killed three people at a kosher grocery story in New Jersey earlier this month was fueled by anti-Semitism, authorities believe.
It's just one example of a growing trend of anti-Semitism in the U.S.
"It would appear these kinds of acts of anti-Semitism are now the new normal," Jonathan Greenblatt, chief executive of the Anti-Defamation League, which tracks anti-Semitic incidents, told The Wall Street Journal.
Holiday movies might not be able to singlehandedly end anti-Semitism, but they can address misconceptions about the faith and help people understand the importance of Hanukkah, Ashton said.
---
"This is a bad moment right now in our society and I think that these kinds of things actually could be very helpful," she said. "It's a very friendly way to learn about Judaism and about Jews without people yelling at each other."
And entertainment companies don't need to reinvent the wheel to do it. Shows like "Sesame Street," "Blue's Clues" and "Barney" have been including Hanukkah and other Jewish traditions for a long time, said Joanna Wilson, author of four books on Christmas entertainment, including "Tis the Season TV: The Encyclopedia of Christmas-Themed Episodes, Specials, and Made-for-TV Movies."
"So, it seems only natural that we make these part of the movie scene now," Wilson said.
The formula cheat sheet
Everyone wants a piece of the holiday movie craze. Netflix has six new holiday movies this year. Hulu and Disney+ have also gotten in on the action. And the TV holiday season started before Halloween.
"These movies are big money," Wilson said. "People love these things. People love holiday stories."
And once you've seen one of these TV holiday movies, you've pretty much seen them all.
"All the Christmas TV movie makers, all the networks, follow the same formula because it's just that effective. And it's that popular," she said.
But it's not laziness that drives extremely similar plot points.
"They know exactly what they're doing," Wilson said. "There's a formula they're following."
A lot of Hollywood movies are aimed at males, ages 16 to 34, she said. That means theatrical release movies are going to be action filled, outrageous or include Seth Rogan and James Franco.
Even movies like "A Bad Moms Christmas" follow that formula, she said.
On the other hand, Hallmark is targeting middle-aged women and mothers who want to share the movies with their families.
And it's working.
But, Wilson said, that doesn't mean there isn't room for improvement — especially when it comes to inclusion.
What should Hallmark do next year?
Both Wilson and Ashton are encouraged that Hallmark and Lifetime are open to the idea of Hanukkah movies. The movies just need to be better, they said.
For starters, a Hanukkah movie should "be about Hanukkah," Ashton said.
It sounds simple, but clearly the industry needs a reminder that Hanukkah can stand on its own — without Christmas.
"Jews want to watch these things, but Christians want to watch Hanukkah traditions too," she said. "We share lives with Jewish people."
The movies could show people singing Hanukkah songs, lighting the menorah and eating traditional foods like latkes, or potato pancakes, she said.
"There are a lot of things that they could have done in a Hanukkah movie," Ashton said. "It would probably show a house that uses all the products that Hallmark sells."
Hallmark has an entire Hanukkah section on its website and sells more than 100 products there, including cards, wrapping paper and dreidels. The website even explains what Hanukkah is.
"Buy the menorah candles, dig out the dreidel and get ready for the latkes," the website reads, going on to explain the dates and reasoning behind the holiday. "However you celebrate, Hanukkah is about spending time with friends and family, and Hallmark wants to help."
Now, critics are saying it's time they put the same effort into their movies.
The bigger picture of inclusion
As popular as holiday movies are, the entertainment industry has a responsibility to be better, no matter whether a film is about Hanukkah, Christmas or another religious tradition, Wilson said.
"I think seeing yourself reflected on the screen is important, and the industry itself needs to be inclusive," she said.
While Hollywood at large is making a push for more inclusion, holiday films seem to be lagging behind.
They're overwhelmingly white and Christian. Of Hallmark's 24 original holiday movies this year, only two include Hanukkah and four feature black leads — down from five in 2018.
"I think we should always scrutinize and be critical about the stories that we tell," Wilson said. "And we need to be more inclusive behind the screen for Hallmark and Lifetime movies and in front of the screen."
This month, Hallmark took heat for pulling and then reinstating ads that featured marriage and kisses between same-sex couples. The company apologized.
"Our mission is rooted in helping all people connect, celebrate traditions and be inspired to capture meaningful moments in their lives," Hallmark president and CEO Mike Perry said in a statement. "Anything that detracts from this purpose is not who we are. We are truly sorry for the hurt and disappointment this has caused."
Hallmark needs to practice what they preach, Wilson said.
"Our lives are filled with people of color and our lives are filled with same-sex couples and our lives are filled with Jewish friends and family," she said. "These movies should reflect that too. It's important."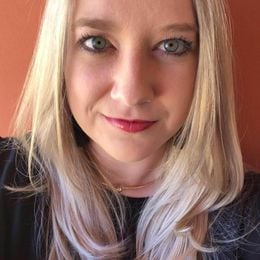 Heather Morrison
is a freelance reporter based in Los Angeles. She reports on religion and disability rights. Follow her on Facebook, Twitter and Instagram for photos of her dog.