How a Hair Pulling Disorder Inspired a Smart Bracelet Startup
by
Alauna Yust
For more than 20 years, Aneela Idnani Kumar hid her hair pulling disorder.
Disguising her absent eyebrows with makeup and concealing her isolation with smiles, Idnani Kumar kept her trichotillomania a secret from even her husband.
A mental health condition in the family of obsessive compulsive disorders, people with trichotillomania, "trich" for short, are plagued by irresistible urges to pull out their eyebrows, eyelashes, hair on their heads or anywhere else on their body.
Also referred to as a body-focused repetitive behavior, or BFRB, it is estimated that up to 3 percent of people worldwide will experience the condition in their lifetime.
Treatment can be complicated. When Idnani Kumar and her husband searched for options, they were disappointed by what they found. So they decided to create their own solution.
"It can be us. Why can't it be us? We have to take that power," Idnani Kumar said.
An individual solution
Idnani Kumar and husband Sameer Kumar had an idea to make a device that would call the user's attention to their own habitual behaviors. They began experimenting with bells and other bracelet contraptions.
As their ideas outpaced their technical know-how, they expanded their team to include lead hardware engineer John Pritchard and chief technology officer Kirk Klobe. Together they formed HabitAware, a mental health technology startup.
The team developed Keen, a smart bracelet designed to "retrain your brain" and end hair pulling, thumb sucking, skin picking and nail biting behaviors.
Users train the device on the movements related to their particular BFRB. When Keen detects that activity, the device vibrates to alert the user.
Keen instantly gained traction, with Time magazine choosing it for its Best Inventions 2018 list.
Answering the call
Being an entrepreneur appeals to Idnani Kumar, who struggled to find meaning in her previous career in accounting and advertising.
"I'm Sindhi, which is a specific type of Indian, and even the class of Sindhis that we come from — it's called Bhaibands — and that actually means 'business owner,'" Idnani Kumar said. "And so it's in my genes.
"Many people in my family are either business owners or are in the business world in some capacity... And it's only something I've really started to understand now as I'm getting more interested in my family history and talking with my aunts and uncles and understanding more about our culture."
This work is highly personal for her. Reading customer feedback and hearing how Keen has helped so many people brings tears to her eyes.
"We shouldn't be waiting for other people to tell us what to do with our time and with our life," Idnani Kumar said. "I think a lot of people do that, and I think I did that for a long time. But if you can break out of that, then the world is yours."
For more like this, visit our America's Entrepreneurs: Making it Work collection, a series of entrepreneurship and career-related content made possible by the Richard M. Schulze Family Foundation and EIX, the Entrepreneur and Innovation Exchange.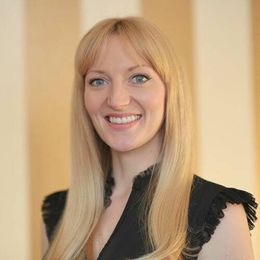 Alauna Yust
has worked in television and radio and currently produces StorySLAMS for The Moth in the Twin Cities. She and her husband are fixing up an old farmhouse while building a Roma-inspired tiny house on wheels. Alauna loves traveling, anything that glitters, and everything about her dog Lola. Most likely a Ravenclaw.