Does Grocery Shopping Stress You Out? Try These Tips
First step: Never go without a list.
by
Katie Moritz
Grocery shopping used to make Jessica Wilde feel "like (she) was going to die."
Her stress around this weekly activity was so bad that "the panic would start to rise in my chest as we pulled into the parking lot," she said. She struggled to make it through a shopping trip.
---
"My fear came from the people around me. While not a claustrophobic, there's something overwhelming about grocery stores: carts, people, children, closed-in aisles with high shelves you can't see over. It all got to me."
Wilde used a few tactics to work around the anxiety of food shopping. She started shopping mostly online for her groceries, "and when I did go, I made sure I wasn't alone."
With that strategy, Wilde, who hosts a podcast about her experience with anxiety, "built up from being able to load the cart, and go and wait in the car, to being able to load the checkout conveyor belt and go to the car, and, eventually, to even pay and bag up myself."
Wilde is not alone. For some, grocery shopping is just another task on their to-do list. But for a lot of folks, the people, the number of choices and the financial aspect of grocery shopping is paralyzing. That can be especially true for people who are already prone to anxiety or who have experienced eating disorders, therapist Gigi Crawford said.
Want to overcome or work around your anxiety like Wilde did? Try out these tips from experts (and tweak them to fit your life) and identify the ones that work for you.
1. Start with a list
"Preparing to go to the grocery store starts with your list, which in and of itself can produce anxiety," registered dietician nutritionist Kelsey Lorencz said.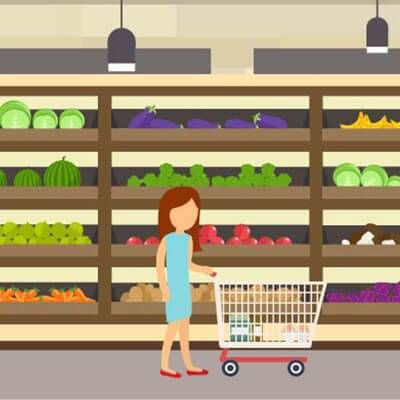 Deciding what to put on your list can be difficult. (Unless you buy the same things every time you shop, which is a totally valid way to deal with stress about decision-making.) Lorencz tells clients to first write down the essentials they use all the time. Then, add ingredients for three to five meals you plan to make that week.
"To keep meal-planning and list-making stress low, only pick out one new recipe that you or your family has not tried yet," she said. "Keep the rest simple with things you know you all love and that are easy for you to make."
You can also keep things simple by eating the same thing for breakfast and lunch every day that week, nutrition counselor Susan Weiss Berry said.
No matter how you decide to do it, taking the time to put together a list will make the shopping trip itself so much less stressful.
2. Don't feel pressure to choose the perfect item
Why the heck are there 100 kinds of peanut butter? That's what I ask myself every time I have to buy peanut butter.
Choice overload is the name of the game at most supermarkets. (My hot tip: Shop at smaller ones so there's less to choose from.) Lorencz's advice is to train yourself not to think about it too hard.
"When it comes to brands for ingredients at the grocery story, just pick something," she said. "If you get it home and you don't care for it, now you know for next time."
3. Shop from home
Buying your groceries online and either picking them up (a service a lot of stores offer these days) or having them delivered removes a lot of the stressors around food shopping.
"No worries about all the crowds and lines at the store," registered dietician Brianne Bell said. "No need to worry about straying from your list and going over budget."
If your total ends up being too much during your online shop, you can easily reevaluate your needs and remove stuff from your cart — without anyone watching.
4. Clip coupons
Couponing is a whole thing that can be stressful in itself, depending on how serious you want to get about it. (It's not something I particularly want to spend time on.) But rooting out deals and coupons at your local stores is a way to save money and diminish the financial anxiety around grocery shopping.
"It can feel overwhelming in the grocery store to think about how much money you're spending, especially since it's a large purchase that's quite literally ringing up quickly in front of your eyes," said Beverly Friedmann of MyFoodSubscriptions. "But... one of the best ways to reduce your total bill is by loading up on coupons that you can use to reduce costs on everything from fresh produce to canned goods."
Signing up for rewards programs can be a low-effort way to take advantage of coupons. Sign up, scan your card and any available coupons will be added automatically.
5. Use a basket, not a cart
"Have you ever noticed that when you use a shopping cart as opposed to a basket your payment ends up just that much higher at checkout?" Friedmann said. "That's not just a coincidence, and grocery stores sometimes have a shortage of baskets and a large supply of carts on purpose just for this reason."
Unless you need tons of stuff, opt for the basket.
"You may find yourself saving money and lowering your overall anxiety levels," she said.
6. Shop at odd hours
Want to cut down on dodging other shoppers and checkout wait time? Shopping late at night or early in the morning on weekdays is the key to doing it in a mostly empty store
"Grocery stores tend to be the busiest on weekends and on weekdays after working hours, so if you go early in the week and first thing in the morning, you're the most likely to find a quiet store without many other shoppers," Friedmann said.
7. Go multiple times a week
Does your weekly shopping trip feel like it takes for-ev-er? Split it into two or three, Berry said.
"Make the task of grocery shopping smaller and minimize overwhelm by shopping only for two or three days at a time."
Making a shopping trip feel like less of a time commitment can cut down on stress.
8. Bring a friend
"Shopping with a buddy can be fun," said registered dietician Amanda A. Kostro Miller, who sits on the board of Smart Healthy Living. "Plus, two heads are better than one."
Going with someone who enjoys grocery shopping, or is really good at it, can make you feel more at ease.
But, "if you have shopping anxiety, you may want to avoid shopping with children, since children will often ask you to buy certain products that you normally wouldn't."
9. Stick to one or two stores
"The better you know where things are, the quicker and easier you can maneuver," Miller said.
For me, that means shopping at only one or two different places. Because I've been to those places many times, I can get in and get out without having to roam the aisles. Spending less time in the store means less stress.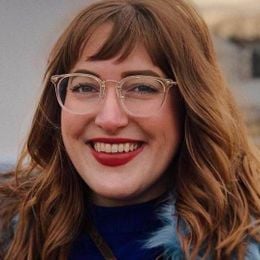 Katie Moritz
was Rewire's senior editor from 2016-2020. She is a Pisces who enjoys thrift stores and pho. Follow her on Twitter @katecmoritz.