What a 'Great Yellowstone Thaw' Means for Grizzlies
by
Rachel Crowell
"Don't wake the baby"—the constant refrain for new parents. One overly loud laugh or ring of the doorbell and nap time is over, just that quickly.
Turns out sleep can be just as touchy in the animal kingdom.
Towering, meaty giants compared to human babies, grizzly bears in Yellowstone National Park and surrounding areas have also been woken up early in recent years, according to Casey Anderson, a grizzly bear expert and wildlife tracker, and Steve Primm, the director of conservation and "an interdisciplinary problem solver" for People and Carnivores. The organization focuses on preventing conflicts between large carnivores, including grizzlies, and people, according to Primm.
Rather than waking early from nap time, though, these grizzlies have been waking early from hibernation, and it could be posing a problem for the species. In the first episode of the upcoming PBS series "Great Yellowstone Thaw," a lone male grizzly emerges from hibernation in early March before his normal food sources are available.
The grizzly noshes on a meal of rotting bison after months without food. Grizzlies are "opportunists," said Anderson, one of the experts featured in the episode. Smarter than dogs, grizzlies are "one of the most intelligent animals on the planet," Anderson added. If there's food, they'll find it.
"They have this kind of mental map of the buffet," Anderson said.
But questions loom about grizzlies who have shortened hibernation periods. Here's a deeper look at the situation.
Staying up past bedtime
Weather, snow conditions and food scarcity drive grizzlies in Yellowstone to hibernate each year. Grizzlies usually enter their dens when a big snowstorm occurs or around Halloween, Anderson said.
"Now, we're starting to see bears out into the middle of December, because of climate change," he said.
Recently, Primm has even heard reports of large male grizzlies being active outside of their dens as late as January.
Males first: Emerging from hibernation
When it comes to grizzlies entering the wider world of Yellowstone just after hibernation, nature's policy is "dudes first." Lone male grizzlies mosey out of their dens starting in April, said Anderson. That's because adult males tend to be largest. Their size helps them withstand harsher conditions than smaller bears.

Adult males are followed by lone adult females. Third comes young bears that are out on their own but aren't yet full-grown adults. Mothers with cubs are last to emerge from their dens, Anderson said.
It's safer for the cubs if mothers spend more time in the dens where they were born, Primm said. At birth they are "almost bald," blind and unable to do much besides squirm their way to their mothers to nurse, Anderson said. Dens provide cubs with a safe, sheltered environment in which they can physically mature and prepare to face threats in the outside world, Primm said.
The last bears emerge from their dens by early May.
Is shortened hibernation a problem?
Anderson and Primm agree that some bears have been experiencing shortened hibernation periods in recent years, due to bears beginning their hibernation later in the year and emerging from hibernation earlier than usual.
There have been reports of grizzlies emerging as early as in February, Anderson said. However, Anderson isn't concerned. The bears "adapt and are successful," he said. "We're watching how they're adapting–it's not a doomsday kind of thing," he added.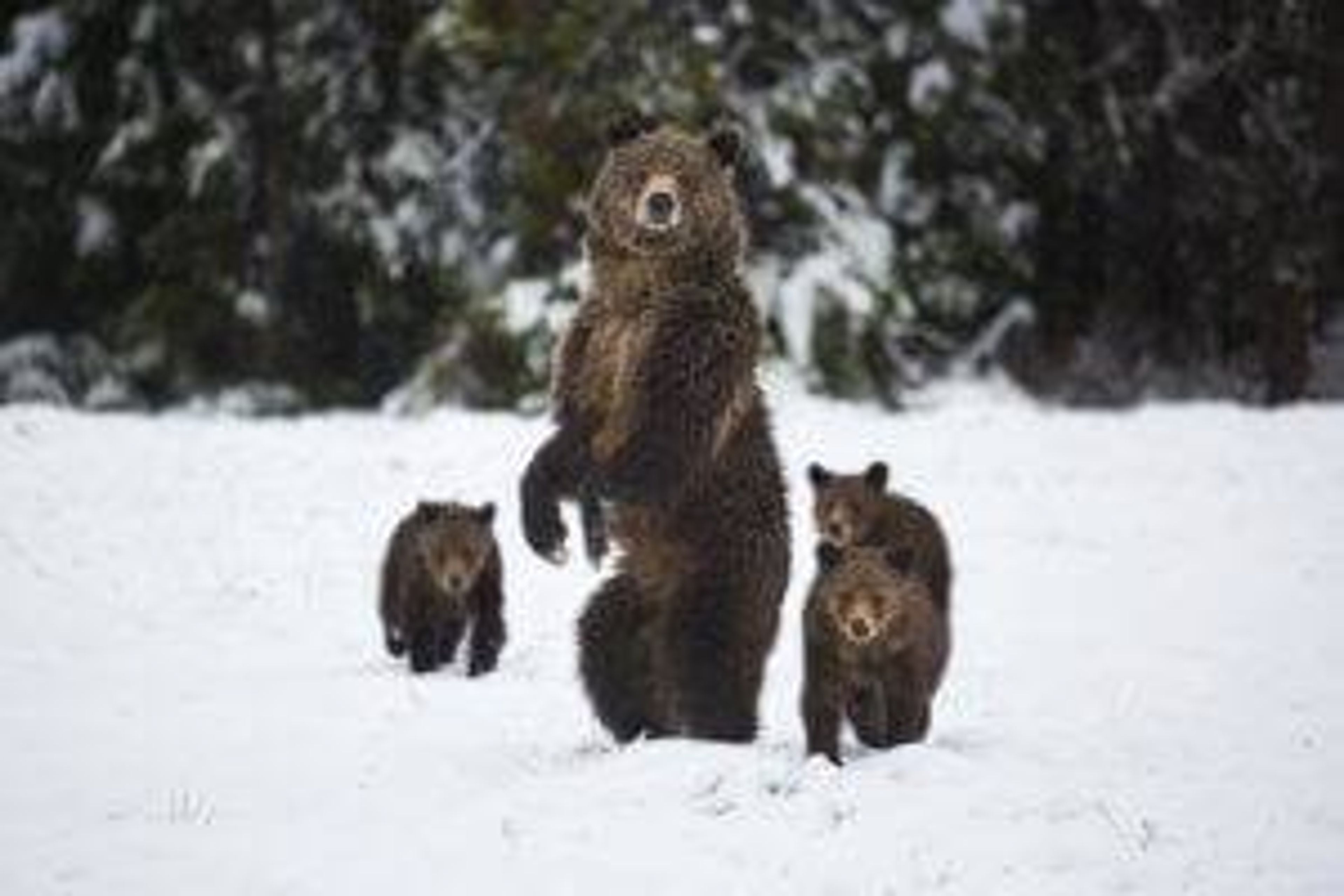 Primm is concerned about grizzlies leaving the relative safety of their dens early and facing threats in the outside world. When they emerge too soon, they are above ground for longer stretches of the bear hunting season in the spring, making them more vulnerable to getting shot. Also, cubs who have shortened time in their mothers' dens still must be able to keep up with their mothers and survive in the outside world, even though they are underdeveloped, said Primm.
Though they disagree about the impact of shortened hibernation on grizzlies, Anderson and Primm have both been looking at the causes behind the phenomenon.
To snooze or not to snooze
Some causes of shortened hibernation are known and others are suspected—experts are still investigating.
Warming temperatures and an increase in available sunlight are two causes, according to the experts.
If food is available, bears will stay awake. This causes some bears to delay hibernation. Sometimes grizzlies will even emerge from hibernation to dine on dead critters that they smell.
Following their sense of smell that's "seven times stronger than a blood hound's,"grizzlies will "poke their heads out of their dens, sniff the air and realize the buffet is full," Anderson said.
One way the grizzly bear buffet is getting filled up? Through the help of wolves.
Once wiped out from Yellowstone, wolves were reintroduced into the park in 1995, Primm said. Healthy adult male grizzlies can easily steal carcasses from wolves.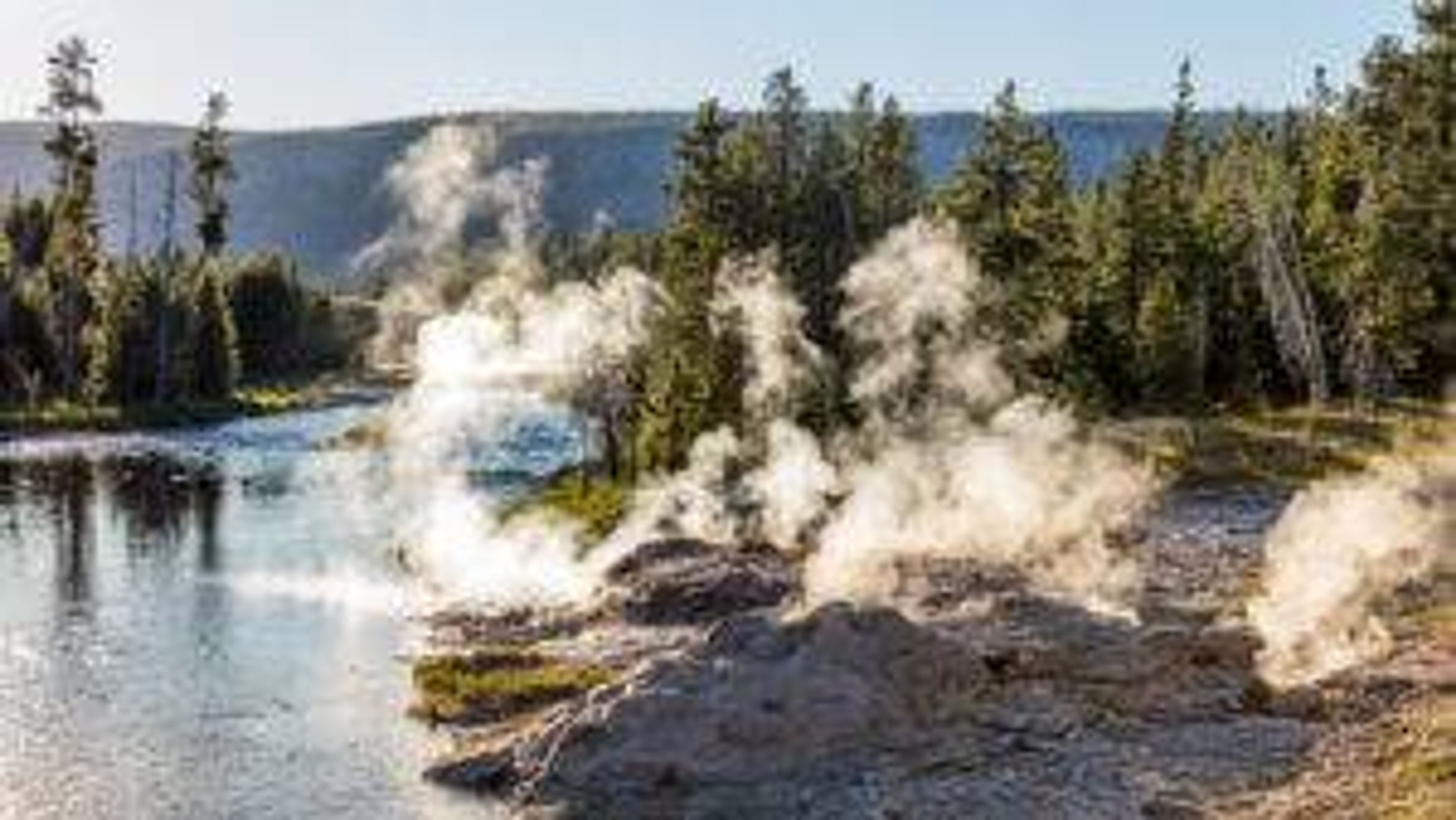 Stealing is often a grizzly's best bet for finding meat–fresh, frozen or decomposing. When it comes to hunting, "they really don't know what they are doing," Anderson said. As opportunists, grizzlies usually eat meat from animals that were killed by other animals or died of other causes, such as unbearably harsh weather, he explained.
Before wolves were reintroduced, it was "extremely rare" to hear of a grizzly awake during the winter, Primm said.
Melting snowpack may also contribute to early emergence. Evolution has taught grizzlies to be uncomfortable with large amounts of water flooding into their dens, as this is a safety hazard, Primm said. It's unclear whether the water itself or feelings of air flowing in from the outside trigger bears to leave their dens, but one thing is certain: "if they're worried about the stability of their dens, they're going to get out of there."
Getting along with grizzlies
While grizzlies are the kings of Yellowstone, humans are one of the biggest threats to their safety. When people and grizzlies clash, "conflicts usually are lose-lose," Primm said.
June is National Camping Month. If you're planning to hike, camp or otherwise venture into bear country, such as Yellowstone, Anderson and Primm agree that carrying certified bear pepper spray is a must. It's made out of the same ingredients as the pepper spray used by police officers, Primm said.

If a grizzly comes dangerously close to you and you spray it the face, the bear will likely flee. The spray can save you from getting attacked while also saving the bear from getting shot in defense.
The spray "teaches bears to think twice" about approaching humans, Anderson said. They can even pass this healthy wariness on to their young, he added.
Want to find more bear safety tips? Visit the National Park Service's website.
Watch "Great Yellowstone Thaw" beginning Wednesday, June 21, on your local PBS station or online at PBS.org.
Author