The 3 Men Under 30 Behind DC's New Philanthropy
The guys behind GOODProjects are redefining the philanthropy space.
by
Kui Mwai
I walk into Georgetown's Venture Lab space, an open office housed in a trendy downtown Washington, D.C., WeWork, to a scene that is pleasantly fitting to the people I've come there to meet.
There's buzzing energy bouncing around the space, ping-ponging from the bright graphics on the walls to the under 30s furiously multi-tasking and brainstorming with each other. The ambiance is contagious, and my excitement to meet the men changing the philanthropy industry ramps up.
They run over to join me, with greetings and firm handshakes. Their names are Darius Baxter, Danny Wright and Troye Bullock, who are the founders and CEO, CFO and COO of GOODProjects, a D.C. nonprofit that aims to support, uplift and advocate for underserved black communities in the metro area.
"We're working towards developing a replicable model that moves underserved individuals into pathways of self-sufficiency," Wright said, in the middle of a hot-button game of Connect 4 with his executive counterparts.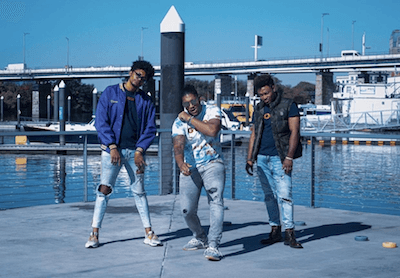 "We're using gentrification to build up economic opportunity, rather than push out certain communities of color," Bullock said, as he realized Wright won the round both horizontally and diagonally.
Bullock, 25, Wright, 26, and Baxter, 26, all grew up in predominantly black communities in the area. The young men each endured more than their share of childhood trauma. Bullock's father was incarcerated on drug-related charges and his mother was frequently ill due to sickle cell anemia. Baxter's father was shot and killed when he was 9 years old. Wright's mother was kicked out at 14 when she became pregnant with him, forcing Wright's father to support his new family the only way he knew how — selling drugs.
The men found their way out of their childhood neighborhoods through football, each landing scholarships to the prestigious Georgetown University. There, they gravitated toward each other and discovered a common knack for planning massive house parties.
After one of their many infamous parties gathered 300 people, they decided to parlay their success into a business. They worked their Georgetown connections, and, before they knew it, had an LLC, nonprofit and the necessary funding to go forward with GOODProjects.
'Philanthropic rockstars'
The GOODProjects trio, who some refer to as "philanthropic rockstars," is revitalizing the D.C. non-profit space. After exploring the different ways they could serve their target communities, ranging from successful football camps to juvenile reform programs, they decided they needed to approach philanthropic efforts at the individual level — individual neighborhoods, and individual families.
Through their GOODZone initiative, they adopt D.C. neighborhoods and implement those individualized solutions. Once the team diagnoses the issues the community is facing, they build programs to address the issues.
"We have to build trust, we have to figure out what the needs are. We're coming in as listeners, as people who want to learn," Wright said.
This important work doesn't come without struggle. As three young black men in a philanthropy space that is dominated by older white people, they have to work hard to establish themselves as experts and leaders in the field.
They also have to work to be understood.
"People don't understand that in our community we don't get to live the life that everyone wants to live," Troye said. "People take the opportunities that are given to them, and a lot of the time, that's negative."
The D.C. non-profit space is competitive and lacks a pathway to success for people like the GOODGuys, as they call themselves. Luckily, Baxter, Bullock and Wright are accustomed to letting their work ethic and passion speak for themselves.
"We're all exceptions to the rule, because of that we just want a platform to be a symbol of hope," Wright said. "We're a symbol of grit and that anyone coming from the community can overcome."
[ICYMI: What to Know Before Switching to a Nonprofit Job]
What it's all about
The GOODGuys are forging their way to the top, creating a blueprint for successful black entrepreneurship in the nonprofit world.
While their dreams are big, they understand that their greatest victories are the individual lives they touch.
"When I met this kid, he had just broken out of a juvenile facility in Arizona and somehow he made his way back to D.C. I don't even know how you do that," Baxter said of a young man who attended a GOODProjects juvenile mentorship program. "He had issues with his mom, couldn't keep a relationship, he didn't want to work, and I used to get so frustrated with him. He was with me every day for months. But he continued to just try, that was really it."
He hasn't needed Baxter's support in three or four months, Baxter said. This is what GOODProjects is about.
"The thing that struck a chord with me was that we ended the phone and he told me that I was one of two people in his life that ever told him I was proud of him," Baxter said. "He shared how important that was to him and how that kept him going. And that's what success looks like for me."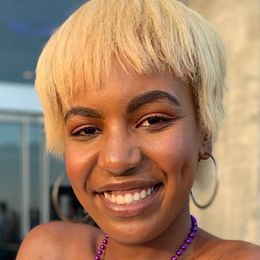 Kui Mwai
 is a freelance writer based in Washington, D.C. Her passion is using the written word to bring authenticity, humor and truth to issues that face communities she is a part of: the black community, the international community, the feminist community. She prides herself on using her third culture perspective to offer compelling and fresh commentary on a myriad of social topics, from women's issues in Sub-Saharan Africa, to black culture in America.