What You Didn't Know About the Global Secondhand Clothing Industry
Fast fashion might be killing it. Better quality stuff could fix it.
by
Gretchen Brown
Every season, Abby Anderson goes through her closet.
There are some things she just can't bear to donate.
Hunter rain boots. A J. Crew wool coat. Nike running shoes. A Lululemon tank top.
"If I splurged on something and it's still in good shape by the time I'm done with it, I'll try to sell it," said Anderson, 25, who lives in Minneapolis. "It's never for a profit, but it is nice to have some cash back."
She mostly does that on Poshmark, a social network focused on buying and selling clothing and accessories. So far this month, Anderson's sold five or six things, and she's hoping to sell more.
A harsh reality
While online resale markets like Poshmark are growing, they make up just a tiny, tiny sliver of where American secondhand clothes end up.
Much of it goes in the trash.
In 2015, Americans tossed 32 billion pounds of textiles, including clothes, bedsheets, towels and rags, according to the U.S. Environmental Protection Agency.
The clothes that do enter the secondhand market are largely donated, not sold, according to Adam Minter.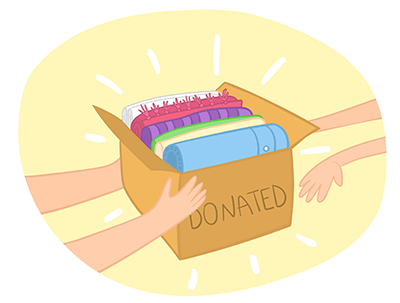 He's the author of "Secondhand: Travels In the New Global Garage Sale," which follows the multi-billion-dollar secondhand industry around the world.
Goodwill, he writes, collects about 3 percent of all "clothes, furniture and miscellaneous durables," more than any other secondhand retailer in the U.S.
Not just charity items
Goodwill is a thrift store, synonymous with secondhand clothing in the United States. But it's also a charity. Its stores fund career and job training to help people become economically self-sufficient.
That affects the way we see secondhand clothing in the U.S., Minter says. If Goodwill is secondhand clothing, then secondhand clothing is charity.
"It'll help the poor; it'll benefit the environment," Minter writes. "For better or worse, both those reasons have proved to be little incentive to take care of stuff."
In other words, it's not just that we don't donate enough clothing. It's that the clothing we buy and donate isn't of good enough quality.
For his book, Minter traveled to thrift stores in places like Tuscon, Arizona, where the local Goodwill is competing against the Walmart across the street.
He also traveled to Japan, where secondhand is a $16 billion industry, or more than 10 percent of the total retail apparel market, even though used clothing costs just a fraction of what new clothing does.
And he went to Tamale, Ghana, where 95 percent of the retail trade is secondhand. New is hard to find at all.
In most of the world, used items aren't charity items. They're a big chunk of the economy.
The big player in Japan is Bookoff, which sells near-pristine used books and clothing and displays it in the same way stores display new products.
There, used clothing is business, for profit, and folks get rid of things thinking about the amount of money they'll get back. It's a completely different mindset.
Americans look at some used things in this way.
For instance, take the automobile industry. Folks will buy a car based on its resale value down the road. And they'll take care of it so they can get as much money possible when they finally sell it.
Tidying up
The Japanese might be better at taking care of their things before they hit the secondhand market. But they're no less materialistic than Americans.
Marie Kondo made Japanese decluttering famous with her book, "The Life-Changing Magic of Tidying Up," and Netflix series, "Tidying Up with Marie Kondo."
So when Kondo launched a new web store last week, selling, among other things, a $75 quartz tuning fork, folks weren't thrilled.
"Why does this feel like brand sabotage?" wrote The Guardian. "Because, I don't know, a woman who built an army of fans by espousing the notion of living in an empty house is now actively asking the same fans to fill their houses up again, specifically with her stuff."
But Kondo has never taught minimalism. She's never preached about not buying new things, or saving the environment. She wasn't telling folks to live in empty houses.
"I think one of the unfortunate aspects of the Marie Kondo phenomenon has been this exoticization of decluttering," Minter said.
He says Americans often picture Japanese homes as pristine and minimalistic. They might even tie some form of environmentalism to it. But they're stereotyping, and they're misunderstanding the bigger picture.
"If you go visit Japanese homes, you see that's not the case. Not only are Japanese homes cluttered, they're more cluttered than ours are. Otherwise they wouldn't have needed someone like Marie Kondo."
From junk to profit
There are some signs that more Americans are starting to think of their discarded stuff as potential profit, not junk.
"Phones are getting so expensive, and a lot of people are thinking about what the resale value could be," Minter said. "And Apple is encouraging this, they're giving store value to buy a new one, which is a lot like what a car dealership does."
On the clothing side, Poshmark is an obvious example. Anderson posts clothing on Poshmark every season and prices it based on condition and brand.
Near-mint, designer stuff sells for more. On average, she can get about $25 for each item.
Lower-quality brands, like stuff from Target, she won't sell, instead donating to Goodwill or other organizations.
But knowing your clothing has resale value can give you incentive to buy higher-quality goods in the first place.
"The brand that always sticks out to me is LuluLemon," Minter said. "The people who buy it, most of them are aware that there's a collectible and resellable market for that."
The clothing industry has exploded since 2000, but much of it has been fast fashion. And fast fashion hasn't been good news for the resale industry.
It's not that folks aren't letting go of their clothes. In his book, Minter notes a 2018 survey by the online fashion reseller thredUP, which says 18- to 24-year-olds are the most likely to discard a garment after one to five wears.
It's that Goodwill can't do anything with a shirt that pills after three washes.
"(Thrift stores) get a lot of donations, but the amount that's sellable is declining. The quality is declining. Certain brands are just not made as well as they used to be," Minter said. "And that becomes a cost for organizations like Goodwill because they have to get rid of it."
Buy for resale
When Goodwill can't use an item, it sometimes ends up in the export market, sent across the world to places like Tamale, Ghana. Sometimes, it's turned into rags. Sometimes, when it's completely unusable, it's incinerated. No matter what, there's a cost.
Ultimately, Minter argues, sustainability isn't just about getting more clothing and goods into the resale market. It's about buying stuff that will hold up for the resale market in the first place.
Writing the book changed the way Minter thinks about clothing for both himself and his kids.
Children go through clothes incredibly quickly. You can buy them something, and six months later, it might not fit.
"Rather than shying away from spending more money, we decided we'd start spending more and buying better garments, because we knew we could resell those garments," he said.
Minter says the rise of more apps like Poshmark would be good for the industry, because it would lead to higher-quality goods.
Goodwill has even opened boutiques testing out this theory, selling higher-end used clothes for higher prices.
Another solution to the industry's quality problem might be giving away things after fewer wears. And encouraging that doesn't quite sit right either.
The resale market will always involve consumption, Minter points out. And no consumption is good for the environment. But changing what you consume might help.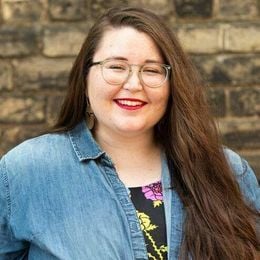 Gretchen Brown
is an editor for Rewire. She's into public media, music and really good coffee. Email her at
[email protected]
, or follow her on Twitter @gretch_brown.