GirlForward Helps Young Refugees Transition to a New Life
by
Brian Nordli
Asmita Gurung's story begins two years ago, on a stage at Chicago's Bottom Lounge with 150 people waiting for her to speak.
The speech was for nonprofit GirlForward's Girl Jam event, which highlights performances by the teenage refugee girls involved in the program. Gurung was second to last to perform.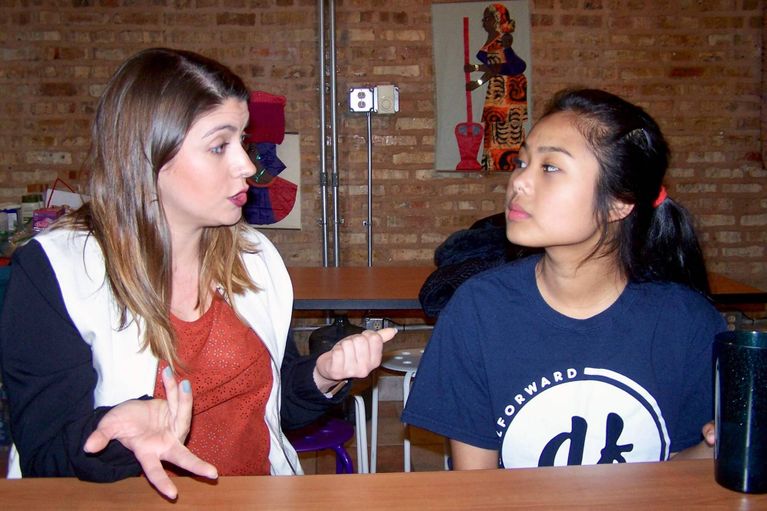 The moment is vivid in her mind today. She was 14, and shaking with nerves. When she arrived with her family to Chicago in 2012 from a Nepal refugee camp, she could barely speak English. Now, she was about to share the story of how her family became refugees from Bhutan to a room full of strangers.
"Oh my gosh, I was nervous," Gurung said, laughing. "My voice was shaking."
She drew support from her mentor and friends in the audience, and began her story:
I always wondered how my parents ended up in a country named Nepal, where we lived in a refugee camp...
She went on to describe how the Bhutanese government came to her parent's village and threatened to kill her mother and father if they didn't leave. How they were separated from their family, how some left and others stayed to fight, and how her parents had to leave everything they'd ever known to start over in a new country. It's a theme that has continued in her family more than 20 years later.
That speech, and the support from GirlForward, helped Gurung find her voice. It gave her the confidence she needed to be a translator for her parents and three younger sisters, and to become an advocate for herself.
Building a network of young refugees
Gurung, now 16 years old, is one of about 200 girls that GirlForward serves in Chicago and Austin, Texas, through its mentorship program, summer camp and tutoring services. The nonprofit focuses on helping refugee girls who arrive in the U.S. between the ages of 14 and 18.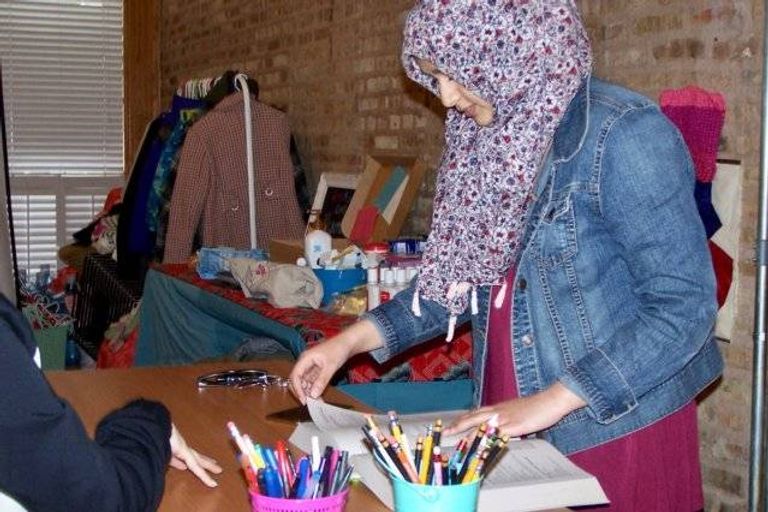 It's at that age that the girls are most at risk for struggling in school or isolating themselves, program founder Blair Brettschneider said. They not only face the typical trials of high school, but often have to overcome interrupted educations, traumas, a steep language barrier and household responsibilities that boys are less likely to face, she said.
Brettschneider founded GirlForward in 2011 to provide a network of support for these girls, something she noticed refugee resettlement services in Chicago and elsewhere weren't able to provide.
The program fosters a sisterhood of peers with ties to about 30 different countries. The organization matches the girls with mentors and plans activities that incorporate one of its "four Ws"—Wallet (money management), Wellness (health and hygiene), World (cross-cultural education) and Wisdom (school life)—to give them tools to be successful. This might involve studying English, exploring museums, learning about different cultures, health and hygiene instruction, budgeting for dream trips, dancing to Hindi music or singing. It's a place where the girls can feel safe and have fun.
The nonprofit's goal is to help the girls graduate high school and prepare for their future. So far, they have a 100 percent high school graduation rate, said Ashley Marine, director of girl engagement at GirlForward, and 80 percent of the girls go on to some form of secondary education.   
Asmita's story
Without GirlForward, Gurung said she'd be lost. When she joined three years ago, she didn't know any English and disliked Chicago. The organization helped her learn the language, transition to a better high school, meet new friends and explore college and scholarship opportunities.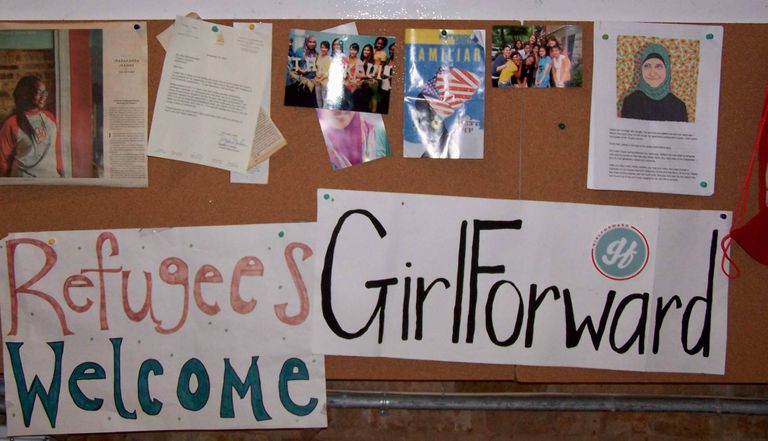 In February, her mentor helped her apply for and get into a select pharmaceutical program in the city.
For Gurung, GirlForward has helped her focus on the future she wants to have in the U.S.
"If I didn't join GirlForward, I don't think I'd have confidence," she said. "Now, I (do)."
Rewire spoke with Brettschneider about the role GirlForward plays for young refugees.
Rewire: What role does GirlForward play in the lives of these girls?
Blair Brettschneider: They talk about GirlForward being a safe, welcoming place, where they can be themselves and not worry about being made fun of or criticized because all of the girls—even if they are from different places—understand at some level what each other has experienced.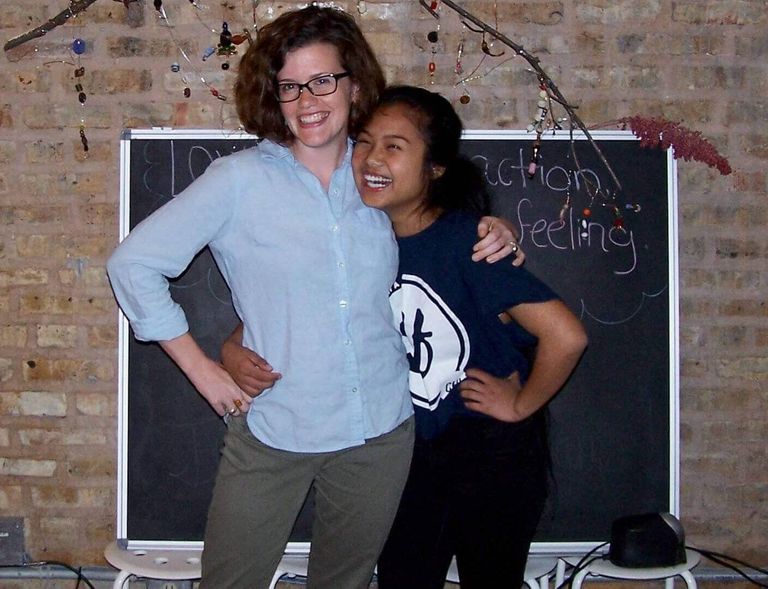 Rewire: What impact does that cultural exchange have at GirlForward?
BB: Racism and prejudice is rampant around the world. A lot of times even some of our girls' parents might say something, or they'll be hearing something in the community about another group, so they'll talk about that. It's a space where they can interact with those other girls, where maybe they heard a negative thing about where they're from and to try to talk about it.
Rewire: What have you learned from the girls?
BB: I admire their resilience. It can be an inspiring reminder that, as cheesy as it is, the American Dream is a real thing to a lot of people.
---
People will often say, "In this country, you can be anything." I think the meaning of that gets lost. It's very true in a way you don't understand until you realize that in so many places, it's just not true.
These families have lived in places where no matter how hard they work, things wouldn't change. Especially right now, it's important to reassure the girls that even if they hear things on TV, or feel like they're not welcome, that isn't the case, and that this can be a home.
Rewire: What does that mean for the girls you work with?
BB: For a lot of these girls' parents, they will work minimum wage jobs forever. It's just the reality. But their kids won't—they don't have to, at least. That's our goal. In a city like Chicago, where we're resettling people and they're going to schools that can barely graduate them, it is possible they could end up in the same cycle. But that's what we're trying to prevent.

Brian Nordli
 is a freelance journalist based in Chicago, where he writes about social issues, immigration and culture. Before returning to his hometown, he worked at a newspaper in Las Vegas covering crime, education and the city's desert denizens. He recently spent more than a year teaching English in South Korea and traveling Europe and Asia. He hasn't been able to shake his craving for kimchi since.