Why Some Gay, Lesbian, Bisexual and Trans People Don't Feel Safe At Work
by
Gretchen Brown
As far as some of Adam's coworkers know, he just had a mass removed from his abdomen.
Not everyone knows he had a hysterectomy.
Adam, 31, is a transgender man living in northeastern Wisconsin. While state law protects against workplace discrimination for gay and lesbian people, it has no protections for gender identity.
That means Adam could be fired just for being trans.
"That's always been in the back of my mind since I started (working here)," he said. Adam's name has been changed in this article to protect his privacy.
For decades, lawmakers in Congress have proposed legislation protecting against discrimination based on sexual orientation and gender identity, most recently the Equality Act in 2015 and 2017.
But such a bill has never passed.
As a result, just 22 states protect gay, lesbian and transgender workers from this kind of discrimination.
"People think that when we had marriage equality, everything was taken care of," said Ellie Krug, a lawyer and transgender woman who trains workplaces on inclusivity. "That's absolutely not true. You can get married on Saturday and go to work on Sunday and get fired."
Unequal protection
Because there's no federal law on the books, figuring out whether you're legally protected depends on where you live, said Christy Mallory, a legal researcher at the Williams Institute, a think tank focused on sexual orientation, gender identity and public policy.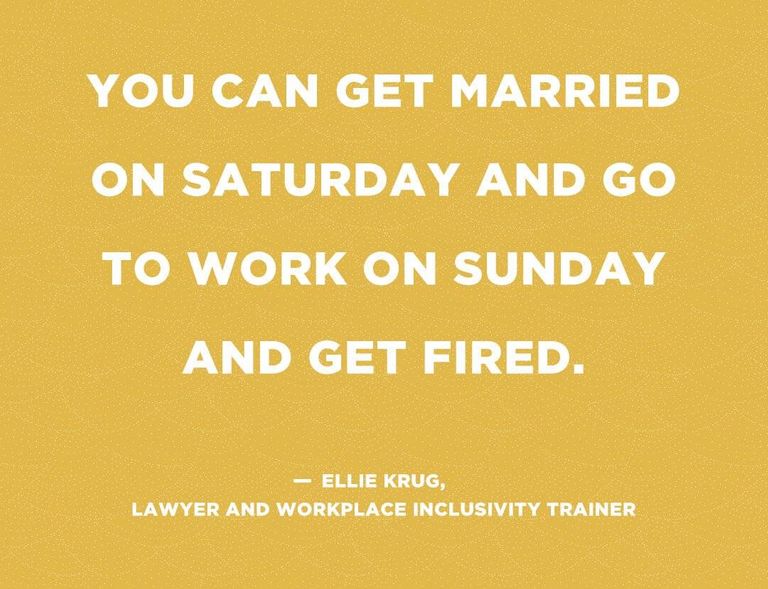 "It's kind of a patchwork of protections," Mallory said.
Some states don't have a law on the books protecting LGBTQ rights, but a higher court decision set the legal precedent.
That happened in Indiana last year, where former community college teacher Kim Hively claimed she was fired because she's a lesbian.
A federal appeals court ruled that gay and transgender employees there are protected under the 1964 Civil Rights act.
However, not all courts agree on this.
Last year, an appeals court in Atlanta said former Georgia hospital employee Jameka Evans, who is a lesbian, was not protected at her workplace under the Civil Rights Act. The U.S. Supreme Court declined to hear the case, essentially upholding that ruling.
Facing harassment
As Adam knows, though, legal protection is no guarantee against harassment. When he did live in a city with an anti-discrimination clause, he worked for a fast-food chain with a famously conservative founder.
He said he was constantly harassed by management at his location.
"My boss would purposely misgender me," Adam said. "He would purposely use the wrong name."
Adam knew the law, and he knew his rights. He called the Equal Rights Commission and threatened a lawsuit against his employer.
"I just want to do my job without having to worry about it," Adam said.
The company backed down, and Adam was able to transfer locations, where he was no longer targeted.
Now, when he looks for work, he searches out companies that specifically mention that they do not discriminate against transgender people.
If a company doesn't protect gender identity and expression, Adam says, he doesn't want to work there.
That's something Krug tells employers she works with. If an organization is serious about being welcoming to LGBTQ employees, it's often not enough to have the standard non-discrimination clause on its books.
"You need to have affirmative statements, that we are welcoming, 'We value all people regardless of their gender identity,'" she said.
Many employers also offer employee-led resource groups to provide support for queer people in the office.
Fighting stereotypes
As a gymnastics coach in Florida, Max Borg wasn't open about being gay to his friends and family, and he didn't feel safe living openly at work, either.
He knew he could be fired, and worried coworkers and parents of his students would buy into stereotypes about gay men and feel unsafe.
---
"Many still see us as perverts with some sort of hidden agenda," he said.
Borg is now 24 and works as a nurse in Oregon. He says he now feels free to be himself at work.
"Nursing as a profession is united under the common purpose of attempting to give the most compassionate care we can to someone," he said. "No matter their path in life."
Oregon state law protects LGBTQ workers, while Florida law does not.
Mackenzie, 24, and Jo, 29, are teachers at two different Minnesota schools. Both lesbian women, they're out to some of their coworkers, but say they don't feel comfortable telling their students. They asked that their last names not be used.
---
"I'm worried about the parents," Mackenzie said. "A kid goes home and says, 'My teacher has a girlfriend,' I'm going to get destroyed by parents."
Mackenzie's college professor was one of the first people she came out to, in part because she was worried her sexual orientation would endanger her future career path.
She was relieved when her professor told her that wouldn't be legal in Minnesota.
Jo also came out while she was in college.
"When I came out initially, the first inclination from family was to not tell anybody, to keep it a secret because they were just worried I wouldn't get a job," she said.
Growing acceptance
Since that time, though, the culture has changed, and Jo feels that gay people are generally more accepted. Her method is to not treat being gay like it's a big deal. Because it's not.
In general, Jo, who teaches middle school science, likes to keep information about her relationships private at work, just as she does other personal information.
Mackenzie, an elementary school teacher, wishes she could share more with her students. It would have helped her to have had a positive gay role model as a kid.
"If someone would have told me in school that they were gay, that would have got my mind turning," she said.
In her travels across the country, Krug said she's seeing more acceptance towards the LGBTQ community.
"I am finding that people are hungry, both rural and urban, on how to be more welcoming to LGBTQ people," she said. "I think the vast majority of all Americans want to get it right."
[ICYMI: How to Be a Good Ally to Your Trans Coworkers]
That's in part, she said, because more queer people are showing up in their communities. She'll often ask attendees at her trainings for a show of hands if they know a gay person, and a show of hands if they know a trans person.
Five years ago, maybe 10 percent of the room would have hands raised. Today, in some rooms, it's been everyone.
Not everyone feels safe
Still, that doesn't mean the world is always safe for LGBTQ people.
In January 2019, two men in Austin were beaten up in what police say was a homophobic attack.
And President Donald Trump's recent ban on transgender people in the military has angered many trans people, who feel they're being erased from history, and their allies.
There's also the chance that a few LGBTQ workplace discrimination cases may make it all the way to the Supreme Court this year, including that of a trans woman who was fired from a Michigan funeral home. If taken up by the Court, the outcome could impact the future of LGBTQ rights.
Adam, who now works in the social work field, said he sees his experience with gender identity as a positive thing. It's given him the opportunity to live in two different worlds.
He wants employers to see that. But mostly, he said, he wants to be treated just like everyone else.
Today, he's married, and has a stepchild.
"I just want to raise my family without having to worry about losing my job or worry that I could be the target of some hate crime," he said.
Editor's note: This article has been updated to reflect developments in the Jussie Smollett case.

Gretchen Brown
 is an editor for Rewire. She's into public media, music and really good coffee. Email her at
[email protected]
, or follow her on Twitter @gretch_brown.