Get More Than Games at Your Friendly Local Game Store
by
Brian Nordli
It's Wednesday night and the crowd has just started to arrive at Chicago's local game store, Dice Dojo.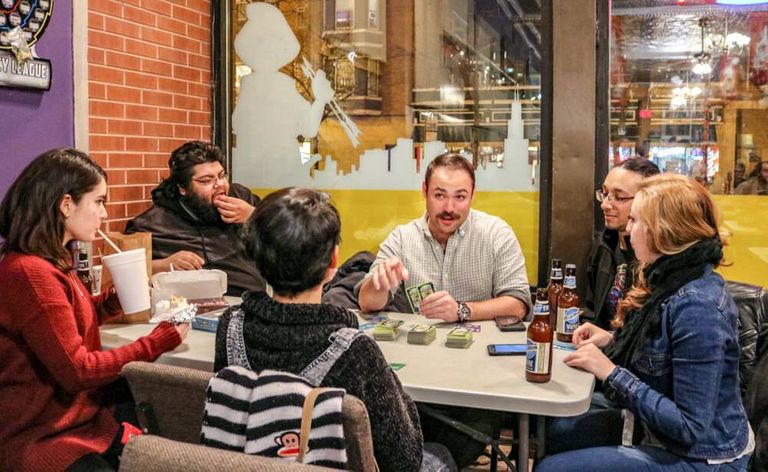 Customers stream in with six-packs and soda, take-out Vietnamese and potato chips, alone and with friends. Some are regulars, but others are newbies just looking for an inexpensive night out. Inside, the store's playroom is stocked with about 20 tables and a game wall composed of nearly 2,000 titles—from Settlers of Catan to Takenoko to card games like The Resistance—that spans the length of the store, and all of it free to play.
"It's what people look forward to all week long," said the store's co-owner, Lexx Dunning.
Soon the store is bustling like a local bar, with 50-plus gamers laughing, joking and strategizing. One group of friends try to save an island, while another attempts to escape a haunted mansion. Pink cones with "Players Wanted" written on them are set up at tables to invite gamers to fill out a game. A group of family and close friends erupt into hysterical laughter as they try to sell each other nonsensical goods in the game Snake Oil.
At another table, James Moulds sets up his hand for a game of Arkham Horror with two friends he met at the store. He has been coming to Wednesday game night for the past six years. To him, it's an opportunity to connect with like-minded gamers, meet new friends and challenge himself.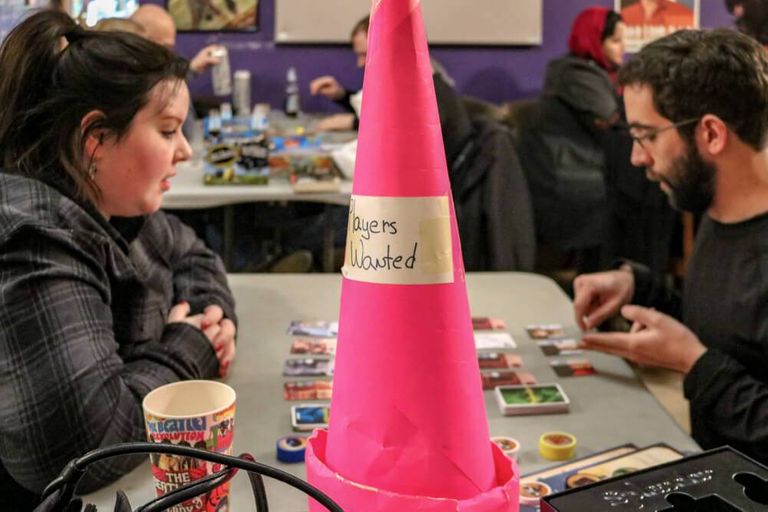 This is the type of game store Dunning dreamed of owning when he was child playing Dungeons & Dragons in friends' basements. It's more than just a place to buy games, it's a place to hang out, to meet people and have fun.
"It's incredibly satisfying to create the kind of community you always wanted to play in," Dunning said. "All of the challenges in running a business pale in comparison to that. It's like owning the bar you want to drink in."
In the board game world, stores like Dice Dojo are called friendly local game stores, or FLGS for short. For these stores, it's about more than just selling games, it's about being a part of the community. As board games become more mainstream at retail stores and online, it's also a way to stand out.
Getting friendly
At its core, an FLGS should be a place where customers can go for advice and support, said Beth Heile, who organizes Chicago's Saturday Strategy board game meetup and is on the convention press crew for the website Board Game Geek. She looks for places that can provide recommendations for new games, but can also be a place to hang out.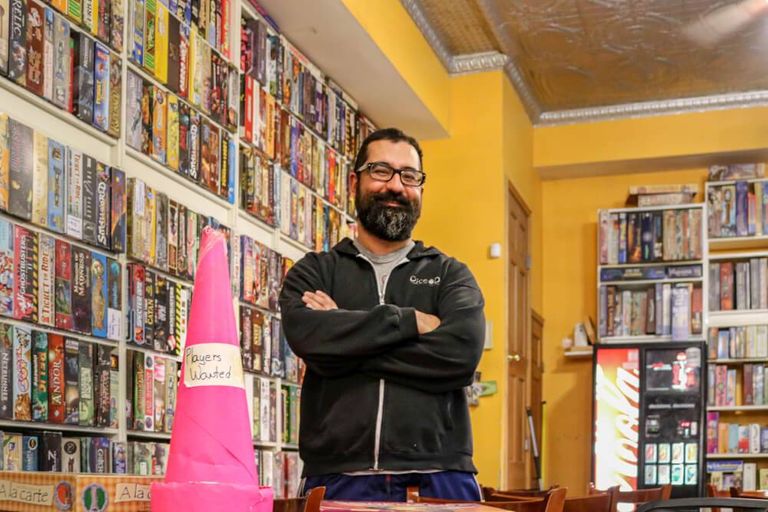 Board gaming has never been more popular, but the popularity has increased competition for small businesses from big box stores like Target and Toys 'R' Us as well as online retailers like Amazon. Still, friendly local game stores have an edge that those chains lack—they can connect with individuals, Heile said.
From the very beginning, Dunning and co-owner J.P. Nery have focused on cultivating a space for gamers to gather.
They opened in 2008 after several chain game stores around the city had closed. None had embraced the community aspect of board games, Dunning said. Much like movies, games can be a point of reference, a shared experience that can cultivate aficionados and hobbyists alike, but also casual players.
So Dunning and Nery launched their store on Halloween night with a tournament of tabletop miniatures (a tactical battle with mini figurines) before they had any stock. They emphasized free games to demo, a knowledgeable staff to help customers find the perfect game, daily events and a welcoming atmosphere.
Since then, customers have met friends, rivals and spouses inside his store during their daily gaming events.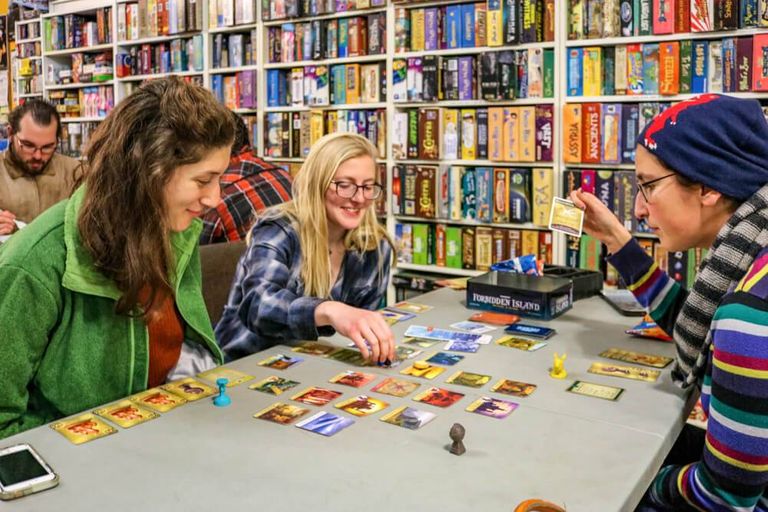 "The core philosophy of the Dice Dojo is to be a place that facilitates community," store manager Tommy Cottin said. "That's why we don't charge for the demo wall. We always thought if we provide a cool, comfortable place to play games with other people who like to play games, they'll keep coming back. That's what the Dice Dojo is."
Meanwhile, at Cat & Mouse Games in Chicago, manager Jessica Tylkowski said its focus is on being a place gamers of all ages and experience can play. They provide a Pokemon league for kids, Dungeons & Dragons tutorial workshops, a monthly women's gaming meetup, and more.
"There are a lot of unfriendly game stores in the world," Tylkowski said. "There's a lot of snobbery going around. It's important for us to make a space where it's OK to be new. We have a friendly group of gamers that are happy to welcome new gamers."
This welcoming atmosphere differentiates them from the Internet and other game stores in the city.
"It's good for business to be a friendly fixture because that's where we can compete with the Internet," Tylkowski said. "The more we can make it about people, the more appealing we are as a place to shop."
Meet your match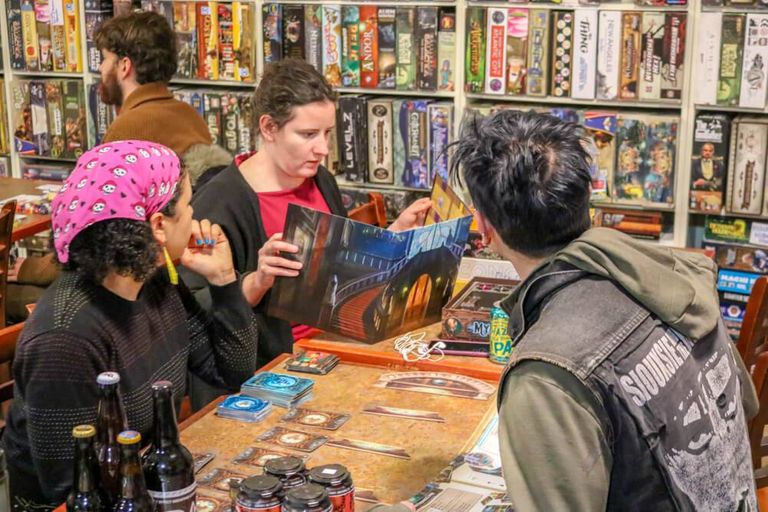 As Dice Dojo's game night continues, Brooke Johnson and Max Candocia set up cards for a game called Splendor, where the goal is to collect gems and earn points.
They met several months ago at the store playing a game called Munchkins. That day, Candocia sabotaged Johnson's hand each time they played. She refuses to play it with him again, but they've remained board game buddies since.
"I don't think I talked to him the rest of the night," Johnson said, laughing. "But the next time I saw him, we played another game. It's a game at the end of the day, and we're all adults. Sort of."

Brian Nordli
 is a freelance journalist based in Chicago, where he writes about social issues, immigration and culture. Before returning to his hometown, he worked at a newspaper in Las Vegas covering crime, education and the city's desert denizens. He recently spent more than a year teaching English in South Korea and traveling Europe and Asia. He hasn't been able to shake his craving for kimchi since.