Meet the Folks Working to Make Fitness for Every Body
'I think everyone deserves to have access to movement that makes them happy.'
by
Gretchen Brown
Barre classes, which incorporate ballet movements into exercise routines, are wildly popular among a certain set of women.
They're usually white. They're usually cisgendered and heterosexual. And they're usually thin.
Check the stock photos: That's who it's marketed to, and that's who shows up.
"I have people still to this day tell me they didn't take a Barre class because they didn't think it was for them," Lauren Leavell said.
As a black woman in a larger body, Leavell hasn't always felt welcome in every gym. She didn't see people who looked like her.
But she's always loved fitness as a way to engage with her body and mind. She wasn't about to give it up.
So instead of waiting to see teachers who looked like her, Leavell decided to become the teacher herself. She's now a personal trainer who also teaches Barre and high-intensity interval training, or HIIT, through two gyms in Philadelphia.
There's something different about the way she teaches. It's "body neutrality" there's no language around weight, no talk about "burning to earn" calories.
Her workouts can be scaled up, or down, depending on each person's fitness level. Everyone is treated like an individual, not expected to look a certain way or want a certain outcome.
In her personal training sessions, she does not weigh her clients, nor center their sessions around weight loss. That's a radical act in a fitness world designed around making people smaller.
She's among a growing number of folks across the fitness industry who are pushing back against those norms, teaching classes that focus on inclusivity, not exclusivity.
Not 'body positivity'
Much of that movement is gaining traction on Instagram. And it's not exactly "body positivity" — which is often co-opted by thin, white women as a movement to "love yourself."
"A lot of those movements have not been open to bodies of color as they should be," Leavell said.
Instead, it's a social justice movement fighting for respect for fat and queer bodies in fitness spaces. And there's not exactly a hashtag for it.
One of the thought leaders on this is Ilya Parker of Decolonizing Fitness, a black, trans, North Carolina-based physical therapist assistant and personal trainer.
Parker's organization provides inclusive personal training services, as well as education for fitness professionals. Last summer, they held a workshop in Philadelphia that Leavell attended.
Asher Freeman also attended. They're the owner of Nonnormative Body Club in Philadelphia, which provides inclusive personal fitness training, group fitness and trans wellness workshops on a sliding scale.
Trans folks, too, feel left out at gyms, Freeman said. Many of Freeman's clients are folks who don't feel comfortable in a traditional gym full of cisgendered, thin men.
"There is so much room in the industry to create alternatives that were actually led by people who have bodies outside those mainstream norms," Freeman said. "And inclusive of anyone and everyone who has ever felt uncomfortable in a traditional fitness space."
As a thin transgender person, Freeman said they have not experienced discrimination based on their body size. But they have found solidarity and common goals with fat athletes and colleagues, as well as folks with disabilities and people of color, to co-create more welcoming fitness spaces.
[ICYMI: Why the Body Positivity Movement is Turning Some People Off]
'Health at every size'
Susanne Johnson, a family nurse practitioner in Camden, New Jersey, practices a "health at every size" approach, which means she doesn't prioritize BMI or weight. Instead, she focuses on encouraging healthy behavior, no matter the patient's body size.
"You want to feel welcome," she said. "And you want to feel that... you deserve access to that activity as much as someone else. And it shouldn't be predicated on the size of your body."
There is mounting evidence that fitness and fatness are not mutually exclusive, that a "health at every size" approach is more effective for maintaining healthy behaviors over the long term.
Most famously, a study following reality show contestants on "The Biggest Loser" found that, six years after the show, most contestants had regained all of the weight. Their metabolisms had slowed dramatically, and so had their calorie burning.
"The human body is really smart at figuring out what kind of tricks you're pulling," Johnson said. "Because from an evolutionary standpoint, we all just want to survive."
Outside of her work, Johnson practices strength training. In the past, fitness professionals were mostly concerned with how many inches she'd lose, or how much body fat or weight.
These days, her strength training is individualized. It's functional. It's about gaining muscle tone, and using basic movements that have existed as long as humans have.
Giving permission
Discrimination at gyms isn't always overt. Sometimes it's not being open to feedback on how to be more inclusive. It's not looking at the diversity (or lack thereof) of your clients. It's pushing nutrition plans and modifications on larger folks, and not on smaller folks.
It's workout equipment with low weight limits, small showers and bathrooms. It's even clothing, which can define accessibility.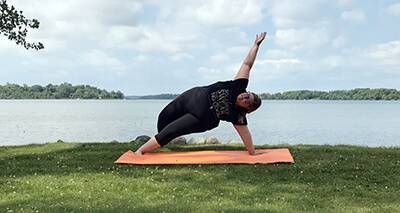 "So many things are not offered above an XL or an XXL, probably on the assumption that we don't do those activities," Ani Janzen said.
"And it's a classic Catch-22. We can't do things that we don't have equipment for."
Janzen is the founder of Radical Health Alliance, a public health initiative in Minneapolis focusing on health at every size.
Since 2018, Janzen has offered yoga classes that regularly sell out. Some are only for larger people.
"I give a lot of permission to skip a pose, permission to look different in the pose, to come out of the pose whenever you want, to come out of the pose entirely," she said.
Janzen said there are both unspoken and spoken rules in yoga that demand you look a certain way. That's because the commercial yoga industry in the western world is appropriated, associated with Lululemon, Yoga Journal and thin, white folks.
That can harm folks who don't fit that ideal, and keep them out of the practice, which actually has roots in inclusivity and acceptance, Janzen said.
Her classes are especially for those folks who wouldn't normally feel welcome in a yoga class. And her organization has grown, hosting an annual "fat adventure camp" and even partnering with a local bike shop on a "rad fat biking" series.
'Everyone deserves access'
Janzen has loved fitness her entire life. But she's also spent her life in a larger body, being told there was something wrong with it.
Yoga helped her reconnect with movement as an adult, after a childhood full of sports. And she wants others to connect with movement in the same way, while ending weight stigma in the process.
That's what this movement towards inclusivity in fitness is all about. It's providing a space for folks regardless of body size, race, ethnicity, gender, ability or income level.
"Knowing that you can come as you are, and you can workout as you are is very powerful," Leavell said. "I think everyone deserves to have access to movement that makes them happy."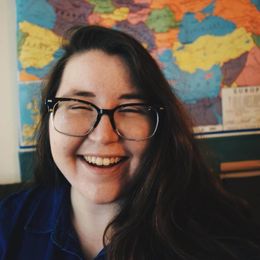 Gretchen Brown
 is an editor for Rewire. She's into public media, music and really good coffee. Email her at
[email protected]
, or follow her on Twitter @gretch_brown.