Finding Food Compatibility with Your Live-in Love
by
Jamie Lynne Burgess
Walking into our local grocery store for the first time after moving in together, John was carrying the basket and I was holding the list. Through the automatic doors, I went left, toward produce. He went right.
When we realized we were walking in opposite directions, we looked at each other, but neither of us budged. It was obvious to both of us that there was a right way to do the shopping.
After that, shopping together never brought out the best in us.
In the months that followed, we tried everything: going solo to the store and guessing at each other's preferences, or going to a completely different supermarket. We even tried a grocery challenge — we split the list and raced to see who could get back to checkout faster.
Figuring out who you are together
My partner and I love food. But before we ever stepped foot into the kitchen, there were so many differences to consider.
Eating is deeply personal. Tied up in food choices are politics, culture, finance, and religion: all things that make us who we are.
Considering that people typically eat at least three times a day, the choices can become complicated.
Especially for partners, the way you eat becomes a part of the identity you're creating together.
Gina Lorubbio is the founder of the Heirloom Food Project, which celebrates food and culture through illustrated recipes and storytelling.
Lorubbio's husband is from Denmark. Since the couple moved back to his native country, she has been learning more about the ways food shaped her identity, and what it means to incorporate that into their lives.
"It was a hard transition," she said. "But I plan to live here for a long time, so I'd like to embrace the traditions and be positive about them."
Lorubbio has had to adapt her palate to a completely different way of life.
It begins with the grocery list. Lorubbio's husband uses recipes and improvises less, while she likes to work with what's in season or available from nearby growers. Vegetables are at the heart of her cuisine, while the foundation of Danish cuisine is dark, heavy slices of rye bread.
"Bjarke still does most of the shopping," Lorubbio said. "He always knew that grocery stores (in a new country) would be hard for me."
Take ownership of what you love
Even when you have successfully found dishes that satisfy both parties and the shopping is done, the kitchen becomes the place where food identities play out.
Lorubbio and her husband take turns cooking, but she's more confident in the kitchen, she said.
"The kitchen is my zone, and if I want to buy the food in a certain way, that means we cook in a certain way."
Finding ways to be inclusive in the kitchen lets each person shine in their own way. Lorubbio's husband makes kombucha and loves cocktails; when they entertain, she can take the lead on food while he handles drinks.
"We enjoy having a common project," she said.
Of course, there are also dietary restrictions and preferences to consider. My partner and I are both pescatarian, which has always made eating together much easier than in past relationships. With other people, it was easier to go out so we could eat different things, but it's nice that John and I can share.
If you just moved in with someone with a food allergy or intolerance, you'll have to be more mindful about food than you had to be before. If you're used to cooking up a box a mac and cheese when you want to make something easy, that can go out the window when you live with someone with celiac disease or lactose intolerance.
Talia Pollock is a wellness coach and founder of Party in My Plants blog and podcast. She suggested making personalized meals with the same base to navigate dietary restrictions.
"This is great for a vegan and an omnivore because all you do is make a veggie-heavy base… and then each person can add their go-to protein source, and preferred vegetables to their liking," she said. "You're still eating the same meal, but nobody's preferences are compromised."
By meeting everyone's needs, you can avoid the expense of constantly ordering takeout.
Gina Lorubbio uses food traditions as a way to feel represented in her new country.
"I realized how important it was to keep making my family dishes as a way to celebrate," she said.
Last year, she knew that almost everyone in Denmark would be sharing the same type of meal on Easter Sunday. But she introduced her in-laws to her family's Easter soup, a recipe that is precious to her and her family. Her husband encourages this kind of sharing, which makes it easier to feel at home in a foreign land.
Sharing the load
When dinner is done, it's time to tackle cleanup. In our house, this was the part of the meal we found the most discord — John uses the least number of utensils possible and cleans as he goes. I, on the other hand, like to make a mess.
Rather than instituting the "cooks don't clean" rule that I had often found helpful as a roommate, we now trade off being "in charge." The person in charge is responsible for everything from gathering missing ingredients to cleaning up at the end of the meal.
Last week, John went out of town for a conference. I got home late from teaching a class, ate half a pint of ice cream for dinner, and got into bed. If he had been home, he would have been at the stove cooking some fragrant curry, listening to music or a podcast.
Eating ice cream for dinner felt like going back to single life for just one night. And in a way, I didn't mind it. Yet for all the trials of moving in together, I wouldn't change it. Eating together — and eating things with more nutritional value than Cookies 'n' Cream — is a joyful expression of our individual tastes as well as who we are becoming together.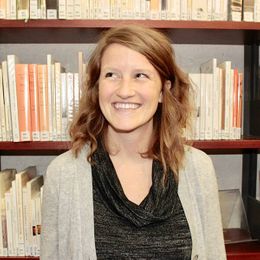 Jamie Lynne Burgess
is a writer who is fascinated by how places shape culture. Get in touch on Twitter @jamburgess or Instagram @jamielynneburgess.