Here's the Secret to Finding Your Dream Internship
It might not be the one you thought it was.
by
Gretchen Brown
September 13, 2019
|
Work
You know what they say about modern grocery stores — that there are so many brands of ketchup, our brains have a hard time deciding one over another?
Our brains do a little bit of gymnastics when we're looking for internships, too. There are about 1.5 million available in the U.S. each year.
That means a whole lot of choices, and relying on mere job descriptions to guide your application decisions.
It can be challenging to know which internships to apply for — especially if your college major is broad and you don't have much experience in the professional world.
There's a lot of pressure on landing the right gig. Employers look at internship experience above anything else when hiring recent grads, according to the Chronicle of Higher Education.
That means your internships matter more than your major, and much more than your GPA.
So, how do you decide what to go for? It's easy to follow what your peers are doing. But the best decision for you isn't always the loudest.
"Everyone's career path is individual and unique," said Kris Olson, director of the career center at Concordia College in Moorhead, Minnesota. "And there's no one set path that's going to work for everyone."
Value in knowing yourself
The good news? You don't have to have your whole career path figured out before you start applying for internships.
But it's important to know yourself as well as you can.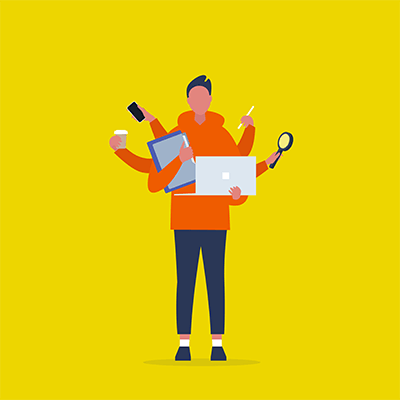 "When you get down to it, it's really about the work that you'll be doing," said Kathy Wieland, director of Iowa State University Business Career Services. "And that has to be enjoyable to you."
That's easier said than done. But there are likely resources on your college campus to help you out with this.
The right internship should marry your skills, interests and values. Talking about it is one of the best ways to figure those out.
"It's a lot of conversations with different people on campus, it's spending a lot of time with a career coach [and] other mentors that they have in their life," Olson said.
Got a favorite professor? Schedule a meeting to talk careers. Or, contact your school's alumni office to see what folks from your major are doing now.
In addition, your campus career center likely offers career aptitude tests, sort of like personality quizzes, that match you to job titles you might enjoy.
Formal assessments like this, plus lots of honest conversations with people you trust, can help you figure out what's important to you in a career and where your talents might fit.
Sure, you could always take an internship just as a resume filler. At worst, it's still a full-time summer job.
But if it's not something you enjoy doing, it'll be pretty clear to your supervisor. You'll be less likely to parlay it into a full time gig — and that's if you'll even want to, Wieland said.
Consider all your options
At many universities and colleges, internship recruitment season begins not long after the school year starts. Especially when it comes to large, Fortune 500 companies.
Recruiters are camped out in a classroom. Nervous students in suits line up to interview for internships 10 months away.
These internships can seem catchy because they're with big, recognizable companies, and perhaps they're the talk of the campus. But you should consider whether these slots are really the right fit for you.
Many campuses have internal websites full of internship postings, which can be a good resource in addition to mass job posting websites like Indeed and LinkedIn.
Chances are, there are 10 or 20 more internships that fit your skills and personality. You're just not being actively recruited for them.
That's still true if you're dreaming about an internship with a big company and it doesn't pull through.
If it's your dream to intern at Target's corporate headquarters, for instance, it can be crushing to find out you didn't get it. But you've still got so much time to find an alternative.
"I think it's a conversation of, 'What did we learn from this and how can we move forward?'" Olson said.
Yeah, maybe you thought it was your dream internship. But why?
Figuring that out can help you come up with a plan B.
"I will work on internships until June 1," Wieland said. "So the game is never over, and based on the experiences that we've had with students, if a person wants to get an internship, they can get one."
It might not be the internship you've had your eye on. It's OK to adjust your expectations.
Just because you didn't get to intern at Target, for instance, doesn't mean you won't be able to work there after you graduate.
Do your research
Big companies talk a lot about their company culture, and that's important to finding an internship, just as it is finding a full-time job.
Studies show that happiness and productivity are linked — good to keep in mind if you want to walk away after three months feeling great about your work.
But company culture is more than just catered lunches and office happy hours.
"I think one of the difficulties that we see for students is that it's very difficult to understand the culture of an organization before you've been exposed to it," Wieland said.
The ideal company culture is different for every person. Maybe you prefer an environment that's more collaborative, while someone else likes an office of independent workers.
Maybe you like a place that's competitive and high-energy, while someone else wants an office that's supportive and hyper-focused on quality.
Every company also treats its interns differently. Do you want your experience to be strictly educational and observational, or do you want to be treated like a full-on employee? Figure out where you'd stand.
If you can't gauge this from an interview, you might consider asking the company if they'll connect you to a recent hire or recent intern, who you can ask these sorts of questions.
"It is a red flag to me if an organization will not make that person available to you," Wieland said.
You can and should do this before accepting an internship offer. Wieland said her office recommends employers give students at least three weeks to think about an offer.
Requiring a quick turnaround is never a good sign.
Know that your internship doesn't define you
You might end up with an internship you're not stoked about, or that doesn't match your career aspirations 100 percent.
Don't fret.
In the end, any career experience is valuable.
"Any time a student can have an opportunity for growth and learning, that's what it's all about," Olson said. "So I would chalk that up as learning."
Most workplaces feature some collaboration between departments. See if your manager might let you work in other areas and learn some new skills.
There are also plenty of internships in the fall and spring, so you'll get a second — and third — chance at your dream internship if you want it.
One internship won't define the rest of your career. But it will set you up to be more successful in future interviews to get the gigs you want.
"All you really need from that internship is to be able to have examples in your back pocket," Wieland said. "And you can then parlay into another position that might be more in line to another position."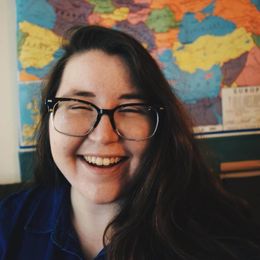 Gretchen Brown
 is an editor for Rewire. She's into public media, music and really good coffee. Email her at
[email protected]
, or follow her on Twitter @gretch_brown.