Fast Fashion is Bad for Us. Here's Why We Can't Kick It.
by
Gretchen Brown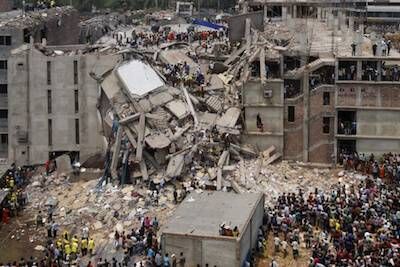 When a garment factory collapsed in Bangladesh in April 2013, killing more than 1,000 people, some believed it would be a "wakeup call" for the fast fashion industry.
Bangladesh, after all, is one of the world's largest exporters of clothing, known for its low factory wages.
The factory was linked to companies like J.C. Penney and The Children's Place. In the aftermath, multiple brands pledged to improve safety conditions in Bangladesh factories.
But nearly six years later, not that much has changed.
People are buying more fast fashion than ever. Industry giant Zara continues to increase profits.
"Essentially, people have short memories," said Patsy Perry, a senior lecturer in fashion marketing at the University of Manchester. "So although we hear about these tragedies, we are quite removed from them."
The Western world is hooked on fast fashion, Perry said.
That's, in part, because we can't escape it.
A long history
When you think of "fast fashion," you probably think modern brands like H&M and Zara, which churn out new, on-trend items at increasingly high speeds.
Online-only fast fashion retailers sometimes display up to 200 new items a week, Perry said.
Clothing from these shops is often made from less-expensive fabrics, like polyester, and can go for about the same price as an expensive cup of coffee.
But fashion actually began speeding up in the 1980s, long before H&M and Zara opened their doors.
Back then, clothing companies in the U.S. wanted to make clothes faster so they could compete with imports from countries like Japan.
However, that strategy — more streamlined production — ended up encouraging new U.S. retailers to move offshore where they could pay less for labor.
The process is so streamlined today that Zara can have a dress in stores just two weeks after the runway look that inspired it.
For consumers, that's hard to resist.
Affordable, on-trend looks from fast fashion stores have democratized fashion for everyday consumers. And the cycle helps stores move more product, which in turn, earns more profit.
Zara is valued at $13 billion, making it one of the world's most valuable fashion brands.
A cultural shift
Most companies have some sort of a fast fashion strategy, so it's hard to distinguish what's truly "fast fashion" and what is not, Perry said. Some are more extreme than others.
Because of the low prices and low quality, modern fashion companies have created a sort of cultural shift around clothing: one where it's almost cheaper to buy new clothes than wash or dry clean your old ones.
That has led a trio of researchers from Washington University in St. Louis to call fast fashion an environmental and human health crisis.
According to the researchers, 85 percent of the clothes Americans buy is sent to landfills each year. That's about 80 pounds per person per year.
There's also the fact that polyester, the material of choice for fast fashion companies, is made from oil.
The researchers say safety standards are often not enforced in the high-production factories that make the clothing.
Workers inhale cotton dust and other toxic air particulates, putting them at risk for lung disease and cancer.
Some brands have even been criticized for burning unsold clothes.
"The breadth and depth of social and environmental abuses in fast fashion warrants its classification as an issue of global environmental justice," the research states.
Consumers push back
For Aditi Mayer, an Los Angeles-based photographer and blogger, the environmental and social implications were enough for her to stop buying fast fashion altogether.
Seeing images of the Bangladesh factory collapse made those issues real.
"I was like, 'I do not want to be contributing to these types of industries,''' she said. "Especially as a woman of color, I felt like there were a lot of stakes how these industries affect women of color specifically."
She'd been frequenting thrift shops for years, but the disaster encouraged her to stop purchasing new clothes all together for a while.
Then, she decided to be more intentional about the new clothes she did purchase.
For her, that means fashion that is both ethical, paying attention to the human labor behind the products, and sustainable, focused on the environmental impact.
---
"We can't look at environmental issues without looking at the human dimension," Mayer said.
Mayer singles out clothing that is fair trade certified, which indicates workers who made the clothing were paid living wages.
She looks for clothing made of natural, non-plastic-based fibers, like wool and cotton, that are biodegradable.
She also prefers brands that operate with some circularity, which means they try to limit waste, using unsold, deadstock fabrics instead of new ones.
These methods are gaining steam. While social media sites like Instagram can sometimes perpetuate fast fashion, encouraging us to buy more, there's a whole group of "sustainable" and "ethical" fashion bloggers specifically devoted to rejecting fast fashion.
Today, there are more than 5 million photos using #ethicalfashion and #sustainablefashion hashtags on Instagram.
Not as accessible
The downside? These planet-conscious brands often come with a much higher price tag.
Because fast fashion is lauded for making high fashion more available to consumers, no matter their budget, that can be a tough sell.
A sweater goes for $100 at ethical retailer Everlane, versus $5 at H&M.
To Mayer, it's all about price per wear. It might cost you more up front, but it's made to last, she said.
Thrifting can be a more affordable option.
In London, the campaign Love Not Landfill has banks all over the city for unwanted clothing, encouraging people to donate their old clothes instead of throwing them away. The U.K. government recently committed to investigating fast fashion's impact.
There's currently no federal initiative in the U.S.
[ICYMI: What to Do With Apparel Too Dirty to Donate]
Some brands have changed their ways, or are planning to. In 2017, big fashion names like Gap, Nike and ASOS signed a statement of commitment circular fashion.
Other brands, like H&M, have been accused of "greenwashing," appearing to use sustainable practices but not actually doing it.
In 2017, factory workers in Turkey producing clothing for Zara reportedly sewed notes of protest into clothing. Zara's parent company responded, saying it would launch a fund for the underpaid workers.
While labor organization could be a solution in the U.S., consumers also need to take a stand, Mayer said.
She referenced the 1997 Duke University student group Students Against Sweatshops, which held a sit-in in the lobby of the president's office and successfully convinced the university to change clothing vendors.
Other research, Perry said, indicates that some of the environmental impact could be mitigated if consumers committed to using their clothes for longer. That might require us to start thinking about our clothing differently.
"We've stopped valuing our clothes because they are so cheap," Perry said. "They're seen as more of a disposable item."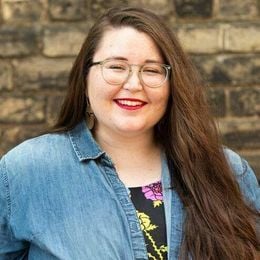 Gretchen Brown
is an editor for Rewire. She's into public media, music and really good coffee. Email her at
[email protected]
, or follow her on Twitter @gretch_brown.