How to Break Down Emotional Barriers With Your Dad
Stoic dad? Try finding a shared passion
by
Katie Moritz
When Sara Tinklenberg was growing up, she wished for a different relationship with her dad. He wasn't a guy who would show up to cheer her on at sports games, or show a lot of affection.
She and her brother and sister didn't want for anything — there was always food on the table and a roof over their heads. But her dad raised them as a single parent while working full-time as a mechanic in a small northern Wisconsin town. And her brother had an undiagnosed mood disorder and made choices that frustrated her dad.
"Because I didn't have a nurturing mother figure... I wanted my dad to fill that role," she said.
Tinklenberg grew resentful that she didn't have a "warm, fuzzy" parental presence in her life. And with her older siblings acting out and creating conflict with their dad, she couldn't wait to grow up and move out.
Connecting over a shared experience
It wasn't until she had children of her own that her relationship with her dad changed. One of her sons was diagnosed with a mood disorder, just like her brother had been as an adult. Her son also has high-functioning autism.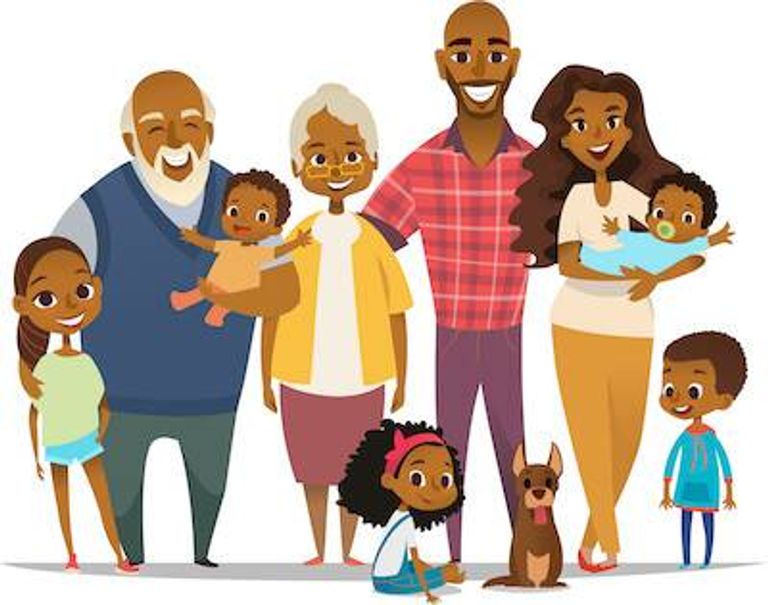 With a new perspective, Tinklenberg realized how much work her dad had done to raise three kids alone. And she realized that her dad shows love by being an incredibly reliable person. Since the birth of her children, he's been there to help her family with anything they need — and to be a sounding board for Tinklenberg's own parenting challenges.
"Now I find myself, now that (my son) is approaching adulthood, I can have conversations with my dad just about how it feels and how hard it is... to have a child with special needs," Tinklenberg said. "We totally don't see eye to eye politically, we butt heads all the time, but I know if I ever needed anything he would be there, and (for) my kids, too."
Mismatched love languages
Lots of dads show love through acts of service, says Mark T. Morman, a communications professor at Baylor University who studies father-child relationships.
"Men are taught since we were little boys that we are (supposed to be) providing and protecting," he said. "So a lot of men think, 'As long as I'm providing and protecting, I'm doing my job.'"
But a lot of adult children want more than that. They want a stronger emotional connection with their dads.
It doesn't always happen naturally or easily.
That's because parenting skills are passed down from parent to parent, Morman said. Your dad probably learned how to relate to you by the way his own dad related to him. Understanding your family culture and history can help you understand why your dad seems emotionally distant or unable to connect with you in the way you want, he said.
"We are not necessarily born with intimacy skills or closeness skills," Morman said. "We're wired up as humans to want and need each other, but how that happens is a different question. ...
---
"If you want to know why your father is emotionally stunted, it's probably because his dad is too. Your dad... isn't being purposefully hurtful or aloof. That's what he was taught, that's what he learned, that's what he was shown."
Because of the way men and women are socialized differently, they typically have different intimacy styles, he said. Masculine intimacy looks more like doing things together, or "side-by-side" intimacy. Feminine intimacy looks like talking and sharing, or "face-to-face" intimacy.
And because people have different intimacy styles (kind of like those five love languages), it can be hard to recognize when someone with a different style — like your dad — is trying to show you love, Morman said.
That's not an excuse, though, he added. Your dad should be trying to meet you where you are, too.
[ICYMI: How to Become Friends With Your Parents]
A way to grow closer
Because intimacy styles are connected to sociological gender roles, not biology, "it's not DNA, it's not determinism, it's learned, so you can learn something else," Morman said.
"Men can engage in masculine forms of intimacy and men can engage in feminine forms of intimacy... Men have access to both, and women have access to both."
That means the two of you can probably meet in the middle to improve your relationship.
Morman has studied the relationships of fathers and adult sons and fathers and adult daughters. He found that the way fathers and daughters, who are more likely to have different intimacy styles, can connect emotionally is by starting with an activity. One father-daughter duo in the study ran together, another sang in a choir together, another built a dollhouse together.
By engaging in an activity, other types of closeness started to develop. The dads and daughters started opening up more to one another. They started talking about their lives and having deeper, more honest conversations.
One woman Morman talked to for the research went on an annual week-long road trip with her dad. Not only is that an activity, the car is a place nobody else could overhear their conversation.
The woman told Morman "'me and my dad didn't really talk very much during the year, but that one week were were together we talked a whole lot,'" he said. "I would argue that was because of the context."
This can be an easier place to start than jumping into a deep talk over the phone or over a cup of coffee.
"If you've never done that, then that's going to be hard," Morman said. "But an easier way in is to find something to do and once that activity is engaged, that's going to feel a little bit more comfortable."
It can be daunting to try to change the dynamic you've developed with your dad. But he'd probably be excited to start a hobby or a project with you. Your relationship could blossom from there.
"Just stating that you want to spend some one-on-one time with you dad can be a daring, but courageous act," said Karin Lawson, a clinical psychologist and adjunct professor in the College of Psychology at Nova Southeastern University. "Many times it is taken as a compliment that a person's child wants to spend time with them, despite how they may respond, (like) with awkwardness or discomfort."

Katie Moritz
 is Rewire's senior editor and a Pisces who enjoys thrift stores and pho. Reach her via email at
[email protected]
or on Twitter @katecmoritz.