Six Ways to Make a Difference This Earth Day
by
Marissa Blahnik
In the nearly 50 years since Earth Day launched with 20 million Americans taking to the streets in 1970, plenty has changed.  Considered the birth of the modern environmental movement, April 22 is now a global event, celebrated by more than a billion people every year.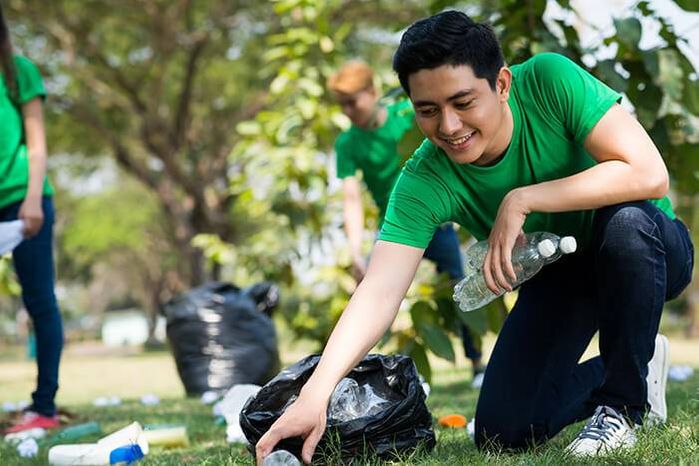 But just as Valentine's Day shouldn't be the only day you show your partner your love, Earth Day shouldn't be the only time you spend thinking about the impact we have on our planet.
Here are six actions you can take to make eco-friendly living a part of your everyday:
1. Give up straws
Plastic disposable straws are the perfect example of a want versus a needs. Straws make it easier to drink on the go but if you didn't have one it's not like you'd have to abandon your drink altogether. And yet people in the U.S. use 500 million of them per day, which adds to the 8 million tons of plastic dumped in the ocean every year. It's time for a change.
2. Stop 'wishcycling' in the bathroom
Recycling has become a relatively common habit in our kitchens but the practice rarely extends to our personal care items. And failing to recycle bathroom products means 552 million plastic bottles could wind up in U.S. landfills every year, according to Johnson & Johnson. Megan Dobratz, president of Minneapolis-based consultancy Native Sustainability, offers some advice about better ways to dispose of these items.
3. Push for consistent recycling labels
4. Become a citizen scientist
Citizen science programs are a fantastic opportunity for anyone passionate about science or the environment. No formal science training is necessary and the research gathered by these diligent volunteers is helping scientists identify trends they wouldn't otherwise have the manpower to measure. Not to mention it's a terrific way to make friends, and we all know how hard that can be.
5. Give back to your community
As the snow finally makes way for spring flowers, there are myriad opportunities to get outside and give back to the community right outside your door. Grab your garden gloves or your binoculars and make the place you live a place you want to call home.
6. Learn more about your world
Peril and Promise: The Challenge of Climate Change is a new initiative from New York PBS station WNET, reporting on the human impact of climate change. Its website brings together content from public media sources around the county as well as two original web series, "Rebuild or Retreat" and "NYC Rising." "NYC Rising" explores the topic of passive homes, communication during natural disasters, protecting the Whitney Museum's fine art collection from rising floodwaters and more.
One more recommendation for your watch list: PBS Digital Studios just launched, "Hot Mess," a new web series about climate change and us. Check it out: