Trash Grains to Treasure: Student Entrepreneurs Innovate for Change
by
Katie Moritz
Working as a server at a restaurant in San Diego, Rey Mustafa watched kitchen staff throw away huge, nearly untouched pots of rice and quinoa at the end of every day.
A vegan and Earth-lover, it pained her to watch so much food waste happen right in front of her.
One day, the chef was about to toss a 50-pound batch of rice that "didn't even have even one serving taken out of it," she said.
She stopped him and told him she was going to take it with her. He said, "'Rey, what the hell are you gonna do with 50 pounds of rice?'" she remembered.
That night, she packaged it up and handed it out to homeless people downtown. She was happy she had saved that pot of rice from the landfill, but she realized what she did with it wasn't "the most efficient solution."
She decided to find another way to rescue grains from commercial kitchens — and that's how SOULMUCH was born.
At SOULMUCH, Mustafa and co-founder Kristian Krugman, who was a server at the same restaurant, collect waste grains from restaurants, dehydrate them, grind them into flour and bake the flour into vegan, gluten-free protein cookies.
Americans throw away an estimated $162 billion in food every year. So far, SOULMUCH has saved 10,000 pounds of food from ending up in landfills.
"We were not a cookie company seeking upcycled ingredients," Mustafa said. "We were working in the restaurant industry seeking a solution to restaurant food waste."
SOULMUCH was one of 25 student startups pitched at the 2019 e-Fest Entrepreneurship Challenge at the University of St. Thomas in Minneapolis, taking home fourth place. The competition brings together college student entrepreneurs from around the country to compete for funding for their projects.
The SOULMUCH team wasn't the only one at the competition with aspirations to change the world. Here are two other teams of student entrepreneurs who want to make a difference.
Period power
The Dot started out as a desire to empower tween girls.
The four founders, students at Susquehanna University in Pennsylvania, began hosting free empowerment events for girls as a class entrepreneurship project, but soon realized they were spending money rather than making it.
They went back to the drawing board and thought about how they could develop the self-esteem of pre-teen girls while also developing a sustainable business model.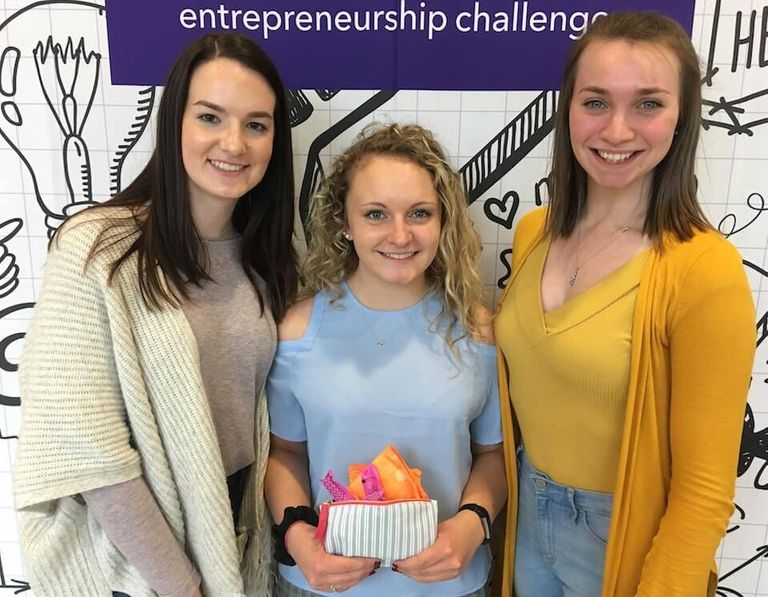 What they came up with is an Ipsy-style tampon and pad subscription service for girls ages 10 to 14. The kits are customizable and cute, and allow parents and their daughters an entry-point to talk about puberty and periods.
The Dot aims to take the embarrassment and confusion out of a tricky time for girls.
"Our whole idea is that they're kits you're proud to walk to the bathroom with," said co-founder Courtney Young. "It's to help them take the steps in this super pivotal time in their lives."
There's a greater element of social good to the team's business idea. It follows a buy-one-give-one model, which means every subscription purchased means another subscription is donated to a girl in need. Girls can choose who the subscription goes to, or choose a geographic area where the subscription will be matched with a girl in need. Families can also choose to donate additional dollars to support the needs of more girls.
Not only does The Dot put girls in control of their period experience and make the process a little more fun, it gives them a platform to help others do the same.
The team's excited to turn their idea into a reality.
"Up until this competition (The Dot has) been a class project," Young said. But "looking at what other teams are doing, we're seeing that it's very feasible. And even looking at our low startup costs,... we can have so much impact in our first year."
A safe place for everyone
More than half of teens have been bullied online, according to the Pew Research Center. But those stats are even more extreme for people with disabilities, says John Ciocca, founder of a social app for people with special needs and their allies.
Ciocca created the app youBelong with his brother, Christian, in mind. Christian has Down syndrome, and Ciocca wanted to build an online community where Christian could socialize and have fun without the threat of bullying.
"After talking with hundreds of parents (of children with special needs), we learned that over 75 percent keep their children offline out of fear that they may be cyberbullied," Ciocca said during his elevator pitch at e-Fest. "That means that we're after an underserved market of 527 million people who live with a disability globally."
YouBelong has features similar to Facebook and other social media sites, but the $1 monthly fee "acts as a barrier to internet trolls who would rather sign up somewhere else for free," Ciocca said. On top of that, "we can detect and block cyber hate so that it never gets posted" using "a proprietary algorithm and blacklist of hateful words and comments."
The service already provides 1,800 users based in 26 different countries with a "safe and inclusive environment to express themselves" and is growing, he said.
"Parents are finally comfortable allowing their child to be independent online knowing that they're safe on youBelong."
Featured image courtesy of SOULMUCH.
This article is part of America's Entrepreneurs: Making it Work, a Rewire initiative made possible by the Richard M. Schulze Family Foundation and EIX, the Entrepreneur and Innovation Exchange.

Katie Moritz
 was Rewire's senior editor from 2016-2019. She is a Pisces who enjoys thrift stores and pho. Follow her on Twitter @katecmoritz.