Downton Abbey is Catching Up with the Times: Episode Recap
by
Jeff Kamin
Season 5 – Episode 2 Recap
First things first! Big congratulations to our own Anna Bates---Joanne Froggatt! The Downton Abbey star took home the award for Best Supporting Actress in a Series, Miniseries or TV Movie at The Golden Globes last night.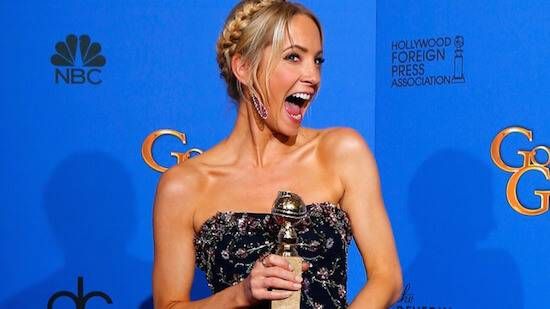 Credit: Reuters
**SPOILER ALERT**
The second episode of the 5 season cools things down a bit and returns to a more Downton pace as Mrs. Hughes and Anna clean up Edith's hot mess. They find and pocket a mysterious photo of a child.
After a visit to the town and talking to some mourners at the graveyard, Carson realizes Lord Grantham was right to want the war memorial in a more accessible place. Even if the real reason is Lord Donk doesn't want to give up his perfect cricket pitch.
There's a heartfelt goodbye from Jimmy to Thomas in which we see they really were friends. In fact, probably Thomas' only friend.
Mopey Molesley, the Only Footman---here's hoping there's no spinoff for him. The Baxter storyline moved forward ever so slightly with Molesley hearing Baxter's thieving past and looking for justification in her actions. She can only say she is not that person anymore. These scenes could have been condensed. Move along, Molesley. We feel sorry for you already. (Overheard audibly in our family room, "Poor Molesley.")
Daisy was tutored by Miss Bunting but when Tom "Hot for Teacher" Branson asks her to stay for dinner she declines. What she leaves behind is a newly inspired Tom who begins to sound like the Tom we knew before Sybil died. His conversation challenges and sparring with Lord Grantham elicits a response from the welcome appearance of Richard E. Grant as Simon Bricker.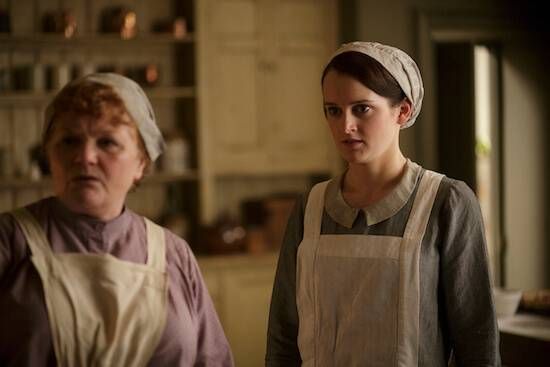 Simon appears to be flirting with Cora over some art, but Lord Grantham only notices it toward his dog. He tells Cora to have him "Stop flirting with Isis!
"There's nothing more ill-bred than to steal the affection of another man's dog." (So true) But will Robert be challenged with a new suitor for Cora's affection here? Is Simon Bricker an old flame or just some new smoke?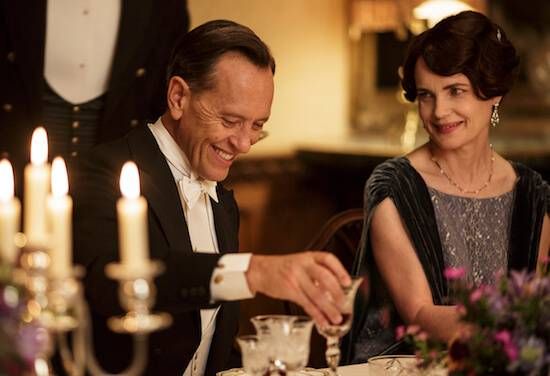 When are we going to get a wireless wonders Lady Rose. Grantham calls it a fad at first, but Lady Rose gets her wish. Thankfully, that fad is still going strong enough to provide me gainful employment to this day. Radio finally comes to Downton in time to hear the King's speech. "Even kings must bow to pressure sometimes," Carson reminds Lord Donk in reference to the war memorial and the wireless radio. But with all those wires, why did they call it a wireless? Good question. Anyone?
Edith schemes to become Marigold's Godmother even though she already has one. Everything's coming up Edith in this episode as the plan seems to be working for all except the farmer's wife, Marigold's adopted mother.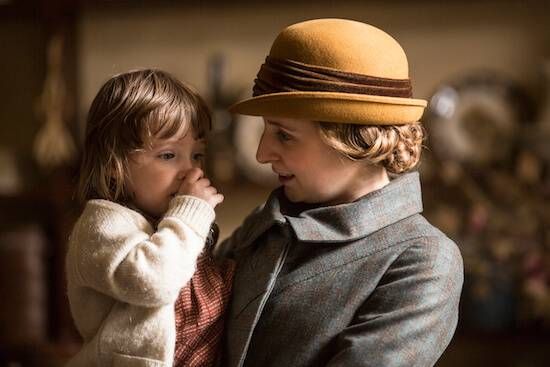 ---
"Mrs. Crawley is never happier than we she has a chance to use her guiding hands." - Dowager Countess
The Dowager Countess gets saucy again towards Isobel. Is she actually helping or hurting the possible love between Dr. Clarkson and Isobel Crawley? I can't help but think all this teasing is going to spur the good Doctor to take action. What do you think? Loved when Mrs. Crawley cracked and snapped back claiming a limit to the teasing she can take.
What else do we learn? Well, in 1924 England, don't rely on a man when it comes to birth control. Anna goes to the apothecary in a scene akin to a teenager buying condoms and trying to hide it among other items.  Anna scores the contraceptive device for Mary's road trip with Tony. (They're going to be "traveling" a lot, like all night.) Anna is concerned that Mary is making a mistake or will be found out. Meanwhile, Charles' affections for Mary's are clearly second choice here, but he questions whether Tony is smart enough for her. I think we'll see Mary regret her tryst with Tony and end up with Charles eventually. What do you think?
Downton Abbey superfan trivia question: There was a scene where Cora told Robert that he already made that joke. What joke was it? And did it actually happen previously on the show?
A police officer drops a cliffhanger over tea with Carson and Mrs. Hughes that there was a witness to the fate befell Tony G's rapist valet.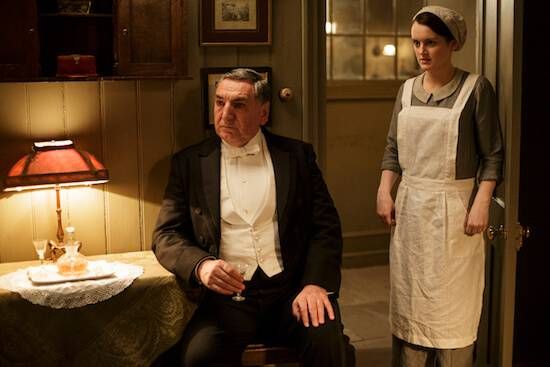 "Downtown Abbey is catching up with the times." - That's what I'm afraid of, says Carson. But for the viewers, it's a good thing, injecting some new life into season 5. No, we haven't jumped any sharks here, yet. What stood out for you in this episode? See you back here next Monday morning.
- Jeff Kamin
Stream the latest episodes of Downton Abbey anytime you want on tpt's video page! Click here to catch up.