The Rock 'n' Roll, DIY Spirit of Caydence Records & Coffee
by
Katie Moritz
Sometimes, if you want it done right, you have to do it yourself.
That's the mentality of Chad Medellin, Gregg Schmitt and Mat Graske, three guys who met in high school and played music together in punk and rock bands for years before they landed on an idea that stuck with them: What if they opened a record store that also sells coffee (or a coffee shop that also sells records) in an area of St. Paul, Minnesota, that doesn't have much of either.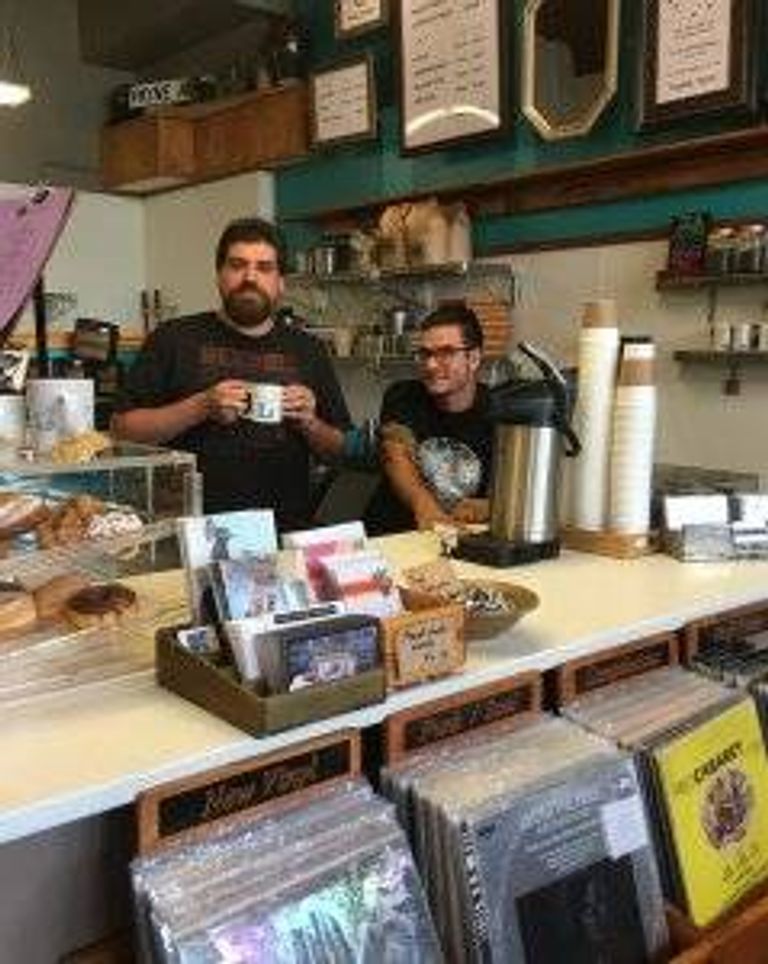 "Everyone listens to music, and most people drink something," Medellin said, making it a solid base for a business plan.
Where there was a lack, they saw an opportunity, and the potential to serve a community they love: the East Side of St. Paul, a racially diverse, working-class community experiencing a growth and shift in the businesses that exist there.
"I have really, really, really taken a shine to this neighborhood," Medellin said. "There's so much more that could be done ... but I think this neighborhood is doing much better than OK."
A few years after the guys dreamed up the idea in Graske's basement, they actually made it happen. Today, Caydence Records & Coffee sits on a corner on a busy street in East St. Paul. It has that rustic coffee shop feel, but the walls are lined with vinyl—and a taxidermy moose head named "Elmo" inherited from Graske's dad. More records stand in sturdy wooden fixtures to the side of the coffee counter, while remote workers type at tables nearby.
For being a fairly new business, everything looks pretty polished. But getting to this point wasn't easy by any stretch, Medellin said. For starters, there aren't too many record and coffee combo-shops out there—they've been figuring some things out as they go, and keeping the work between the three of them.
"Don't let anyone tell you it's easy (to start a business)," Medellin said. "We've all had to exercise our skillsets to the maximum to make sure we have money to pay rent. ... We've just started paying ourselves, barely."
'For musicians, by musicians'
After high school, the three owners of Caydence worked in different industries: Medellin in electrical and maintenance, Graske in food and Schmitt in tech, playing music on the side.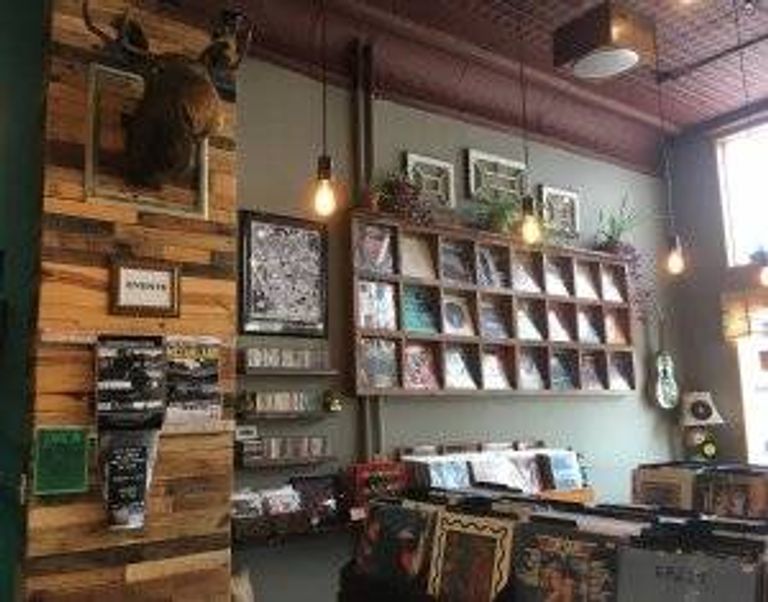 Once they opened Caydence, they continued to work outside of the shop in order to pay their own bills. And to save money on the renovation of the space, they did almost all of it themselves. Graske built the tables, the counters and the record fixtures all by hand. Medellin laid the floor in the foyer and hung the Edison bulbs that dangle down over the record collection—his least favorite step in the project, he said. The back room of the shop functions as a music venue.
"This is a place for musicians, by musicians," Medellin said. "We had always talked about it when we were younger... that we should have a place."
Caydence's owners spend a lot of time together. They work in the shop they built together from scratch, and they're all roommates in the apartment above it. They had already spent years bonding over their favorite bands—Alkaline Trio, NOFX, T. Rex, Led Zeppelin and more. On Tuesday afternoon, Bobby Vee, The Menzingers and then The Cure played over the shop's audio system.
"We're best friends," Medellin said. "At this point, it was either (open Caydence) or get married."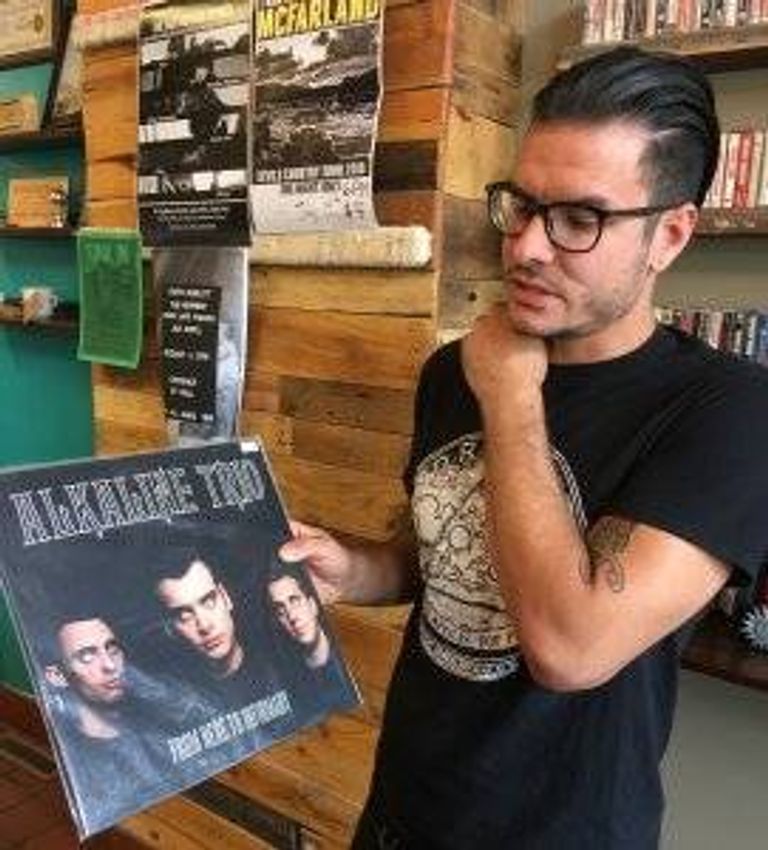 It's a tricky time for record stores. On one hand, vinyl is in again, and has been for a spell. On the other hand, brick-and-mortar stores of all kinds are struggling. Whether the climate is good or bad for record shops depends on who you ask, Medellin said: one longtime store in the Twin Cities recently closed, but a few new ones have popped up in its place.
"Some (record stores) are dynasties... and I don't think those will ever close," Medellin said. "As much as the digital age has taken over, people like physical media. Especially after the recession, people are like, maybe we should slow down a bit and smell the roses, because tomorrow that rose garden might be on fire."
Why put in so much work for something as risky as a small business? Because, Medellin and Schmitt said, on top of wanting to serve their community, they realized they wanted to create opportunities for themselves they might not have working for other people.
"Something else than getting paid the same hourly wage for the rest of my life—the idea of being able to reach out and being able to meet people and springboard off of that," Schmitt said.
This article is part of  "Living for the City," a Rewire initiative made possible by The John S. and James L. Knight Foundation.

Katie Moritz
 was Rewire's senior editor from 2016-2019. She is a Pisces who enjoys thrift stores and pho. Follow her on Twitter @katecmoritz.