Why Do We Make It so Hard for Disabled People to Go to College?
Anna Landre won her battle. Now she's trying to win the war.
by
Heather Morrison
Anna Landre was valedictorian at her high school in New Jersey and is currently a junior at Georgetown University with a 3.9 grade point average. She has already had an internship with a public relations agency in Washington, D.C., and has studied abroad.
She has spinal muscular atrophy type 2, a progressive muscle weakening that requires the use of a motorized wheelchair and the help of a personal care assistant, or PCA.
But when she graduates in two years, her Medicaid personal care assistance hours will be cut, and she faces the inability to live an independent life and get a job.
She's working to fight that — not just for herself, but for everyone.
"I think there's a misconception in general that all of us who need care, who need this kind of help, are taken care of and are always going to get it,"  Landre said.
That's not the case.
Back and forth with Medicaid
During her freshman year finals, Landre found out Medicaid was cutting the PCA hours in her plan from 16 per day to 10.
"I immediately thought, 'This will not allow me to go to college,'" she said. "I will not be able to live independently at all. Not even just at college."
Landre's PCA stays with her overnight in case she needs to get up or needs help breathing. In the morning, the PCA helps her go to the bathroom, get dressed and get ready for classes.
She appealed Medicaid's decision, and won.
But she was sitting in her kitchen earlier this year when she got an email from the lawyer that helped her with the appeal. The decision in her favor had been overturned.
Luckily, after media attention and gaining the support of several New Jersey state legislators, a settlement agreement was reached, allowing her to keep her PCA for the next two years.
But she knows this problem isn't "fixed" for other students, or even for herself in a couple years.
It's time appropriate health care stops being an occasional exception to the rule and it starts being the rule, she said.
"These policies are really holding people back," she said.
[ICYMI: Do You Know Your Patient Rights at a Hospital?]
Not just one story
She had similar experiences in the past, but let them slide, making excuses about bad luck or bad insurance, she said. But she realized it's much more than that. It's a systemic issue.
---
"I didn't realize that these little issues that I had been dealing with throughout my life were not just my little issues, they're the issues of the whole community," Landre said.
"Now that I know that I'm a lot more pushy about these things because I know it's not just me."
Sylvia Colt-Lacayo, 18, got a full ride to Stanford University. But her family is struggling to afford the level of care she needs to be there, the Los Angeles Times reported. She has a degenerative neuromuscular disease, uses a motorized wheelchair and relies on PCA help.
"You get into this school, they give you a full ride, but you still can't go, even though you've worked so hard, because you can't get out of bed in the morning," Colt-Lacayo said to the Times. "It's mind-boggling."
Landre has what she needs to continue her college education, but she isn't giving up on fighting for change that would affect all disabled people.
"There's no way to live an independent lifestyle if you're not afforded these services," she said.
Solving these problems might sound incredibly complicated, but the Georgetown junior wrote a seven-page brief on how to fix it as a homework assignment last year.
"These are not super hard solutions," Landre said. "I'm a 20-year-old and as a sophomore in college, I wrote what I think would be a good solution."
Starting a career
When Kings Floyd started her first job as an assistant, answering phones, booking travel, organizing paperwork and budgeting, it required her to work out of an office — not her home. And, like most jobs, she had to be on time.
While she found it was better to hire local college students as personal care assistants rather than work through an agency, it didn't come without difficulties.
Once she gets to work, she's ready to do her job. But it's everything that comes before that she needs help with.
"I'm doing my own job, but if I don't have someone help me get dressed in the morning I can't get to work," she said. "I need additional support behind me to do my own job."
Every morning, a PCA helps her get dressed, make breakfast, pack a lunch, do her hair, pack her purse and files and do things like dishes and laundry.
If her PCAs were late or called in sick, she had to do the same, or attempt the tasks they usually helped with on her own.
"It's all of the things you would do in your daily life to keep moving forward," Floyd said. "But the gears slow down when I don't have the PCA help."
[Read: The Battle Between My Goals and My Chronic Illness]
Ongoing challenges for disabled workers
Although there have been great strides since the Americans with Disabilities Act was put in place 29 years ago, long-standing problems persist. One of them is the unemployment rate for disabled people, which "has pretty much stayed the same since World War II," said Felicia Nurmsen, managing director of employer services at NOD.
The National Organization on Disability, or NOD, has been working on a pilot program since 2017 that aims to make the transition from college to the workforce a little bit easier for disabled people. Seven universities and eight employers in Massachusetts are involved.
"This really requires systemic change within our universities and college campuses," Nurmsen said. "Career service and disability service offices are not talking to each other."
But there are huge advantages to hiring people with disabilities. Floyd works as a disability consultant and advocate, and she knows her value in the workplace.
"I don't solve problems like anyone else," she said.
"We have a square world and I'm a round peg, so that automatically shifts my perspective. That can become a real asset in a workforce environment where you don't have the stereotypical lens."
Businesses can make themselves more friendly to disabled workers by providing time flexibility, rather than requiring a strict 9-to-5 schedule.
"Sometimes I need to make a doctor's appointment in the middle of the day," Floyd said. "That means I work later."
Disabled employees don't just have to pay for everyday things like food and rent. They also have to afford prescriptions and other medical costs, sometimes referred to as the "disability tax." Employers can help by taking these costs into account when determining salary.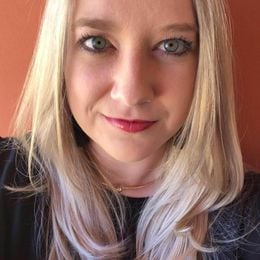 Heather Morrison
is a freelance reporter based in Los Angeles. She reports on religion and disability rights. Follow her on Facebook, Twitter and Instagram for photos of her dog.