Are Depression Memes Making You More Depressed?
Instagram accounts turn depression into comedy, but are they trivializing mental health?
by
Gretchen Brown
At the tail end of a year of psychiatric treatment, and just a month after her uncle attempted suicide, Cori Amato Hartwig made a finsta.
She didn't tell her friends about the private Instagram account, and she didn't reveal her identity. She just wanted a place to be anonymous; to cope; to vent.
Under the handle @manicpixiememequeen, Hartwig began to post memes about her mental health.
There's a photo of Lady Gaga and Bradley Cooper snuggling close; with Gaga captioned "me," and Cooper, "an irresistible sadness after 7 p.m."
A cut labeled "a depressive episode" and a bandaid over it, "Antiques Roadshow."
A police chase; the getaway car labeled "me," running from a myriad of mental health conditions.
Within a week or two, the account had more than 1,000 followers. Quickly, it turned from a personal way for Hartwig to express her own mental health struggles to something that thousands identified with (her follower count is now at 124,000).
"There is a lot of stigma with mental health, and people don't know how to approach it in a way that doesn't feel like a doctor is talking to you about it," Hartwig said.
---
"A lot of people who go through mental health issues are tired of being pathologized, and memes are a way to ignore all the stigma."
Hartwig isn't the only one out there posting mental health, depression and anxiety-related memes. It's a growing subset on Instagram.
There's @emotionalclub (965,000 followers), @sadpeoplememes (61,000) and @ghosted1996 (66,000), among many others.
And as Instagram continues to emphasize direct messaging, users aren't just liking the photos, but also sharing the memes with their friends (albeit privately).
A growing community
That's the first time I heard about Hartwig's account: a sad meme dropped in a group DM.
Most of the memes are a mix of funny and sad; the kind you can relate with at low times without worrying about freaking out your friends. A way to poke fun at the darkness.
Depression memes follow the same format as other more general meme accounts, with some of the same familiar photos and set ups.
There are screencaps of popular TV shows and movies, like "Friends," "The Office" and "Wayne's World," that, when they stand alone, make you question if they were even comedies at all.
The friend who first shared a meme with me had never talked to me in person about their mental health. But sharing the one meme instantly paved the way for more.
"A lot of people say that I helped them recognize that it's OK to have mental illness," Hartwig said. "And that's one of the most powerful things for me, because a lot of people live in such shame about it that they don't admit that they have it."
The idea of these accounts isn't new. Around 2013, a similar community popped up first on the social media site Tumblr, with users posting television screencaps and "soft grunge" memes about depression, self-harm and suicide.
Some worried the posts painted depression as beautiful, and glorified self harm through graphic photos.
Danger for harm?
Past studies have found that many of the folks posting depressive content online on sites like Tumblr were already experiencing depressive symptoms, and found pockets of the internet to be supportive communities to help them deal.
But many of the Tumblr communities didn't mention recovery, and in some cases, encouraged self harm content.
Some of the memes on Instagram also get dark.
Emotional Club, in particular, features memes about death and suicidal ideation.
The Instagram terms of service ban self harm, which is probably part of the reason this kind of content doesn't seem to appear on the app.
But some still see similarities. Stephanie Wijkstrom, a certified counselor, said the Instagram memes, like the Tumblr posts, appear to encourage people to identify with their mental illnesses.
---
"They're not in the action phase of health or wellness, they're ruminating over their symptoms," she said.
"In one way we want to encourage people who are experiencing mental health pain to reach for support. But sharing a meme is not reaching for support."
Wijkstrom said it's more productive for folks to send a message to a friend if they're feeling down, instead of just sharing a meme. Nothing is a substitute for real, person-to-person interaction (or, even better, professional help).
Humor for understanding
But compared to the depression and self-harm communities on Tumblr, most of the mental health memes on Instagram feel different, aesthetically. They don't take themselves so seriously.
"For me, humor is a vehicle for understanding," Hartwig said. "It makes people feel more comfortable talking about deeper things."
To Rebecca Newkirk, a licensed clinical social worker who works with teens and young adults, the memes feel mostly harmless.
She said mental health memes are not encouraging depression. They're just a way for folks to express what they're already feeling.
"When teens are sharing memes with each other like that, they're mostly sharing memes that they feel like speak to them," she said. "It's not a substitute for mental health care, but I think it gives kids a language to use when they speak to one another."
In other words, sharing memes can be a form of communication in and of itself, especially when you wouldn't have the guts to type out the words to a friend.
She compares it to the claim that angry rock music makes teens angrier. (There's actually evidence that it makes folks calmer.) People listen to angry music because they're already angry. Not the other way around.
The internet can be a more comfortable place for discussion, especially for folks who grew up on it.
Newkirk said the memes would become a problem if they would pose as professional help, or encourage self-harm (neither of which seems common in these communities).
Hartwig does avoid extra-sensitive topics, or uses a trigger warning when necessary. But she believes that to talk about mental illness, you have to talk about the symptoms.
Using her platform for good
There's another difference between Hartwig's account and the Tumblr accounts of the past. Hartwig isn't anonymous.
Her name, face and location is public; she also publicly shares her own experience with eating disorders and mental health.
---
"Because my account went viral, I really try to be active in the mental health community," she said. "If I have a platform like I do, I have to use that responsibly."
She's even taken some of that work offline. In February, she sat on a mental health panel at Stanford University. In September, she'll speak at a teen mental health conference.
But for Hartwig, one of the most rewarding things is the community that happens in the comments section. Followers will give each other advice, or talk about what they're going through.
She frequently gets DMs from followers, thanking her for helping them through a tough time. That's the reason she keeps doing it. She hasn't made any money from the account.
"I don't want to value push anything onto anyone," Hartwig said. "Except that it's OK to love yourself, it's OK to feel sh*tty sometimes, and it's OK to get help."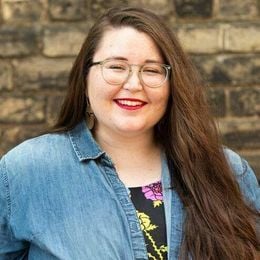 Gretchen Brown
is an editor for Rewire. She's into public media, music and really good coffee. Email her at
[email protected]
, or follow her on Twitter @gretch_brown.