Democratic Debates: How Well Did the Candidates Address Our Top Concerns?
An analysis of issues the presidential hopefuls discussed and ones they didn't
by Richard Eisenberg and Katie Moritz
(For this analysis of the first national debates with Democrats running for president in 2020, the public media websites of Next Avenue and Rewire joined forces. Next Avenue's audience is older Americans and Rewire's is younger Americans. So, as editors from those sites, we watched the debates to hear what the presidential hopefuls said — and didn't say — about issues of particular importance to our audiences. Below is our cross-generational conversation about it.)
Richard Eisenberg, Next Avenue: Katie, how well do you think the candidates addressed issues and concerns of younger voters?
Katie Moritz, Rewire: I think it was hard to know from these two discussions alone how they'd address problems facing people who are new to the workforce — like high health care costs and student loans that folks are struggling to pay on their salaries. There were mentions of those things — and agreement that they are problems — but no real plans or ideas outlined.
---
It surprised me a bit because student loan forgiveness has been all over social media the past few days. I was hoping to hear some details!
Right now, like one of the moderators alluded to, it feels a little bit like those of us with student loans are hanging our hats on something that probably won't or can't happen.
I was disappointed that candidates didn't even mention some key issues of interest to older voters.
Young voter engagement is way up, even blowing engagement before the 2016 election out of the water. A new Harvard poll of younger voters showed that 43% of 18- to 29-year-olds intend to vote in the primary, up from 36% before the last presidential election. About two-thirds of young Democrats and young Republicans think the country is moving in the wrong direction.
So, we're definitely paying attention and wanting change.
Richard Eisenberg, Next Avenue: I think older voters are paying attention, too. Most of next year's Democratic primary voters are expected to be older than 45; that was the case in the 2016 primaries.
For instance, Social Security never came up. There was no discussion about long-term care. The word 'retirement' was only mentioned once, and that was in passing by Sen. Cory Booker. Not a word about age discrimination in the workplace and very little about how to help people start a business or manage in the gig economy.
Many Americans have jobs and are also family caregivers — and I'm talking about family caregivers who are in their 20s or 30s as well as ones in their 40s, 50s and 60s. But I only heard two of the 20 hopefuls talk about the need for a federal paid family leave law, Sen. Kirsten Gillibrand and Rep. John Delaney.
Maybe we'll hear about some of these issues during the five Democratic candidate forums AARP is hosting in Iowa in July.
And I heard what sounded like ageism from Rep. Eric Swalwell towards former Vice President Joe Biden in Swalwell's repeated demand to "pass the torch." There was some of that in the Twitterverse during the debates too, against not just Biden, but against Sen. Bernie Sanders, too.
Eisenberg: Climate change came up quite a bit. Sen. Kamala Harris, who said she supported the Green New Deal, called climate change "an existential threat to us as a species." Former Gov. John Hickenlooper and Sen. Michael Bennet called climate change their top priority. Beto O'Rourke spoke passionately about it. Mayor Pete Buttigieg got a little wonky, discussing a "rebated carbon tax and dividend." Rep. Tim Ryan talked about raising revenue to address climate change. And Biden favored rejoining the Paris Climate Accord. What did you hear about climate change and what didn't you hear?
Moritz: I heard agreement that there's a problem, with very little in the way of solutions. I know it's a lot of people and a lot of issues to fit into two hours, but it's hard to choose favorites based on the debate when they don't get into any policy.
A recent Harris poll of millennials showed that this is one of millennial voters' top three issues, along with mass shootings and access to health care. At this point, a lot of us are feeling desperate for a meaningful solution and also grappling with our own role in the climate crisis.
One thing that got my attention was when Gov. Jay Inslee said, "We are the first generation to feel the sting of climate change and we are the last that can do something about it." It was a really scary thought, but I do think it captures how people who are worried about climate change — a majority of Americans — are feeling.
Near the end of the first night, many candidates said they see climate change as the biggest threat to the U.S.
Eisenberg: There was more discussion about trans people and about LGBTQ people in general than I've heard in previous presidential debates, especially by Julian Castro and Booker and Harris. What did you think about what the candidates said about LGBTQ voters?
Moritz: A standout moment of the first night was when Castro included trans folks when he talked about reproductive rights. This comes up a lot in LGBTQ circles, that reproductive and abortion rights aren't only cisgender women's issues. But I haven't heard anybody with a huge platform outside of the community talk about it.
I think a lot of people believe the fight for LGBTQ equality is over because we have marriage equality, so it was notable that Cory Booker brought up the high murder rate for trans women of color and the struggles that LGBTQ youth still face, like bullying that keeps them out of school.
The comments I was seeing a lot of online the first night were about how candidates struggled to get through the acronym "LGBTQ."
Eisenberg: When it came to health care coverage, there was pretty serious disagreement. Some want Medicare For All with no private insurance. Some want the option of both. Some want to make the Affordable Care Act better. There was a little talk about the high cost of prescription drugs and medical bills but not much about how to lower it. What struck you?
Moritz: The interesting thing about young voters is that we're very pro "free government-funded health care for all," but we're very pro private insurance options, too. I'm interested to hear more debate and coverage of this topic since it was one of the few things the candidates actually disagreed on in a meaningful way.
Eisenberg: Me too.
Sen. Elizabeth Warren, Mayor Bill de Blasio and Sen. Bernie Sanders said they'd abolish private health insurance in favor of a government-run plan. Bennet talked about "finishing the work we started with Obamacare" and Sen. Amy Klobuchar also said she preferred improving the Affordable Care Act. She noted she was also for adding a public option, saying "I'm just simply concerned about kicking half of America off of their health insurance in four years."
I was glad to hear Sen. Kamala Harris talk about the problems so many Americans face with health insurance deductibles of $5,000, meaning their out-of-pocket costs are steep. But I wish she had talked about what she'd do to address that.
​Moritz: There was a lot of "Big Pharma" talk, but I think that doesn't mean much to the average person who is going to the doctor and struggling to pay the bills. A lot of issues we're concerned with are related to making ends meet, and I would love to hear candidates talk about how health costs can be lowered for consumers.
Eisenberg: High prescription drug prices are a concern for many voters, but especially for older voters since people tend to take more medications as they get older. Klobuchar jabbed President Trump for saying he'd bring down prescription drug costs but claimed that 2,500 drugs "have gone up in double digits since he came into office." She said "that's what we call all foam and no beer."
Eisenberg: The high cost of college came up a few times. Any of the candidates say anything of interest? Anything you wish they would have discussed?
Moritz: As a twentysomething with student debt who is worried about delaying life goals while trying to pay it off, I wanted to hear more about debt forgiveness and whether that's an actual reality. But with more than two-thirds of millennials and Gen Zers supporting free college, it was cool to hear Amy Klobuchar talk about her idea for free community college. I liked that she acknowledged that there are lots of ways to success — including community college and certifications.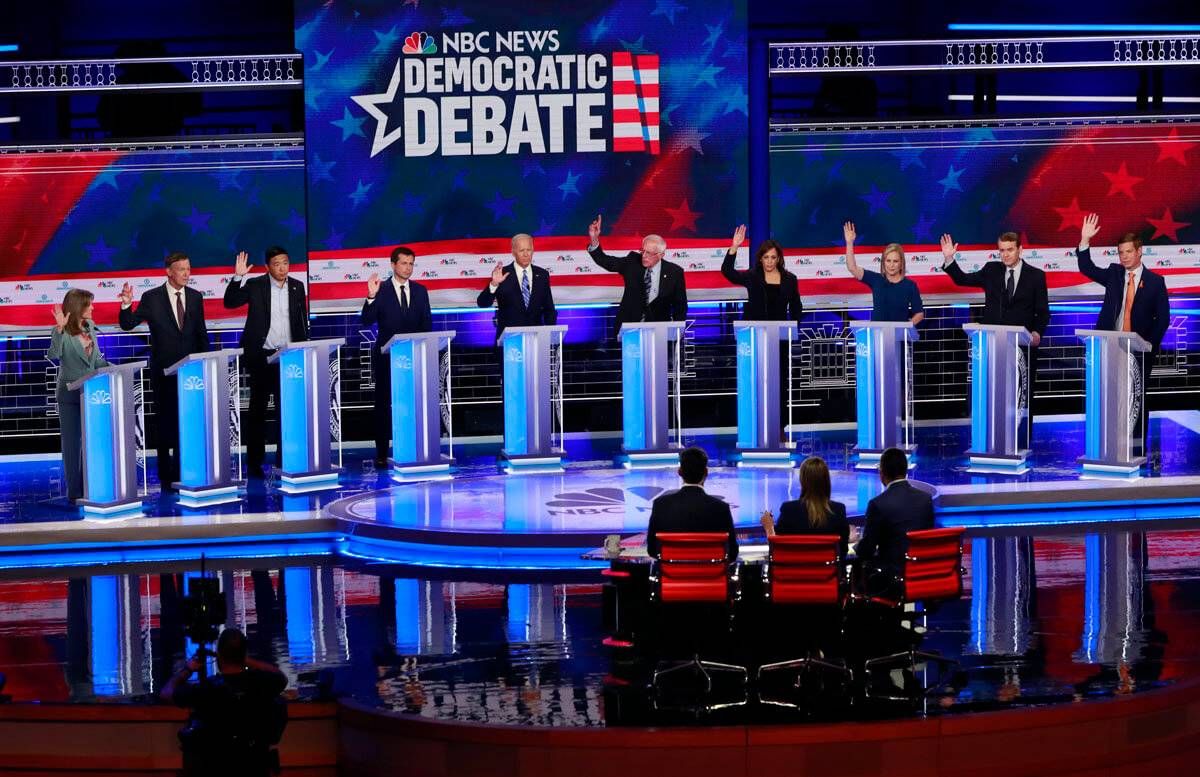 Mayor Pete Buttigieg and Sanders also outlined ideas for making higher education more affordable. I especially liked Buttigieg's comments that people shouldn't need a college education to be able to afford their lives and that people who go to work right out of high school also need to be able to support their families.
Making education accessible to more people is so important and is connected to so many other issues. And with trust in the higher education system low right now because of all the bad press about very wealthy families paying their kids' ways in, it's comforting that there's interest in making changes.
Eisenberg: Right. Buttigieg and Klobuchar didn't mention Sanders or Warren by name, but clearly thought their plans for free-college-for-all and forgiving all student loan debt go too far.
Buttigieg, who noted that he and his husband have "six-figure student debt," said he believes in free college, but only for "low and middle-income students for whom cost could be a barrier." He added he thought that it doesn't makes sense "to ask working-class families to subsidize even the children of billionaires," because "the children of the wealthiest Americans can pay at least a little bit of tuition."
Klobuchar said she wanted to make community college free, and also talked about making it "easier" for students to pay off their loans as well as doubling Pell grants from $6,000 to $12,000 a year and allowing them for families with incomes up to $100,000.
And Biden called for making community college free as well as not requiring young people to pay back student loan debt until they make more than $25,000 a year.
Eisenberg: Three of the Democrats spoke about a need to elect a younger person as president. Beto O'Rourke said: "We need a new kind of politics, one directed by the urgency of a new generation." There was Swalwell's "pass the torch" and Buttigieg said his generation would come up with solutions to deal with climate change, racial inequality and "an end to endless wars." What did you make of that?
Moritz: I think young people feel alienated by the much older people in elected office — regardless of political affiliation — who are making choices that will impact us, but don't necessarily represent us.
---
There's been a swell in grassroots movements led by young people — March for Our Lives, Black Lives Matter, Women's March, Youth Climate Strike, #MeToo — because we feel that the people in power aren't listening and the only way to get their attention is by organizing and marching.
I think O'Rourke, just like Sanders, Buttigieg and Swalwell, is trying to align himself with those feelings, because he knows how important young people's votes will be this time. We're pissed off and we're motivated; youth midterm turnout was up nearly 80% in 2018 from 2014.
There are so many candidates to choose from right now, but I think the successful candidate will be able to capture the activist spirit of younger voters, while also appealing to older voters, who historically make a much stronger showing at the polls.
O'Rourke does run the risk of coming off as pandering or trying too hard. He was immediately called out on Twitter (and turned into memes galore) for jumping to Spanish right away when he was asked his very first question. As one Twitter user put it, he used two languages but still managed to avoid answering.
I think my generation's distrust in institutions gives us very strong BS detectors and we don't take kindly to insincerity.
Eisenberg: My boomer generation has a long history of distrust in institutions, too. And I think many of us also have strong BS detectors. But I don't think candidates pander to older voters the way they do to younger voters. I guess that's one benefit of getting older.

Richard Eisenberg
is managing editor of Nextavenue.org (a site for people 50+) and editor of the site's Money and Work & Purpose channels.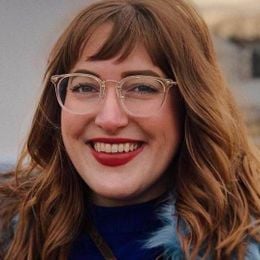 Katie Moritz
was Rewire's senior editor from 2016-2020. She is a Pisces who enjoys thrift stores and pho. Follow her on Twitter @katecmoritz.