How Complaining Can Change the World
by
Abby Thompson
There are quite a few famous gorillas out there—King Kong, Koko and Harambe among them—but did you know there's also a group of "gorillas" that beat their chests AND create positive social change through the power of art? The work of this group—the infamous Guerrilla Girls—is featured in a recent episode of one of our favorite web series, "The Art Assignment."
"The Art Assignment" from PBS Digital Studios is an educational (hold your eye roll) series, aiming to expose its audience to diverse artists and their art. Each episode highlights a unique topic in the art world and challenges its viewers to create their own "art assignment" (thought-provoking video) to keep the artistic community thinking critically and flexing their artsy muscles each week. The show is hosted by the lovely Sarah Urist Green, former curator of contemporary art at the Indianapolis Museum of Art.
After watching a recent episode, there was definitely a reason to go bananas: it profiled the Guerrilla Girls, a group of anonymous female artists who came together in 1985. (And, yes, they playfully don gorilla masks to keep their identities secret.) The collective is committed to challenging the status quo both in the art world and society through powerful and provocative self-expression, public art and new media. They fight against what they see as the white, wealthy, male-dominated mainstream art industry—and they aren't afraid to ruffle more than a few feathers while doing it. In this episode, we're introduced to the Guerrilla Girls' art exhibition in London focused entirely on—wait for it—complaining.
Complaining, though it gets a bad rap, is often the spark from which great art originates. Whether it's the lack of money you have in your pocket, the weather turning a bitter desolate cold or the fact that you ran out of swipes on Tinder and you go to bed lonely every night—all these crappy things you rant and rave to your best friend about could evolve into art.
By now, the Guerilla Girls are expert complainers. Here are some of their most famous complaints:
They don't want to be the only ones complaining, however; they want you to do it too! That's why they set up the "Complaints Department" inside the Tate Modern museum in London. It's a new-media, interactive type of exhibit, where a participant can write down a complaint and put it next to the complaints of others.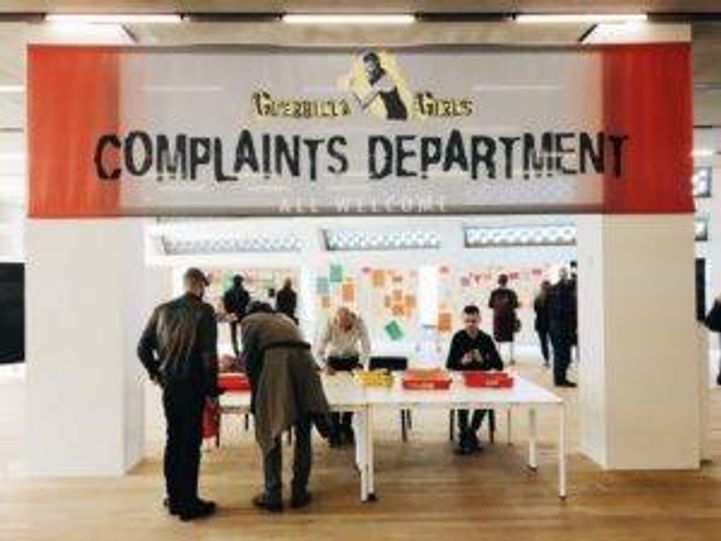 What makes this exhibit so cool and refreshing is that it empowers viewers to think critically about our society. The Guerrilla Girls are saying through the work that it's okay to be upset about what's happening in the world. Once people admit they're unhappy, it empowers them to act and create positive change in our world.
That's what the Guerrilla Girls want from all of us. Their art assignment for us is to complain, but not merely to vent and get your feelings off your chest. The Guerrilla Girls want to challenge you to do a sort of complex complaining. And from the complaints you have, they want you to act and do what you can to create change in our world.
So, yes, your art assignment is to change the world if you can, but if that sounds overwhelming, never fear! The Guerrilla Girls have your back; in this video they show how they turn their complaints into action:
In the video above, the Guerrilla Girls head to the Frieze Art Fair, a well-known contemporary art event. They aren't too pleased with how the fair and others like it come to be. The Guerrilla Girls believe that the art world, like a lot of industries, is dominated by rich, white men, and what those rich, white men think is really great art isn't necessarily representative of how everyone on Earth feels.
And how could it be? Interpretations of art are entirely subjective, which is what makes it so powerful. However, the Guerrilla Girls believe, there is something to be said about one subset of the population dominating the decision-making about what art should go into museums, which in turn promotes a skewed reality of the art world that museum goers and common people are exposed to. In the Guerrilla Girls' thinking, us normal folks are only exposed to a slice of the astounding artwork out there because of bias in the industry.
The Guerrilla Girls are pros at getting up on the soapbox and stirring the pot. Their tactics might feel too extreme for you or me, but there are plenty of ways for us to help make the world better, from writing your local legislators, to volunteering, to rising above negativity and being kind—Gorilla mask optional.