Community Art Heals and Empowers in Minneapolis
Community members work to create and memorialize artwork reflecting a movement for justice.
by
Abdi Mohamed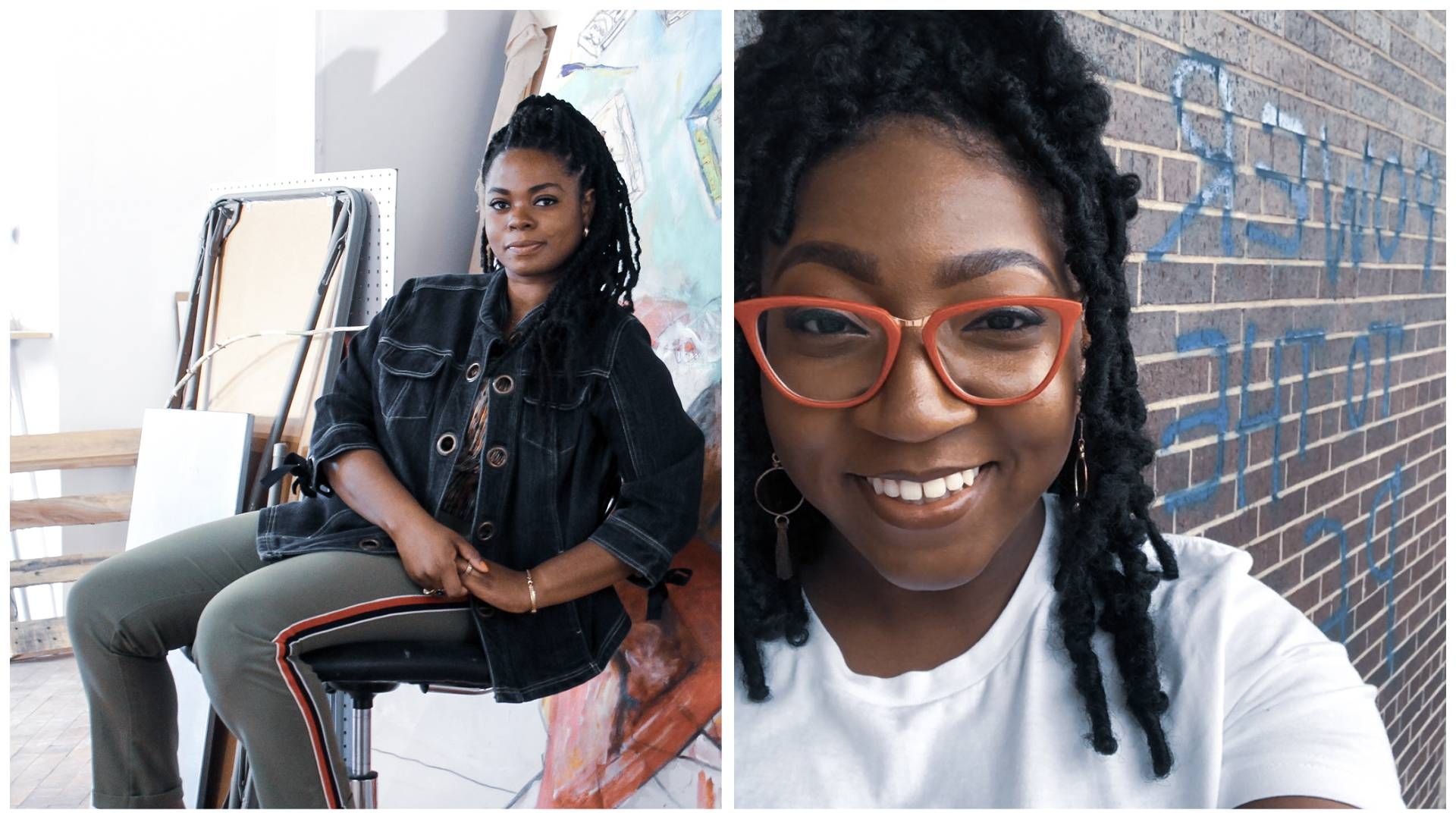 This article is part of the Twin Cities PBS digital storytelling project Racism Unveiled.
During last summer's uprising following the murder of George Floyd, Lissa Karpeh found herself questioning the artist's role in the community.
Karpeh, a Liberian American artist based in the Twin Cities, primarily uses oil and acrylic paint to create pieces that focus on social justice, politics and identity. She found activism navigating its way into her artistry when she began questioning who her work was meant for. 
In the days after Floyd's death, Karpeh found it difficult to focus on her work. She wanted to take part in the demonstrations, but was unsure how.
One day, Karpeh took her paint brushes and went to the city's Uptown neighborhood, where she rebelliously began painting a mural on the side of a building.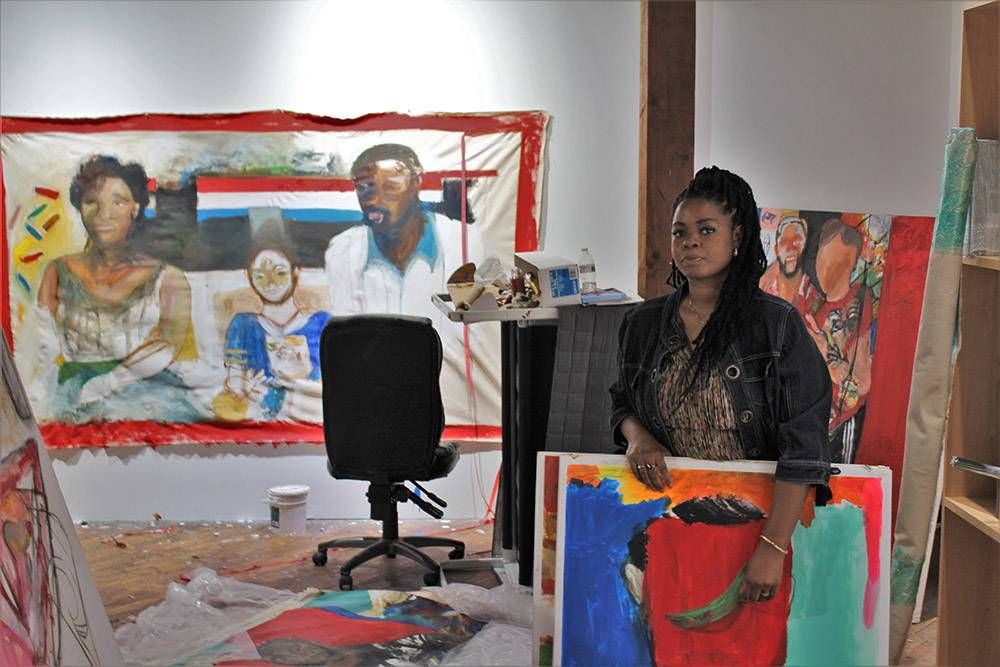 "As an artist what we must remember is that, yes we are makers and it's a selfish act, but if your art doesn't resonate with your community, it has no place," Karpeh said. "It can't thrive. It can't live."
As the fight for racial justice continues across the country, many people have found themselves coping with the trauma brought on by police violence. For some, art has been both a tool in their struggle for justice and a way for them to process their pain.
Images of George Floyd, Breonna Taylor, and other victims of police violence have spread across the country, etched into the nation's psyche.
Many of these images may have started out as an individual endeavor, but soon took on a collective meaning.
Creating art for the community 
After connecting with other artists and community members, Karpeh couldn't help but notice the lack of young artists. She wanted to bring youth of color, especially those from immigrant backgrounds like herself, into the fold and show them how art could give them a voice. 
Karpeh founded Free in Color Arts to do just that. She raised funds to bring youth of color to Minneapolis from the surrounding suburbs to paint and have a dialogue.
"I think it's important that they're a part of the conversation," she said. "They got to express themselves and have creative freedom."
Karpeh continues to plan programming around the Twin Cities metro and encourages young people to see art as a way to empower themselves. She's recently shifted her focus to Brooklyn Center, a Minneapolis suburb with a large immigrant population, after the police killing of Daunte Wright.
Though it was heartbreaking for Karpeh to see her community go through another tragedy, she has been encouraged by the turnout from youth. 
Like German expressionist painters, whose work was born out of oppression, Karpeh sees art as a way to document the societal issues of the time.
Preserving art for years to come
Protest art can take many forms. Whether it's a placard designed by a demonstrator or a commissioned mural, protest artwork helps amplify the voices within a community when words may not suffice. 
During last summer's unrest, much of the protest artwork in the Twin Cities was painted on the plywood boarding the windows of local businesses.
As time passed and protests waned, business owners began to take down some of these murals. Leesa Kelly, a resident of the Uptown neighborhood of Minneapolis, was sad to see them go. 
Initially, Kelly volunteered at food drives and helped gather supplies as a way to give back to the community. But she wanted to bring longer lasting change.
"When George Floyd was killed, I think time just kind of stopped for me," she said.
"Everything I was doing prior to his murder no longer seemed to matter as much to me."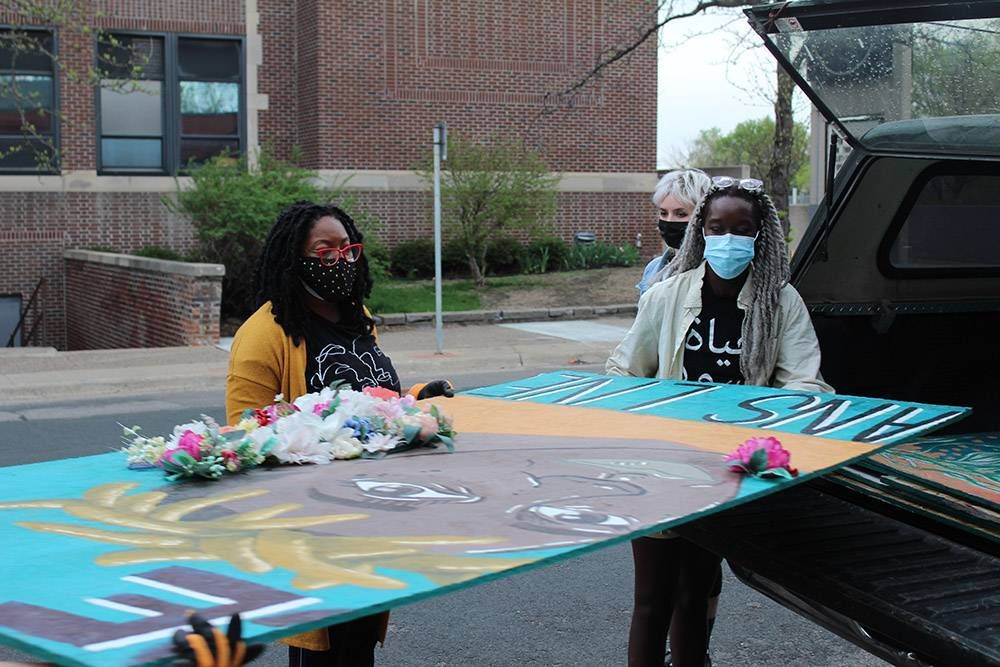 Seeing the murals come down sparked an idea for her: Why not help preserve these works and find a way to showcase them?
She contacted some of the artists behind the plywood murals and told them of her plan to memorialize their work.
"This work is very ephemeral," she said. "Almost all of them were not expecting for their work to be collected and preserved." 
Kelly founded Memorialize the Movement, an art preservation project aimed at storing and showcasing these murals for years to come. She reached out to Tina Burnside, co-founder of the Minnesota African American Heritage Museum and Gallery, for help preserving and curating these works.
The museum staff were available to help, but after visiting their space, Kelly realized there wasn't enough capacity to store and display the boards. 
This presented somewhat of a challenge. In August, she teamed up with Kenda Zeller-Smith of Save the Boards to collaborate on their shared goals of preserving artwork.
While Smith's project was focused on the physical act of collecting the boards, Kelly's focused on the longevity of the murals and continuing to tell their story. The two worked together to find funding and secured $26,000 from their GoFundMe initiative. They were shocked to see the outpouring of support.
"When we started the GoFundMe we did not think we'd raise many funds," Kelly said. "But the response from the community was so overwhelmingly positive. People wanted to see the murals preserved."
They've also collected funding in the form of grants and sponsorships from community partners. The funding will go toward financing a space to store and exhibit the boards. 
Memorialize the Movement has secured a space in the Northrop King building where they've stored 800 boards, and plan to collect more as they grow as an organization. Kelly said the organization is shooting for 501(c)(3) status by the end of the year, and would like to have a more permanent space for visitors to interact with the boards year round. 
This Memorial Day weekend, Memorialize the Movement will display several boards in Phelps Field Park nearby George Floyd Square. The exhibit will take place May 21 through May 23, and folks are encouraged to register online for the event. 
Going forward, Kelly would like to see more diversity in the curation and museum field. Currently, her volunteer staff is 90 percent white, but she hopes to change that by creating programs to educate people of color, especially youth, about art preservation.