Collars, Coats & Corduroy: Sherlock Fashion Explained
by
Sally McGraw
What we wear speaks volumes about who we are. Our dressing choices convey our inner lives to the outer world, hinting at our tastes, professions, and personalities. Television costume designers know this all too well, and the truly skilled ones use clothing, shoes, and accessories to express their characters' psyches.
The BBC's massively popular series "Sherlock" has made sweeping greatcoats and classic shooting jackets iconic—and costumer Sarah Arthur's choices are far from accidental. The styling choices she's made for Sherlock and Watson support and enhance everything we see them do, say, and think.
FINE COATS, WORN WITH ATTITUDE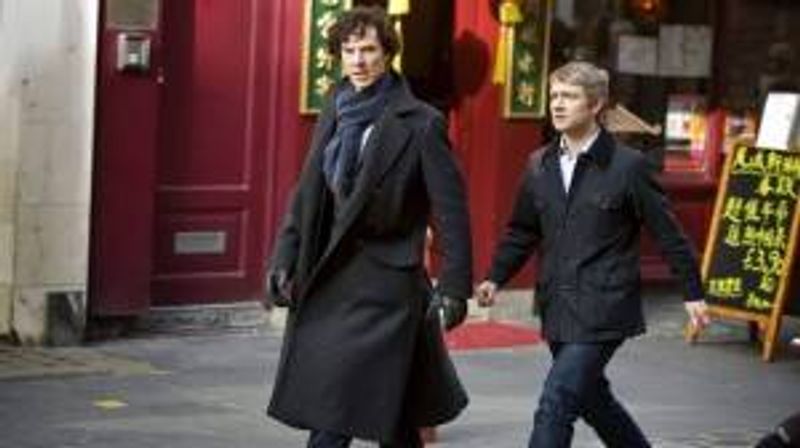 Much of the action in Sherlock takes place outside or in transit around London, so Arthur – now the lead costume designer for the series – made sure that both Sherlock and John have distinctive outerwear.
Sherlock's coat is Belstaff, an English heritage brand, and was chosen for the character by BAFTA-winning costume designer Ray Holman who worked on the pilot episode. The coat itself is beautifully designed and made from a sumptuous Irish wool tweed, but what's most fascinating is how Sherlock wears it. The collar is nearly always popped and the coat itself is almost never buttoned. So, it's a fine and expensive coat—not one on a whim or by a man who knows nothing of fashion—yet Sherlock cannot be bothered to do it up against the clammy London cold. [pullquote]It's a fine and expensive coat...yet Sherlock can't be bothered to do it up against the clammy London cold.[/pullquote] This tells us he appreciates the finer things in life when he's paying attention, but is often so lost in his own mind that he doesn't even realize he's getting chilly. Sherlock's character is always focused on the case at hand, often to the point of ignoring the people and events around him, so this styling choice supports his on-screen personality.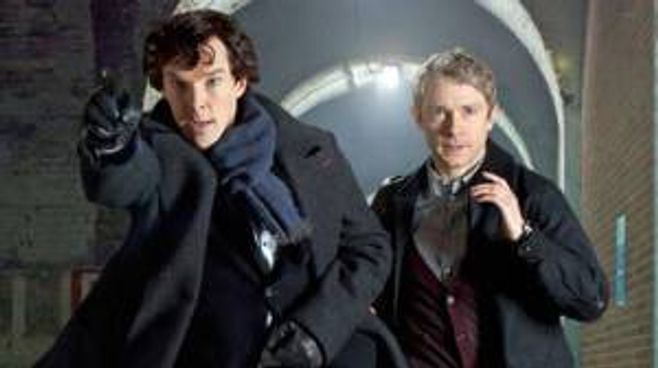 Sherlock's scarf is by Paul Smith, another beloved British designer, and is always worn in the same way—a simple European loop. This tie is extremely quick to do and like Sherlock's coat, indicates an inattentive carelessness; It creates bulk at the neckline which makes it ideal to pair with a closed or buttoned coat, but hangs stiffly at the neck if the coat is left unbuttoned. This tie does have its pragmatic elements, though, as the scarf doesn't flap about or slide off when Sherlock is on the move. (An interesting side note: The scarf in the first season is vintage Paul Smith and has no available double. Generally costumers prefer to have at least three of any given wardrobe item on hand in case of loss or damage during shooting. Apparently, Sarah Arthur replaced it with a different navy scarf in Season 2 so she could stop having nightmares about losing that one vintage scarf!)
John's coat in the "Sherlock" pilot is a belted utility coat, clearly meant to reflect his military background. By episode two, he's switched to a black cotton shooting jacket from Haversack. The jacket features a leather shoulder guard, which lends it a vaguely military feel, too, and also makes the jacket instantly recognizable. The black corduroy collar is a classically British design feature—also present in Barbour and Belstaff jackets—supporting John's slightly old-school sensibilities. John's coat is virtually always buttoned and worn without a scarf, and since the character is a no-muss, no-fuss pragmatist it makes sense that he would close his coat but skip the accessories and adornments.
IT'S ALL IN THE DETAILS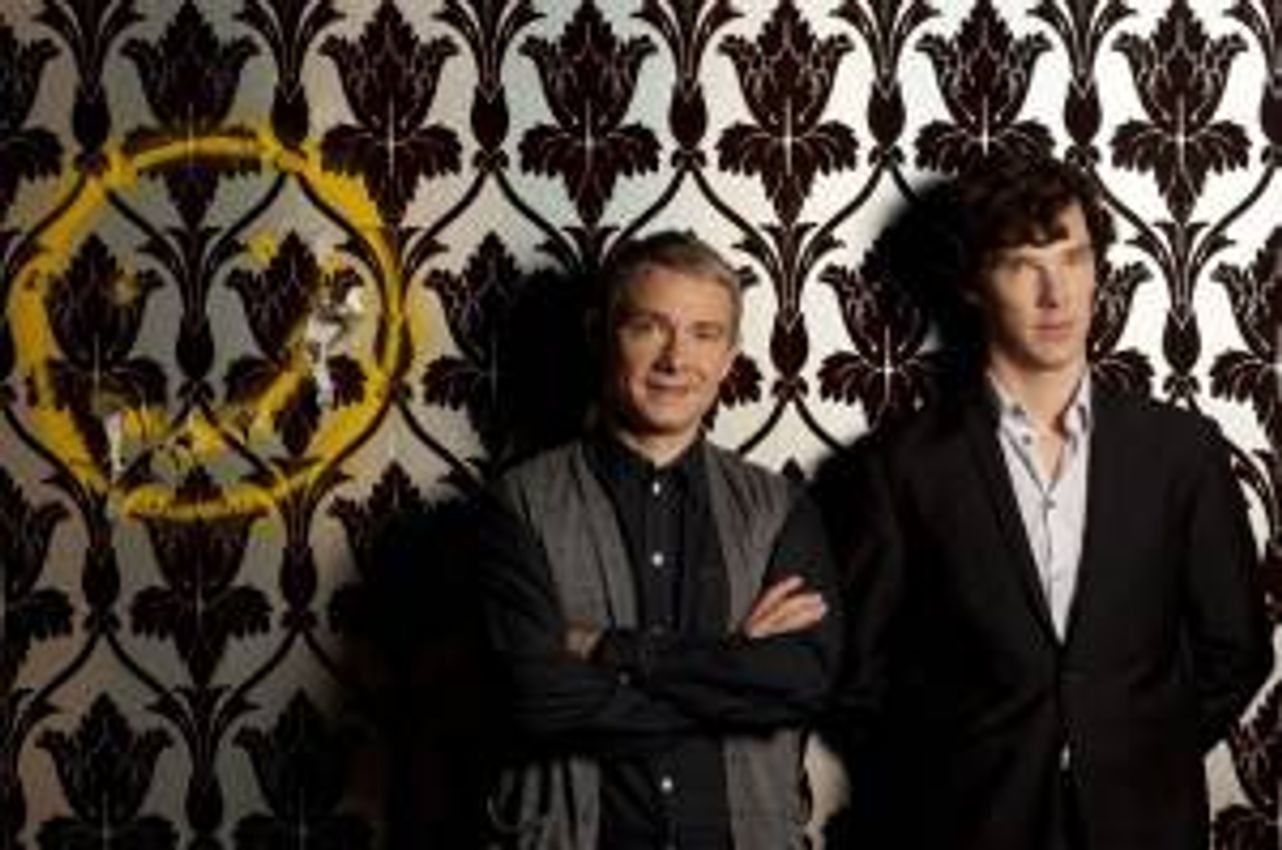 Unless he's skulking about the Baker Street flat in his PJs and dressing gown, Sherlock is always in a slim-fitting bespoke suit. His suits are by Spencer Hart, and are purposely plain but in a modern cut with slim-leg pants and a fitted two-button jacket. The suit is Sherlock's uniform, and he never strays from it. As with his coat, this indicates he wants something well-made and reliable to wear, so he can focus his considerable intellect on more important things than fashion.
Once again, how Sherlock wears his suits is a fascinating indicator of his inner workings. Although both shirts and suits are clearly tailored, he never wears a tie. Ever. Ties are formal and old-fashioned, but also quite commonly paired with full, tailored suits, especially in Britain. His open collar and lack of tie illustrates that Sherlock feels above the rules that govern other, "common" people. Although it could be an indicator of forgetfulness or laziness, it's more likely that Arthur keeps Sherlock's collar undone and tie-free to support his willful and rebellious nature.
John is nearly always in a button-front shirt as well, but his are typically done up all the way and paired with sweaters. John is the more approachable, human, sympathetic character of the duo, so it makes sense that he would appear in soft, touchable knits instead of cold, structured wovens. His one blazer is a warm purple corduroy, another textile that begs to be touched.
John also wears considerably more color than Sherlock. Although Sherlock sports a purple shirt on occasion and is never without his navy scarf, his colors are nearly all cool neutrals: Black, white, gray, ice blue, and very few prints or patterns. John, on the other hand, is frequently in plaid, which is traditionally British, lively by nature, and often colorful. John's palette is warmer, with lots of brown, khaki, maroon, and olive, a subtle way of casting him in a friendly, appealing light.
John pairs jeans and hiking boots with his button-fronts and sweaters in many episodes, both of which also add to his relatability and balance out the slight stodginess of his other style choices. He dresses more like the average man, with appealingly shaggy hair and clothes chosen for comfort over style. He's the reliable, stable rock to Sherlock's mercurial, single-minded rebel. [pullquote]Watson is the reliable, stable, rock to Sherlock's mercurial, single-minded rebel.[/pullquote]
Unlike many television series that use character costuming as an excuse to parade gorgeous duds across the screen, "Sherlock" is remarkably spare and utilitarian in its choices. As Season 3 progresses, it will be interesting to see if those choices shift. Will Sherlock ever button his coat? Or revert to deerstalker, pipe, and trench? Will John upgrade from rumpled corduroy to bespoke Italian wool?
For more, check out:
GQ: Dress Like Sherlock and Watson!
BBC Media Centre: Sherlock