Chicago Program Knits Together a Community of Refugee Women
by
Brian Nordli
Batool Al Waeli concentrates as she pierces a needle through folded sheets of paper on a February afternoon.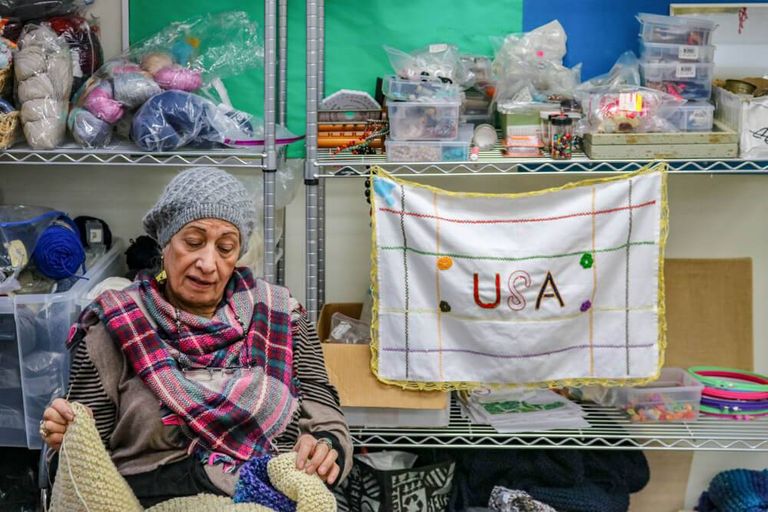 In, out, in, out—her 72-year-old hand carefully pushes and pulls the needle through the paper. Next to her, two women work on the same project and another two sit on the couch making knit earrings. Around the women, multi-colored scarves and hats burst from bins and shelves, along with dyed scarves and embroidered pillows and more.
The women are gathered here for Loom, a weekly workshop hosted by Catholic Charities in Chicago.
When the pages are secured and bound, Al Waeli places two pieces of cardboard on either end for covers, and pulls a black-and-gold print fabric taught over it. What results is a pocket notebook, but for Al Waeli, it's so much more.
Al Waeli is a refugee from Baghdad. Reflected in the handiwork is her journey to Chicago in 2014, and the pain and fear she feels for the adult son and daughter she was forced to leave behind. For the last three-and-a-half years, Al Waeli has poured herself into the projects at Loom.
"This is my life, my son, my daughter, here," Al Waeli said gesturing to the handiwork. "When I don't work, I'm (sad). Because I live alone, I have no friends, but I have friends here. All of them help me."
Art that connects and empowers
Catholic Charities started Loom in 2013 as a weekly workshop where refugee women can combine creativity and culture to make and sell handmade items. Along the way, it has become a source of community and empowerment for the women involved.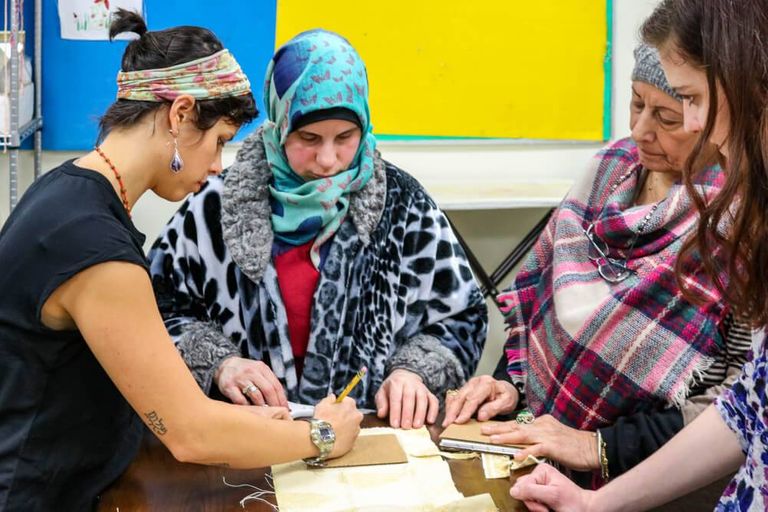 Every week, Loom instructor Neta Levinson leads the women through a new art project. Some weeks they knit scarves and hats, other weeks they embroider pillows or make earrings.
The nonprofit provides the materials for each project, and then sells the finished items online and at craft fairs. The women earn 75 percent of the profit any item that is sold, and the remaining 25 percent goes back into materials.
While the women might only earn enough to pay a bill or for groceries one day that month (on a good month, the program brings in $4,000), that isn't the focus, Levinson said. Instead, it's the power of seeing their name on the paycheck for the first time, and the act of coming to a place that simulates the expectations of a job.
"Some of the women that come here … haven't had a job before," Levinson said. "So getting their first check under their name as opposed to husband's name, that action is incredibly empowering."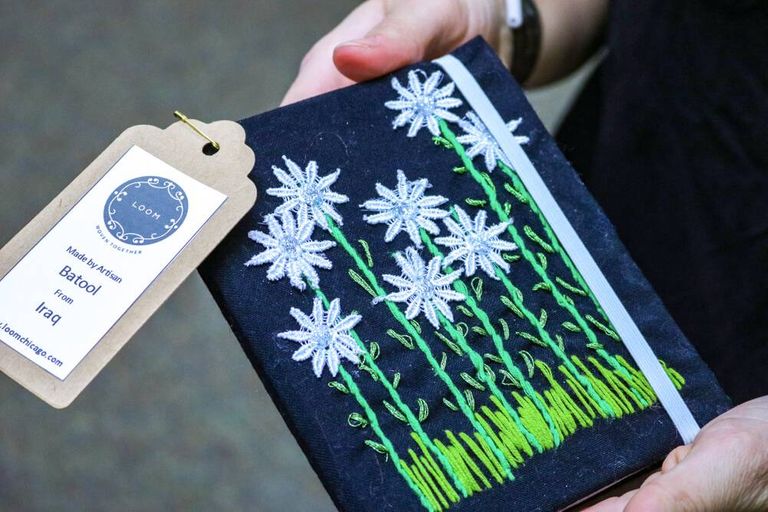 Loom also fosters a strict female-only atmosphere. The purpose is to ensure that the women remain the focal point, and that they make the decisions, Levinson said. For some of the refugees, the men in their lives do all the talking and make all the decisions with refugee resettlement services. The program allows them an opportunity to speak out and be in charge.
Meanwhile, Levinson said, the projects empower the women to communicate and understand each other. The women come from countries like Nepal, Afghanistan, Iraq, Myanmar or Sudan, but art is an intrinsic language they all share.
The result is a tight-knit community that transcends language and culture. Levinson recalled one class when a Sudanese woman waited for the bus with a group of Nepali women in the workshop. She didn't speak the same language as them, but they were there for each other.
"It's a community," Levinson said. "They always help each other out no matter if they understand what they are saying. Craft is just with the hands and visuals, so you don't really need language. Just that community of women on its own is empowering."
A family from around the world
For Al Waeli, Loom has given her an outlet.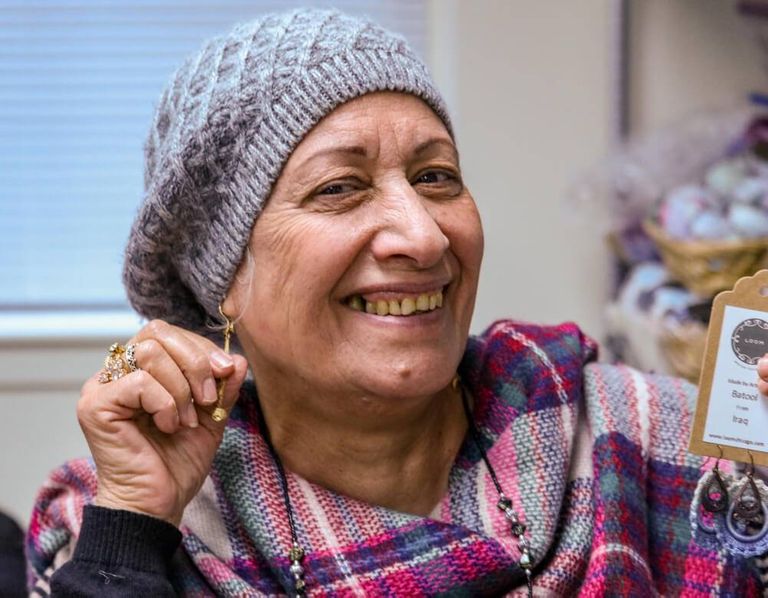 Before she came to the U.S., she had worked as a librarian at a university in Baghdad. When the war broke out, one of her sons worked as a translator for the U.S. troops. As gunfire and attacks became commonplace, her son received a death threat. He was able to gain entry to the U.S. with his family, and then helped her gain entry after him. But her other son and daughter remain behind.
"All the time I'm afraid for my son and daughter and their kids," Al Waeli said.
She struggled in Chicago and rarely left her home. Then her case manager at Catholic Charities introduced her to Loom. Ever since, Loom has become interwoven with her life.
"This is my life here," Al Waeli said.
As Al Waeli waits for her notebook to dry, a classmate calls her name. When she looks over, her friend Boj Joshi is on the floor poking her face through an empty square in a cardboard box.
"Hey, Batool," Joshi said.
Al Waeli can't help but shake her head and laugh. Here, making art with women from Syria, Nepal and Afghanistan, she is at home.
[gallery ids="34273,34279,34276,34278,34277,34281" link="none"]

Brian Nordli
 is a freelance journalist based in Chicago, where he writes about social issues, immigration and culture. Before returning to his hometown, he worked at a newspaper in Las Vegas covering crime, education and the city's desert denizens. He recently spent more than a year teaching English in South Korea and traveling Europe and Asia. He hasn't been able to shake his craving for kimchi since.