Carin Bratlie Wethern Knits On Demand
by
Kelly Prosen
Picture a knitter. Are they drinking wine and watching "The Sopranos"? Better yet, are they knitting a "Mystery Science Theater 3000" bento lunch box cozy? No? Then you've never met Minnesota-based bespoke knitter Carin Bratlie Wethern, whose pop culture- and science fiction-inspired knits bring the craft into the 21st century (and beyond).
A family talent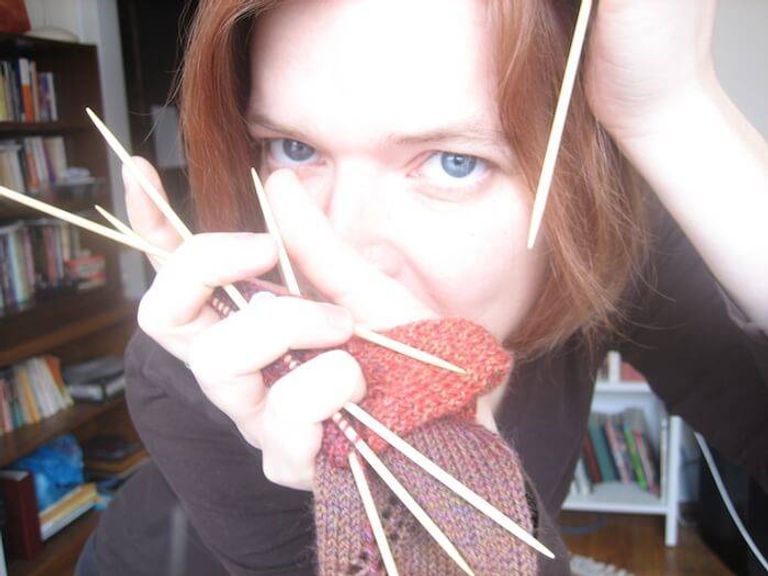 While Bratlie Wethern's creations aren't the kind of thing you'd receive from your Great-Aunt Mabel at Christmas, deep family connections were the reason she started knitting.
"My grandmother had knit her whole entire life, and I have these very strong memories growing up, seeing her knitting and receiving knitted gifts," she said. "When she hit 94 she was too arthritic to knit anymore... So I picked up her needles and I taught myself to knit from a book and it just turns out that I am really good at it."
Delightful oddities
Her projects range from sweet (a monster inspired by "Where the Wild Things Are") to traditional (colorwork sweaters and lace socks) to delightfully odd (thigh-high stockings with a chinchilla on them). Her favorite project crossed species and genre lines.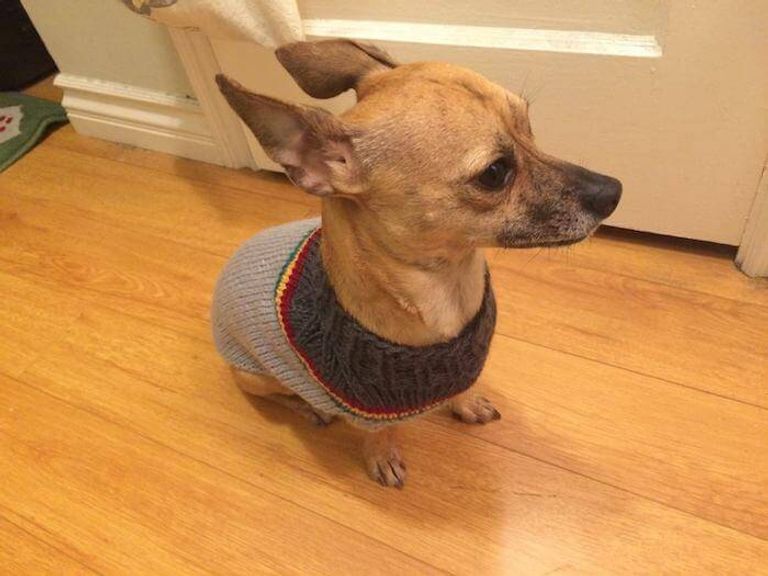 "The one that I think I am the most proud of is the dog sweater that I knit for the Chihuahua named Wesley Crusher," she said. "A friend has a friend who has a Chihuahua named Wesley Crusher (after the 'Star Trek: The Next Generation' character of the same name) and he asked me to knit the Wesley Crusher grey uniform that's got the rainbow stripe across the shoulder ... So I had to design a sweater for a dog based on a costume from 'Star Trek' for a human."
Making a business out of bespoke
Rather than churning out traditional knits at high volumes, it's Bratlie Wethern's creativity, range and flexibility that have allowed her to make a business out of knitting.
"I am never going to make another pair of chinchilla stockings, but that is a single thing for one person in a specific color and style and design that is just for that individual," she said. "I thought, 'OK, that is not turning out hats and then trying to sell them, it's waiting for somebody to come and say "Please make me this thing." ' I wanted to model my business that way."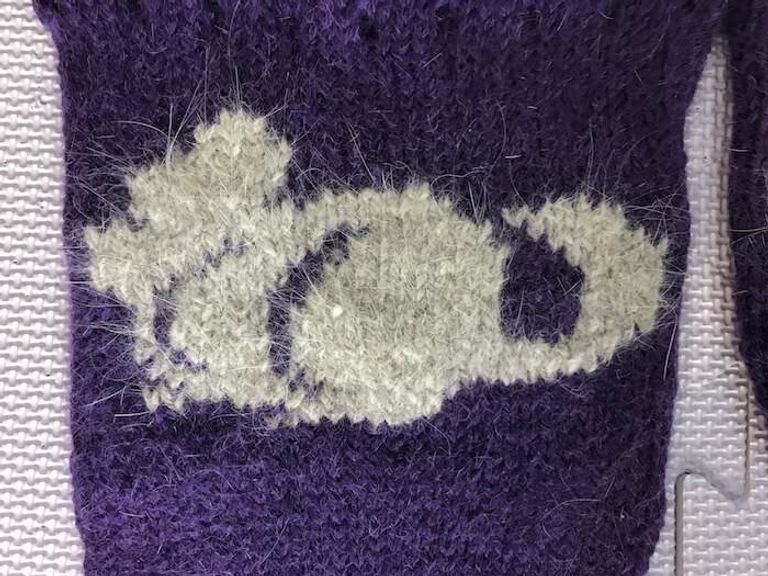 It's a reversal of norms, but for an avant-garde knitter, it's the key to success.
Once she came up with the framework, Bratlie Wethern built a website and was on her way.
"I have always had a client," she said. "I've had people just keep emailing me and saying, 'Hey, I want chinchilla stockings' or 'Can you knit this in for me?' ... About 50 percent of the people who contact me ultimately end up posting an order."
The reason behind the low conversion rate is a combination of old-fashioned sticker shock and impatience. Custom knits take time, and time is money.
"There is a sticker shock to it for people who are not knitters," she said. "They are also really surprised by how long it takes, because it is the least efficient way of making clothing. It's not about making fast fashion. If you want that you can go to Target—there are plenty of sweaters that you can get at Target, there are plenty of scarves that are just fine.
---
"There's enough people who do want those really specific and unique things, or want something that is really special or want something that is handmade."
Perfection is everything
In addition to being unique, the completed knits Bratlie Wethern sends to clients must meet rigorous technical standards.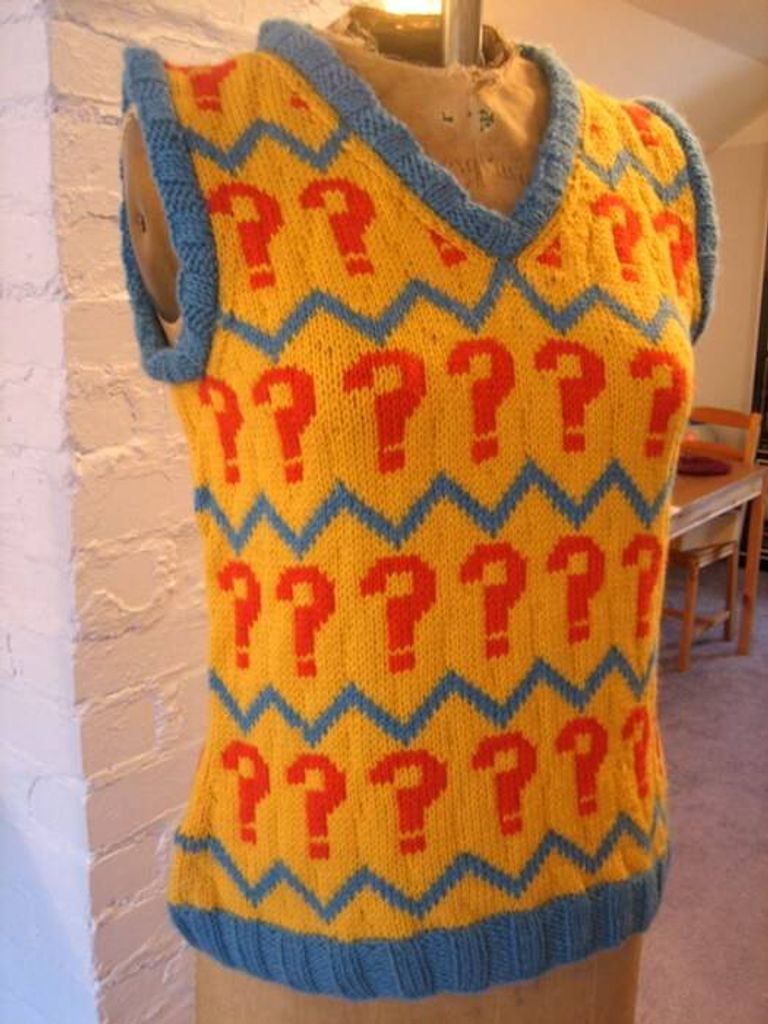 "I take some stubborn pride in selling work that if a knitter was ever to look at it, that knitter would be impressed with it," she said. "I want the backside to look as good as the front side. ... If you are going to spend 100 hours knitting something and you know that you are going to see that mistake for the rest of your life... it's worth losing the 10 hours to rip it back and redo it."
The very special projects are what keep her knitting through hours of meticulous work.
"There was a sweater that a woman asked me to finish that her mother had been working on for her father when her mother died, so the sweater was half finished," she said. "So as a present for her father, she had me finish the sweater that her mom had started. It's an honor to pick up another knitters needles and finish the work that they started. ...
"There are all of these things that are physical, repetitive tasks that have a prayer bead quality to them that lets you be present."  
That's not to say that all her work is meditative.
"You can also just be thoughtless about it and just push it out and not pay attention or drink a lot of wine," she said.

Kelly Prosen
 is a Minneapolis writer who loves tabletop games, horror, roadside attractions and empowering women. She tweets pictures of her cats and food her husband makes @kellymprosen and blogs about love and mental illness at adventuresinpoorgrammar.blogspot.com.